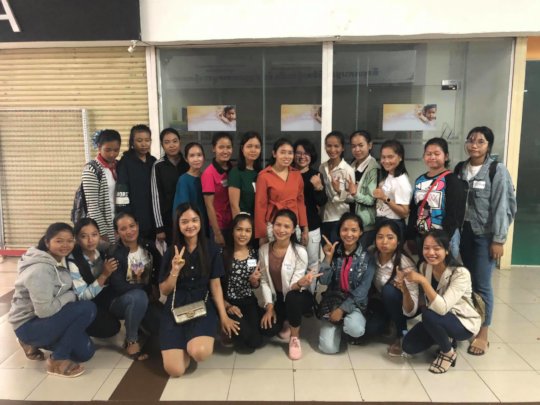 We continue to support CATALYST scholars in staying on track and engaged with their studies, online or in person. The continued commitment of our staff in Cambodia is crucial and we are happy to support these girls even through such challenging and uncertain times.
On August 9th, CATALYST invited a former Project Officer of Lotus Outreach, Mrs. SEM Sokhorn, to give a workshop to 21 CATALYST scholars in Phnom Penh. Mrs. Sokhorn earned her Master's Degree in Clinical Psychology from Vietnam and has 5 years of experience in Psychology.
The workshop covered these points:
What is Stress?
Types of Stress
Causes of Stress
Signs of Stress
Real Practices with assessment tool
Stress Management
Relaxation Techniques
The participants were asked to fill in an assessment form which asked if they were stressed and how much. They were also asked to reflect on what made them stress, how they react to stress, how they had been dealing with their stress and if it worked. Mrs. Sockorn also shared some stress management techniques with the participants, which they were invited to try out. These techniques included meditation and using the breath to find calmness.
The workshop was very interactive and students were excited to participate throughout. They asked many questions and engaged in group discussion about signs of stress, sharing ideas and thoughts with one another. They were very brave and confident to present what they had discussed. The following are some reflections on the workshop from participants:
Rous: "After I have joined the Stress Management workshop, it helps reduce the pressure I am experiencing. I think it is very useful. I came to realize there are ways to make the problems become simpler, which is to think positive. I am very happy to have joined this workshop. The trainer is very good in explaining the lessons."
Sarik:"After I have learned about Stress Management, I think stress is a disease that we need to know and care about because if we are stressed but we don't have any solutions to reduce it, it will make us become a depressed person and can even make some people commit suicide. I got a lot of knowledge from this workshop. I have learned two types of stress such as Eustress and Distress and three types of stress signs such as emotional, physical and attitude. Teacher is very good because she explained so well that made it easy to understand and didn't make me feel sleepy. Many solutions that I should use when I am stressed are meditation, breathing exercise, and doing some activities that make me happy."
SreyMom: "This lesson is a very new and good experience for me. I got some techniques to control stress and trauma. The points that I will apply in life and keep in mind are: everyone makes mistakes but they are in the past, so in the present we should not think too much and think positive, need to live with present life, don't let the past haunt us. Thank you so much Lotus Outreach and the donors for always providing training to us. I hope to have more trainings in the future."
Overall, the Stress Management workshop was a great success, allowing participants to reflect on their relationship to stress and learn some simple stress management techniques. Through this awareness, the hope is that scholars will be better prepared to take on the day to day stress that can build up and ultimately be harmful to our health and wellbeing.
Thank you today and every day for your support. We couldn't do it without you!