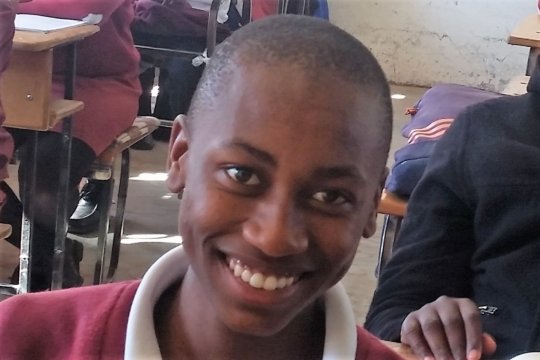 Keep up the good work.
Your generosity continues to change young lives. Many of you have supported Educare Fund since the late 90s. In the past 20 years that Educare Fund has been operating, your continued support has made a huge difference to many families in Lesotho through enabling the girls from these families to follow their dreams and seek a bright future for themselves. This would not have been possible without your very kind contributions.
Feedback from our beneficiaries continues to shed more light on the huge difference your donations make to the girls and their families and it would appear that there is continuing need for support. Ithabeleng (now in the final year of high school) writes:
'I am really happy to have been awarded the sponsorship. I was struggling to stay in school as my mother was not able to pay the school fees. Examination fees were especially challenging when taking into account that the tuition fees still had to be paid. I thank you very much for the help you have given me.'
Ithabeleng's class teacher further clarifies:
'I do not hesitate to tell you that with your help Ithabeleng is now able to come to school regularly, which was impossible before. Her single mother is unemployed and was unable to afford the fees. With the fear of unpaid fees having been lifted, Ithabeleng is now working really well in class.'
The common issues affecting girl child education in poorer families appear to include being orphaned, having a large number of siblings, parents being unemployed due to little or no education or being ill. Where one or both parents are working, they tend to be in low-paying jobs and are therefore still struggling to raise their children, let alone pay school fees.
In her letter titled 'letter of happiness', Lerato says:
'I wish to thank you for your sponsorship to me. You have helped my parents because they do not have the money for the school fees. I am so excited and my family too is very happy about your help.'
Surprisingly enough, the girls report that getting the sponsorships lifts their spirits and reinforces their individual resolve to work hard and aim higher.This is, in fact, further emphasised by the teachers in their reports. The girls' optimism, in spite of the setbacks they face, is very humbling and gives us hope that a positive change will come.These brave young women will definitely change their lives and those of their dependents in the not too distant future. What a privilege to be associated with such courage!
Allow me to reiterate our own 'thank you' to you all for helping Educare Fund to work with you to support the young women in their quest to change their lives and improve their communities for generations to come. We look forward to continuing to work together this year and I'd like to take this opportunity to let your know that Educare Fund will be participating in the Youth Week campaign in a few weeks' time. We hope you will join us.
Warm regards
Liphethiso Monica