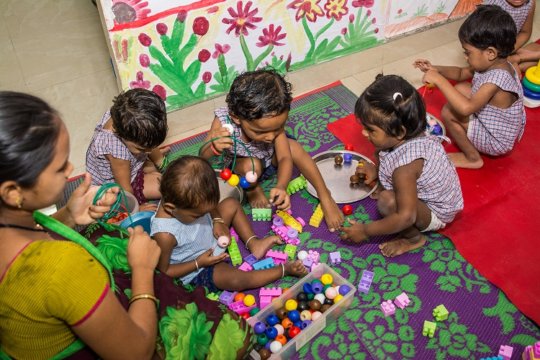 Over 40 years ago, when MMC started operating daycare centres for children living on construction sites, teachers found resourceful ways to use materials available on the sites to develop teaching aids. They painted sticks to teach the names of colours to the children and looked for broken pieces of marble to show the children geometric shapes. Because flowers are rare on construction sites, the teachers pieced together wood shavings with wires to create flowers for the children. This resourcefulness continues to be an integral part of the curricula designed for the unique classroom settings at the MMC centres. It reflects significant findings in contemporary education and child development research, and at the same time, it caters to the specific needs of migrant children living on construction sites.
Given that our organisation works for the migrant population, several challenges come to the forefront. The families and children we work with are transient, and hail from over 15 different states of India every year. The labourers are subject to ebbs and flows of the construction projects. This makes it difficult for us retain the children at the centre and ensure that they complete a year or more of education. More than 60% of the children who attend an MMC centre stay at the centre only for 3 months. In addition, each classroom has children from multi-grade and multilingual backgrounds, which increases the complexity of the programme. For this reason, our curriculum is designed to benefit both children who will be at our centres for only a few weeks and those who will be attending our centres for longer periods of time. The lesson plans reflect the transitory nature of construction work.
MMC teachers capitalise on the time they have with the children to provide children with concrete skills and knowledge to take away from their time at the centre. The "Prakalp," or the monthly theme, works to further this goal. Each month, a new theme is introduced to the classrooms; many of the activities, games, and lessons revolve around the central idea for example "My family", "Fruits and vegetables", "Transportation" etc. The themes are relevant to the children's context and based on developmentally appropriate activities.This not only helps children interact with the material, but also ensures that no matter how short their stay is at the centre, they will leave having gained knowledge and understanding on a specific topic.
For a child on a construction site, however, the image of a kiwi fruit may be completely unfamiliar and thus an ineffectual visual aid for number learning. For this reason, many learning aids are created with images and references which children on construction sites will understand and to which they will relate. One example may be the vocabulary they have picked up from living on construction sites, such as "rods" and "rope," which are displayed on worksheets that incorporate the letter "R". (This is only an example as the common language used at MMC centres is Hindi).
Thus, the learning materials and teaching aids at MMC's crèche, preschool, and older children's classrooms are age-appropriate and the lessons are designed to address their particular needs. Social interactions are carefully considered to ensure their healthy growth and development. For example, for crèche children, the emphasis is on creative play, social interaction, and developing physical dexterity. The first few years of a child's life constitute a period of rapid growth and development during which a child learns about themselves, their environment, and their place in the world. Whereas children in the preschool section (3-5 years) are encouraged by the teachers on imaginative thinking and problem solving, as well as strengthening children's pre-reading, writing and mathematical skills. For children aged 6-14 years, the aim is to help them enrol and stay in municipal school. These children spend half a day at MMC centres getting extra help with homework after school as most of them are first generation learners. Song, dance, and group play is an essential part of MMC curriculum. MMC teachers utilise art media, and the sensory experiences, which can be provided through it, as one of their most effective communication tools. Additionally, MMC emphasizes on experiential learning through educational outings and exposure visits for children.
With the support received from donations through Global Giving, we have been able to cover costs of running our education programme, following the curricula mentioned above, for migrant children attending our daycare centres on construction sites.