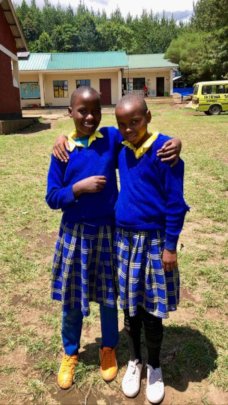 Dear Friends
We are happy to report that our students will be returning to school at the end of June and resuming their studies on campus. We are overjoyed, to say the least, with the thought of our classrooms, once again, being filled with discussions, laughter and, most importantly, learning. The silence on campus for the past two months has been overwhelmingly sad.
Our staff has done an incredible job of maintaining contact with all of our families to ensure that emotional supports were in place in case they were necessary and that learning continued throughout the Covid closure. Parents came to school weekly to pick up learning materials and to return those that had been completed. For those families who were unable to make it to school, our staff delivered and picked up materials at their homes. Our teachers worked feverishly to make sure they were corrected and comments were made to support the academic advancement of each student.
The National Exams for our class 7 students will now take place in October and our class 4 students will take their exams in November. We will continue to make sure they receive the best education available and strive to make sure that they will again score in the top percentile for the nation. We would be remiss if we didn't mention our younger children. They are like sponges. They soak up all that they learn and in turn raise the bar on their education. They badgered their parents daily about returning to school, begging for the constancy and structure of the classroom. It is with your continued support that we are able to continually create and supplement our curriculum to provide extraordinary educational experiences for those children.
We continue to look forward to hosting your visits and sharing our classrooms and learning experiences with you. Our Facebook page and Instagram are updated regularly so you can watch our achievements and adventures in learning.
Stay safe and healthy. Ahsante Sana for your continued support of our wonderful students.
Rose Hogan
Follow us on Facebook at Ikirwa School Project
Follow us on Instragram@ikirwa.school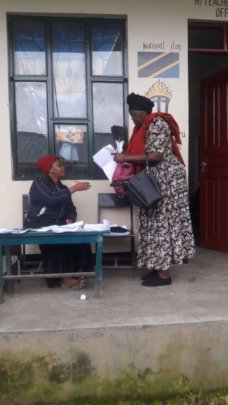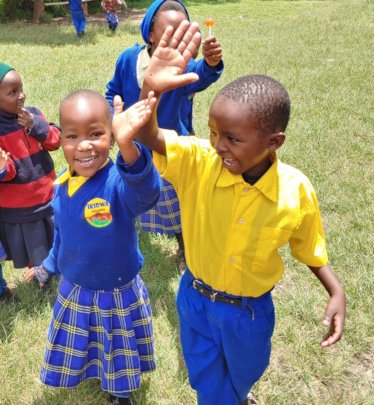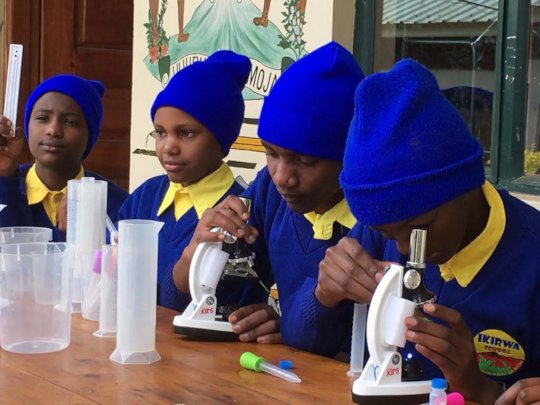 Dear Friends
Our student body continues to grow as does our academic success. With your help we have been able to provide many children, who would have otherwise been unable to attend school due to economic difficulties, with a world class education. We have been able to implement new learning tools, in our classrooms, and have watched our students make amazing academic progress.
Recently, the President of Tanzania closed the schools due to COVID -19. We are happy to report that our staff and students continue to be well, and that their studies have continued, though remotely. Every week our staff of dedicated teachers and administrators provide each student with a packet of school work. At the end of the week they return it to be graded and each receives feedback. Our staff has visited many of the families at their homes to check on their emotional well being, as well as, to collect and exchange weekly assignments if they are unable to make the trip to school.
In September, our class 7 students will take their National Exams and they are prepared to again score in the top percentile for the nation, as they did last year. Our staff is working feverishly to make sure that they continue to make advances in their studies, as they strive to challenge them by maintaining high standards. The younger students have an incredible thirst for knowledge and continue to amaze us with their questions and eagerness to learn. We are fortunate to have such an incredible student body.
Stay stafe and healthy. Ahsante Sana for your continued support of our wonderful students.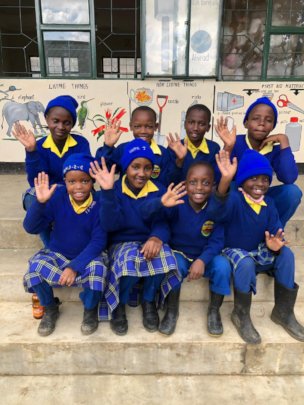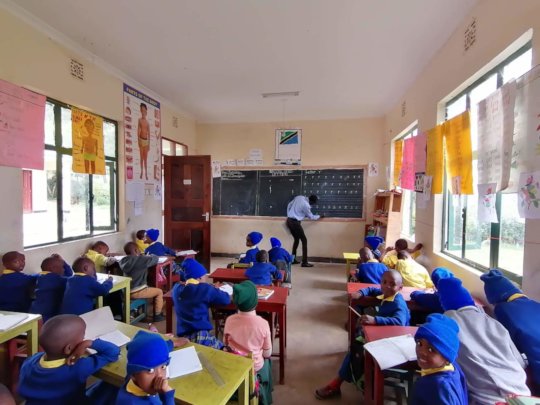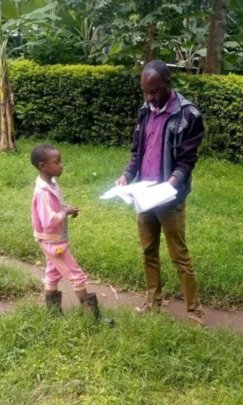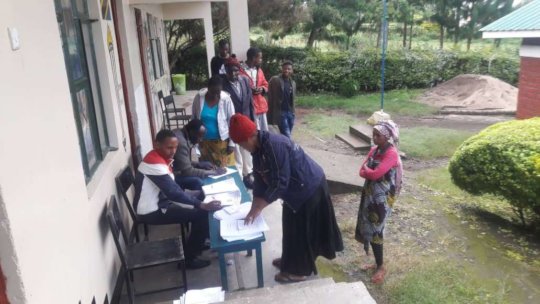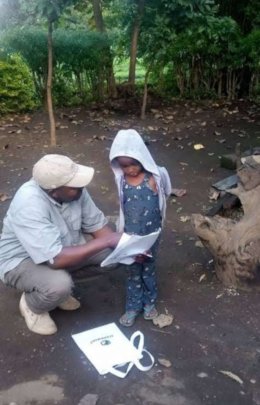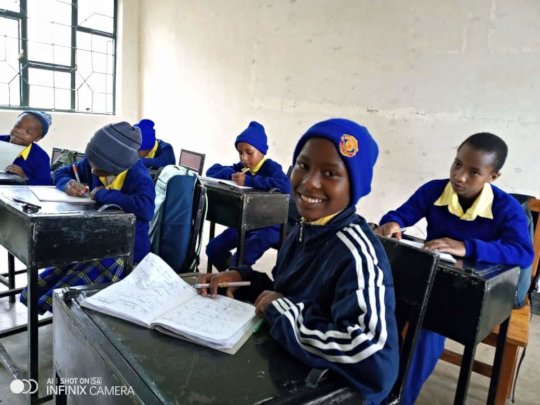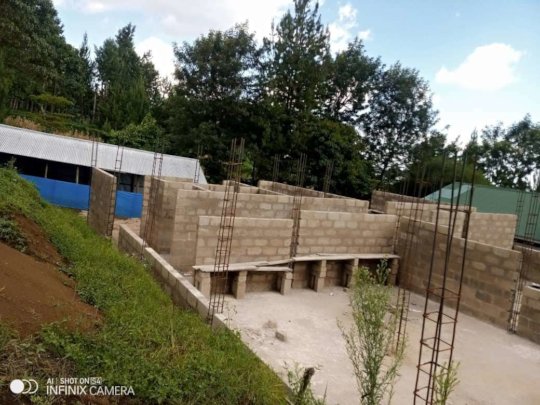 Dear Friends,
It has been several months since we last updated you about our dining facility, and our news is twofold. The President of Tanzania has recently closed all schools due to COVID-19. Though we are happy to report that our staff and students continue to be well, our construction progress has come to a halt. The silence that now blankets our campus makes us yearn for the laughter and comradery of our children.
Prior to this Global Pandemic we were making tremendous progress. Daily, gravel was delivered and cement was continually being poured. Each day as we walked through the campus we were amazed at the transformation of this incredible structure. Currently, our first floor is fully framed and the cinder block walls are over 8ft tall. Your generosity had allowed us to build at a rate faster than we could have ever dreamed.
With a new season upon us, we look forward to our students and staff returning to school and construction resuming. Our dreams of building an incredible dining facility have been placed on hold, but for anyone who knows the people of the Midawe community knows how strong and resilient they are. It is at a time like this, when the world is in a holding pattern, that we understand the true meaning of our motto and why it epitomizes our incredible community's spirit. "What you imagine you become." We are ever changing, just like the world around us.
Your support in the past has amazed us, please don't let it stop as construction has. The building and success of our school community is our future. Please continue to help us make our dining facility a reality.
Ahsante sana
Rose Hogan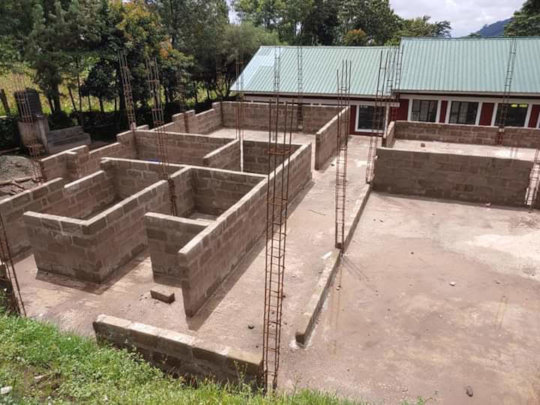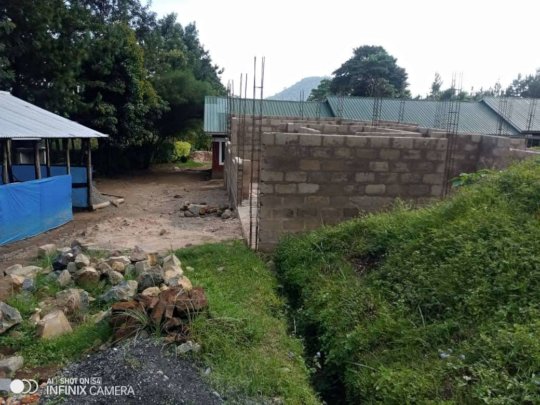 WARNING: Javascript is currently disabled or is not available in your browser. GlobalGiving makes extensive use of Javascript and will not function properly with Javascript disabled.
Please enable Javascript
and refresh this page.