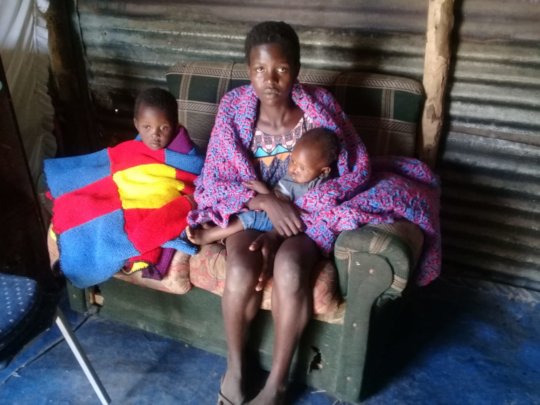 The Integrated Food Security Phase Classification analysis report is an organisation that analyses food security in the Southern African Development Community. They have found that from January to March 2021, 11.8 million people in South Africa are at the crisis level of IPC ( Integrated Phase Classification), meaning they marginally meet the minimum food needs or have large food consumption gaps causing malnutrition.
We are proud that we are playing our part in changing the statistics. To date we reach over 13 000 individuals, empowering them with skills and tools to have a sustainable source of food.
Growing our footprint in EMbalenhle
Embalenhle is an area where Sasol, one of our most significant and long-standing donors, has its operations and asked The Topsy Foundation to replicate the programme we have in Dipaleseng. Even though Embalenhle is more urban than the communities in Dipaleseng, some challenges they face are similar. There is food insecurity, poor access to quality early learning, and some children not having birth certificates, meaning they do not have access to grants and other services. To get to know the communities and build relationships and trust, we have started with one of the pillars of support Topsy offers, The Food Security and Nutrition project.
We have identified 1703 new households with orphaned and vulnerable children, or that come from single parents, child-headed or elderly headed homes. We provide the families with food parcels for three months and assistance to establish food gardens with tools, seeds, training, and mentoring through our Food Security and Nutrition Project. Other gardens are established in schools, ECD centres and open spaces around the communities. We have empowered communities in Embalenhle to establish 551 gardens, providing food security and nutrition for 10,602 individuals.
According to the "UNICEF Child Poverty in South Africa" findings, 42% of children in South Africa are multidimensionally and income poor. We try to assist the families in Embalenhle with income to assist them in registering for a child support grant. We have identified 32 families to help with the lengthy process of applying for birth certificates or ID documents, to obtain social grants. Receiving this grant every month, in conjunction with maintaining a vegetable garden, will allow the families to buy other household essentials such as meat, electricity or baby items.
We are developing relationships with Early Childhood Development (ECD) centres, with the aim to partner with them in the future when we begin to implement phase two of the project in 2021, which is delivering the early learning services offered by Topsy in Emblenhle. These centres will receive food parcels; practitioners will receive training, and the children in those ECD centres will receive the five pillars of services that form part of our Holistic Early Childhood Development Programme:
1. Nutritional support through sustainable vegetable gardens and food donations
2. Educational support in the form of training ECD practitioners and educational resources
3. Growth monitoring to identify and prevent stunting
4. Psycho-social support from our nurses, community care workers and social auxiliary workers.
5. Caregiver and parental support workshops
Improving Access to Early Childhood Development (ECD)
ECD centres reopened on 15th February 2020, after being closed for a long period due to the lockdown. Meeting with the principals and the practitioners of the ECD partners, we planned a way forward for the new year. One of the steps we have taken is implementing ECD enrichment training to help children fall behind to catch up.
It is devastating that only 22 of the 29 ECD centres we worked with pre-COVID are fully open. Most of the centres have 50% of the number of children attending.
To provide crucial early learning and stimulation for children who are not attending ECD centres, we engage with the families through our community care workers and assist them. We provide them with African language storybooks and Duplo Lego Blocks sponsored by our partner "Care for Education" We teach the caregivers how best to use the blocks and books in our Parental/Caregiver Capacity Project.
In Conclusion
As the pandemic continues to create challenges in many communities in South Africa, the most vulnerable are the most affected. We will continue to make a difference through the services we provide to minimize the impact that is felt.