From a newspaper article published in Bedford, South Africa on 19 May 2020
"We cannot be satisfied with just teaching people to stand in lines for food."
These are the words of Ndileka Xameni, founder of Siyaphambili who gave her permission to use her full name in this report. She and her volunteers have been feeding the poorer residents in the Bedford townships for many years. And now, more than ever before, her policy of "education, education, education" is central to her work.
The volunteers have bukets of soap and water ready for handwashing as the children enter the gate. Their bowls or cups are also washed.
Children who arrive without a mask are senthome to fetch their mother's 'doek' (head scarf) or a T-shirt to use as a mask.
Then the volunteer give talks to teh children about the virus and how they must wash their hands often and always wear a mask when they are outside their homes. In light of the Covid19 outbreak, this subject has been added to the talks they have on brushing their teeth and maintaining good personal hygiene.
Only once they have listened to the lesson are they served the soup of the day for lunch.
This week it was all smiles at the table as a local farmer generously donated fresh meat, which is being served with samp and beans. And a couple of pots of meaty soup will also emerge from the very kind and timely donation.
Beneath her ready smile and her perpetual motto that "God is Good", Ndileka takes her role very, very seriously, as she has for many years. She says that these children will survive the virus, bu when they grow a few years older,they will face a much deadlier virsu, and her lessons on hand washing and wearing masks is just preparing them for the lessons they will learn from her about preventing HIV. Bedford is blessed to have Ndileka, "Mama Bedford".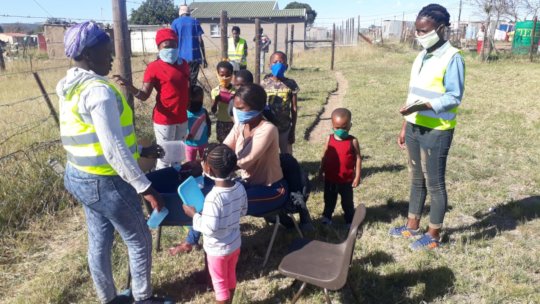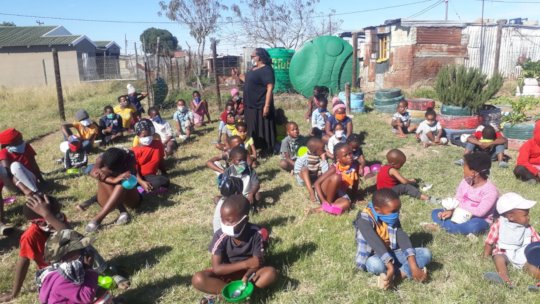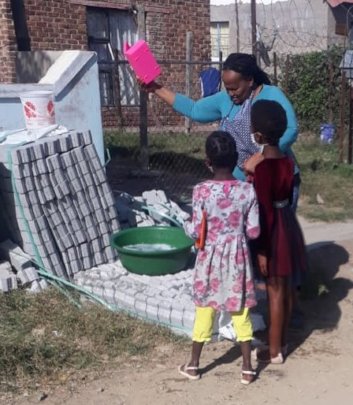 Links: