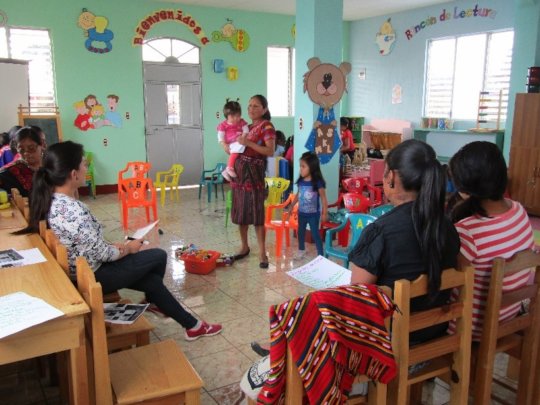 Reading Early Childhood Development promotes better nutrition habits and stimulating the children curiosity to induce the world around them. The objective is train to children caregivers (fathers and mothers) in diverse reading techniques and preparation of nutritive food.
Results achieved: Reading to Grow guide has been implemented, using as methodological material:
- Mural Poster of the 7 skills to approach reading to children.
- Health and reading early childhood development.
- The measuring chart to keep track of reading progress by age and healthy diet according to age.
Healthier families. 15 mothers were incorporated mothers to reading promotion strategy. Mothers and fathers are encouraged to implement a reading corner at home; of them, 10 have joined the opening of a space to promote reading in their children. Mothers and fathers invite their neighbors to read the books their children take from the library
- 20 Mothers read with their children.
- 30 children encouraged to read.
- 10 children read independently without support from their parents.
The Riecken Guatemala Foundation empowers Caregivers, mothers and fathers, to approach books and reading to their kids and sharing knowledge to improve better nutrition habits at home.
All Riecken Community Libraries offer early childhood development and nutrition programs, quality books and safe places to read and learn, support for skills taught by the schools, story circles and more, Riecken Community Libraries brings opportunity to underserved regions of Central America that need it most!
This Reading program is being supported by all "Globalgivinners" and BFB Foundation.
Learn more about the work of the Riecken Foundation and its network of community libraries in Guatemala.