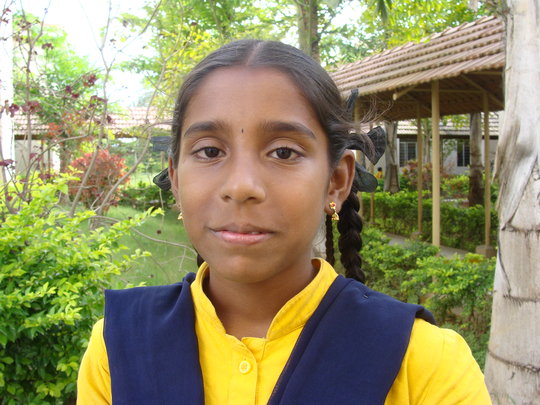 "My life would have been miserable and I would have ended up in the same place I am now if Christel House had not helped and supported me," says Sonia, a 14 year old student from Christel House India.
Sonia lives with her parents and three siblings. Since her parents earn a meager income of less than $75 per month, providing even one meal per day is often difficult.
Sonia has attended Christel House since kindergarten. She enjoys school and has been recognized by her teachers as a leader among her peers. She enjoys social studies and history. She loves to paint and draw in art class. Sonia says green is her favorite color because it makes her feel bright and energetic. "Sonia is an intelligent girl with strong convictions," comments her teacher. "She does her assignments with great concentration and thought. She puts in a great deal of effort and therefore performs well. She has grown into a responsible individual and uses the facilities offered by Christel House to the fullest."
Attending college is not an option for Sonia. She plans to study computer science and pursue a career as a software engineer. "I study hard now so I can get a good job and support my family in the future," says Sonia. "Christel House has given me the opportunity to grow and develop into a better human being."
Our Christel House kids work hard to reach their goal to become contributing members of society by taking advantage of the opportunities that Christel House offers. Through a holistic approach to education, Christel House provides life skill training, health care, nutrition, character development, job placement and counseling and family and community support to our kids. As a result, all generations that follow will benefit from the Christel House focus on child, family and community.
You can help Sonia and her classmates achieve their goals by donating to Christel House where 100% of your donation directly benefits the children. At Christel House, no contributions are used to fund overhead or administrative costs. Thank you so much for your continued support. Every donation makes an impact on our Christel House India girls and their future. Together, we truly are breaking the cycle of poverty one student at a time.
To learn more, visit our website at christelhouse.org.
Links: