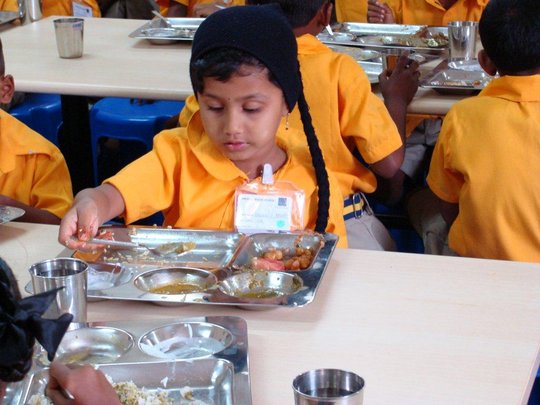 Every year, Christel House India enrolls a new kindergarten class. It is so exciting to see the children reacting to many new sights and experiences. Like other children entering kindergarten, Christel House students begin to learn their colors, numbers and ABC's. Unlike other children, however, they also must learn how to use a real toilet, how to shower and how to hold a fork, as these are experiences they have never had the luxury of learning. During their first few weeks of school, students often stuff their pockets full of food when provided lunch in the cafeteria; they have never seen so much food in their lives and want to bring it home for their families to eat as well.
While many of us this holiday season, will worry about what we are going to make for Christmas dinner, buy for our spouse's second cousin, or wear to our company party, many Christel House children will continue to worry about whether there will be anything to eat for dinner, if they will sleep on the lumpy mattress or the dirt floor, or whether anyone in the family will have too much to drink and come home to beat them.
No child should be in constant concern over his or her safety or basic needs. They should be concerned with learning how to read, write, give and share.
Our mission at Christel House is to help these kids, families, and future generations escape their lives of poverty… forever.
We can't do this without your help. This month, Global Giving has introduced a matching program for all Recurring Gifts. This means that if you make a pledge in December to give a small monthly donation to Christel House every month, Global Giving will match this amount in December, doubling your contribution and impact at this important time of the year.
Would you consider making a year-end gift or a year-long pledge this giving season? Any amount, big or small, can make a tremendous difference.
Give. Transform a life.
Links: