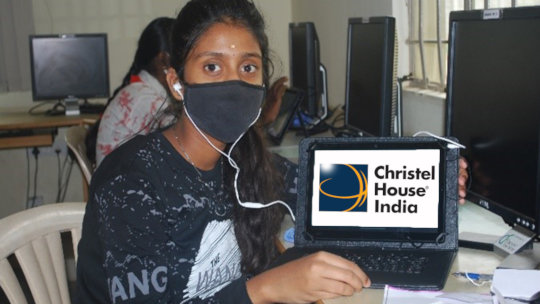 Thanks to generous donor support, the Christel House global "Bridge the Divide" technology fund program has distributed hundreds of new computers with internet access for children at Christel House India (CHI) according to Jaison Mathew, CEO. With the new devices, students can now safely connect with teachers, classes and their homework assignments outside school.

The tablets, keyboards and data packets were distributed to grades 5-12 in Bangalore and grades 4-5 in Atal Nagar. Junior students should receive tablets by early November. "Our teachers can now ensure 100% attendance and participation for each subject and conduct online classes and assessments," says Mathew. The IT team held training sessions to make sure students and parents understand how to correctly and safely use the technology. For the kids, the computers are an exciting and new interactive learning experience. "Learning at home was difficult. But with the virus, it became worse because my parents had no work," says Rohan A., grade 12. "After receiving my new tablet, I can now continue learning without being distracted.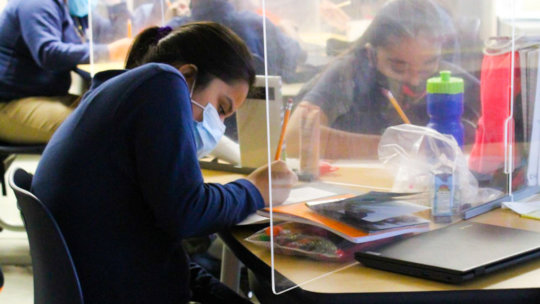 While some are e-learning from home, many Christel House Academy students have returned to in-person learning in classrooms. "Our kids are so happy to be back," says Debby Nauta, New Teacher Instructional Coach for Christel House Indianapolis.
She admits wearing masks isn't fun for students or staff, "but after a while it just becomes something you don't think about. The children understand their teachers want to hug them and give them high fives, but right now we all recognize the need to practice safe social distancing," she says. For the new teachers, Nauta says they are adapting well. "Teaching during a pandemic has been a challenge for everyone. But our veteran teachers have wrapped themselves around our new teachers and they have all come together to do whatever it takes to meet the needs of our students. It's been quite remarkable to witness." Everyone has had to make changes, even Maynard, the Indianapolis facility dog that calls Debby his human. With the pandemic, Maynard only comes to the school every 3 or 4 weeks, on his bath day. That allows him time to spend time with students then after work he goes straight to a good cleaning to make sure his fur stays nice and clean. "The masks do not phase Maynard one bit," Nauta adds. "He's thrilled every time he gets to see his school friends."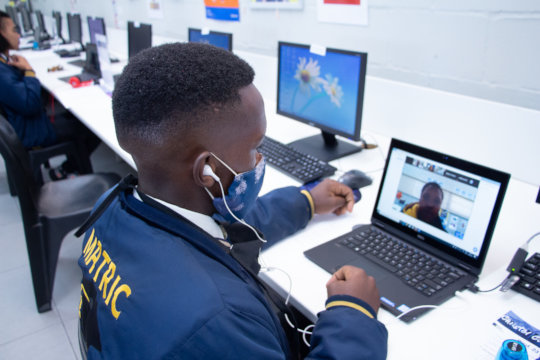 Ready – set – interview! Christel House South Africa Grade 12 students gained valuable practice for job interviews when they met with HR Professionals during virtual one-on-one speed interview sessions. "I learned so much," says Zarah A. "All the matrics that interviewed learned so much."
Using video conferencing technology, 15 HR experts made up the interview panel from a variety of industries including banking, property, hospitality and technology sectors. Students were paired with an HR professional from the industry that they have a strong interest in pursuing. Each student had to prepare a CV and research the company prior to the virtual interview. They were even given mock interview scenarios to adapt to. The interviewer scored each student, providing constructive feedback ranging from how prepared they were, how they answered questions and their interview etiquette. "The current economic climate is tough and even tougher for those who are just starting out in the work force," says Louise de Marillac St. Julien, Career Development Manager at CHSA. "This event gave our matric students experience conducting themselves professionally in interviews and having the opportunity to talk one-on-one to experienced professionals."
The Speed Interview event is part of the Christel House College & Careers program that provides financial, academic and career-oriented assistance as students transition to college, apprenticeships and work.
WARNING: Javascript is currently disabled or is not available in your browser. GlobalGiving makes extensive use of Javascript and will not function properly with Javascript disabled.
Please enable Javascript
and refresh this page.