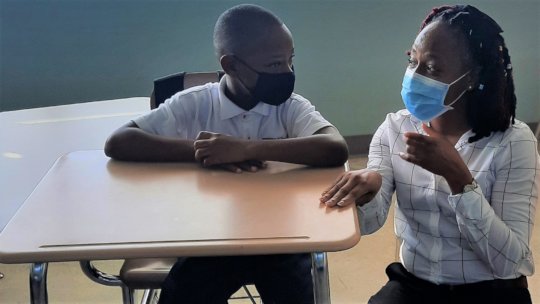 To open Christel House Jamaica (CHJ) in 2020, public recruiting sessions were not possible due to COVID restrictions. Instead the Jamaica team went into communities to meet students where they lived. Kerry Ann Thompson, CHJ lead social worker, says two things stood out to her: the community's dilapidated housing and minimal access to education.
Thompson has ten years of experience working with at-risk children and adults and holds a degree in counseling and social work. When she heard Christel House was coming to Jamaica, she connected with the transformational mission. During home visits, Thompson saw firsthand the desperate situation of the families Christel House Jamaica serves. "We discovered that some children never had the experience of walking through the gates of a school, while some lacked the resources to attend school regularly."
CHJ opened in October. Students are now in class, learning in-person. "Parents and students are excited for a school that caters to their unique needs without judgment," says Thompson. She notes families are particularly excited about small class sizes and computer courses. "Parents have been singing praises about the positive changes seen in their children since starting school at Christel House, an indication we are on the right track in transforming lives." Thompson applauds the community for their trust in Christel House Jamaica. "Navigating life through a pandemic has not been easy, but the steps and efforts made by parents in overcoming their fears of sending their child to a new school during COVID-19 are noteworthy," she says. "They have the hope and desire to better the life of their child."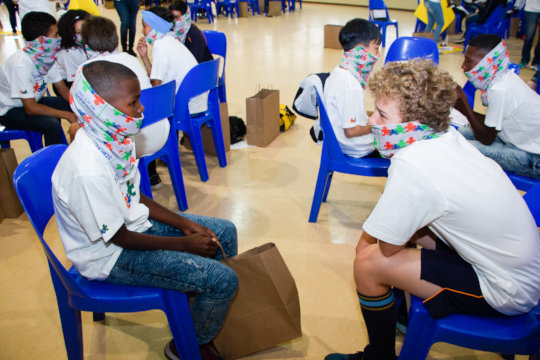 Students from four different schools, came together at Christel House South Africa (CHSA) for a fun-filled Derby Day. It was more than fun activities – it was also about understanding the wealth gap in South Africa. "Our intention is to bring students from all walks of life together," says CHSA Junior School Principal Carol Kriel. "We can remove barriers and ultimately build bridges for the youth, our future leaders."
Twenty Grade 6 students from each school enjoyed a festive, productive day at Christel House. Students participated in ice breaker games, deep conversations, exercises and an exciting go-kart race that allowed students to interact and bond with each other. According to the World Bank, South Africa is one of the most unequitable countries in the world. Their aim is to reduce wealth inequality. That is why Christel House is receiving support in forging partnerships between wealthy and underprivileged schools, developing joint activities and curriculum to reduce the gap between the South African youth. "We are able to make a difference by working with other schools and with the help of our generous donor," say Principal Kriel. "We want all children in South Africa to be confident and able to thrive across the wealth spectrum."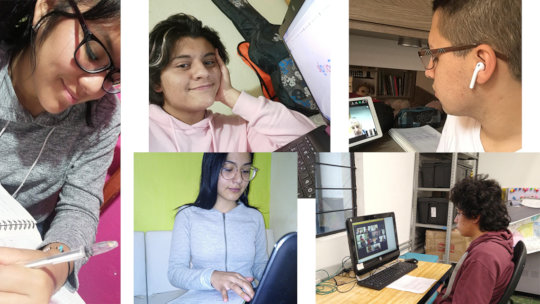 The public university system in Mexico is very competitive – across all schools, only 10% of applicants will be accepted. The Universidad Nacional Autónoma de México (UNAM) is ranked No. 1 in Mexico by the QK Top Universities. This year, Christel House Mexico (CHMX) is proud to announce a record-setting five grads from the Class of 2020 were accepted to UNAM.
While Dana C., Gustavo R., Luis C., Nayeli G. and Sergio M. were admitted to UNAM, another eight CHMX graduates will be attending the Instituto Politécnico Nacional de México or 'IPN'. IPN is recognized as the best public university to study engineering. The accomplishments of these students are spectacular in any given year, but even more impressive given the challenges of 2020. "It's been terribly difficult for everyone," says Tania Alvarez, CHMX Head of Schools. "Some of our students found themselves going to work to support their families and others devoted themselves to studying overtime to achieve their admissions." With the help of the CHMX College & Careers team, teachers and academic staff, the graduates received needed support. She says all the students live with stress and trauma but didn't lose sight of their goals. "They are dedicated, responsible, but above all, they are hard workers."
WARNING: Javascript is currently disabled or is not available in your browser. GlobalGiving makes extensive use of Javascript and will not function properly with Javascript disabled.
Please enable Javascript
and refresh this page.