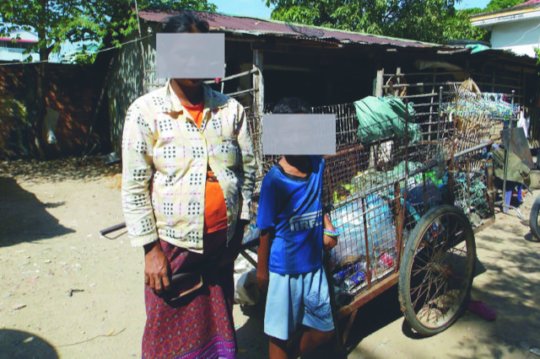 December 3 is Giving Tuesday Match Day !
Mark is in Cambodia this week to look in on our programs there. As usual, he is meeting with each of the women in our AIDS Patient Family Support Program. Among those is a 39 year old mother who has AIDS. Ms. K has an extremely low IQ . Ms. K has been in our program for many years. During much of her adult life she has supported herself and later on, her son, age 9, by collecting recyclables on the streets of Phnom Penh.
Early this year and without first consulting our staff, Ms. K decided to leave Phnom Penh to go to live with her sister in a province in the northeastern part of Cambodia. At that point and for several subsequent months she was not receiving our support or being monitored by our staff.
While visiting relatives during the Cambodian New Year holidays in April, Ms. K was raped by the husband of her aunt and Ms. K is now eight months pregnant. The man does not deny his responsibility but he and his wife refused to provide any support for Ms. K or the baby, so about five months ago, she returned to Phnom Penh Ms K, once again in the care of our program.
Ms. K is due to deliver her baby in December and our field staff person has already connected her with an organization which provides free infant formula to mothers who work, as she does, in trash recycling. This is a real blessing as the estimated cost of infant formula power is about $ 30 per month.
Even now, just one month before the expected delivery date of the baby, Ms. K works at pulling a cart around the streets of the city each day collecting recyclable materials such as bottles, cans, cardboard and scrap metal which she then sells to supplement the support from our program that she receives for herself and her son. High blood pressure limits the number of day when she can do such hard work but whenever she feels able, about an average of 3 days per week, she is out on the streets doing the only job that she knows and perhaps the only job that her limited mental capacity allows her to do.
When Mark asked her how she expects to do such work after the baby is born, Ms. K explained that when her nine year old son was born, she stayed in the hospital for three or four days and then immediately resumed working on the streets, keeping her newborn infant son in the same cart in which she hauls her recyclables. Ms. K explained, that once again, she intends to return to working on the streets very soon after the birth of her new baby.
Of course, our program will now assume responsibility for making sure that Ms. K and her new baby are safe and that they have what they need to insure that both mother and baby remain healthy.
The photo that you see shows a house and neighborhood that is typical of how many of our families live. It rents for $40 per month. The cart is Ms. K's recycling cart .
Your generous and kind support really does make a difference. It means that we can continue to support fragile families like Ms. K, her son and her new baby and provide the educational and living support that is needed to break the cycle of inherited poverty.
Dec. 3 is GivingTuesday Match Day. GlobalGiving will match donations up to $1000 per donor per organization on PROPORTIONAL basis. This means the more we raise as a percentage of total donations, the larger our donations. GlobalGiving will have a pool of $ 500,000 in matching funds.
Please help us to continue our support of this product and to optimize donations with matching funds.
We are deeply grateful for your support!
Barbara & Mark Rosasco