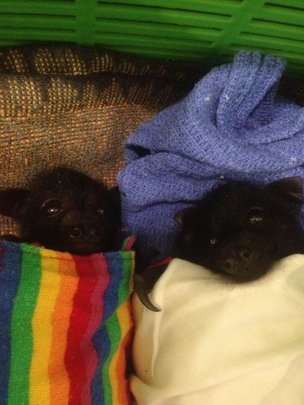 Hello everyone!
Things are cooling down here now, and it's easy to forget the drama of the heat stress event late last year.
Attentive readers might remember that we helped look after some of the orphans from Casino, north of Sydney, because the local carers were over whelmed. The bats there are a different species, Pteropus alecto rather than the Pteropus poliocephalus we usually get in Sydney. This year, between the 2 species we put 100 baby bats through the facility- all of them using the lovely new cage. Of these, 62 were alectos, and 38 polios.
Most of us are much more familiar with the grey-headed flying foxes (poliocephalus) so this time I thought we'd tell the story of two alectos, Will and Jada. They were brought down by Tiere and Sarah, who did an emergency run to bring down some orphans to Sydney. You can see them wrapped up as bat burritos below. Very cute with much denser fur than our Sydney bats, they look like black velet.You can see the difference between them in the second photo, Billy is a grey headed one. But they all learn to hang on a laundry dryer, little by little until they develop their muscles. Eventually they start learning to fly too, and that's when they get moved into the new cage, so they can get a bit of space to develop their flying skills.
Usually we release from the cage to the local colony, but there isn't a colony of alectos near by so Jada and Will were taken back north and released at their home colony. Studies show that home raised bats have an excellent rate of survival when released, so we hope they are getting stronger and that soon they will be having pups of their own.
It's a lot of work raising orphan pups, and heat stress events are very traumatic. But when you are able to rescue and successfully release babies like Will and Jada you realise that it is all worth while. Some flying fox species (like our beloved poliocephalus) are ecologically vulnerable, and its so important that we are able to support them to survive.
Carers do part of the work its support like yours that makes it all possible.
Will, Jada and Billy, and the other 97 orphans we put through the facility in the last few months say thank you.
Now they are all in the wild, the cage is being used to help adult flying foxes, who have been brought in injured, mostly after being caught in garden netting. We will talk about them next time.
Same bat time, same bat channel.... stay tuned.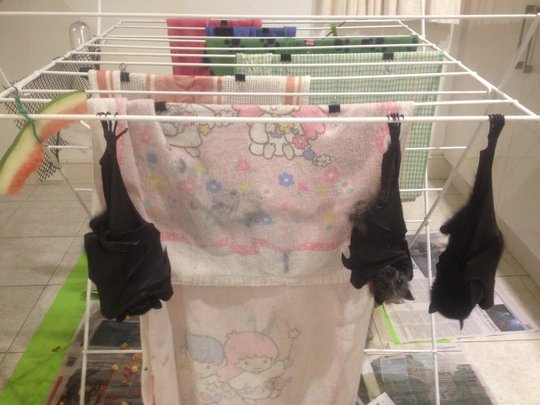 Links: