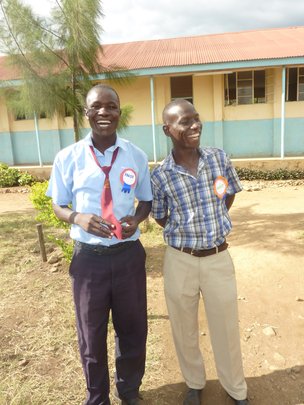 2014 has begun and the Manyatta Youth Resource Centre has high hopes that it will be the best year yet since we began in 2009. Keevan Labowitz, a Co-Founder of the MYRC, arrived back in Kisumu in December and has seen that our programs continue to grow both in size and success.
On Christmas Eve, the MYRC sponsored a bash to celebrate how far we have come and to bring all the members of our different programs together to share food, fun and stories. The day started with several friendly football matches at our home pitch. Our teams entertained the community, had fun, and showcased the high level of talent that the MYRC football club has been producing. The match that brought the most laughs though was when the MYRC management board played against the MYRC performing artists. Our chairman, general manager, secretary and management board members played against musicians, dancers and drama members. It was quite a scene. Afterwards, everybody returned to the MYRC office and ate goat, chicken, rice, vegetables and juice. On this day the MYRC fed close to 200 youth athletes, performing artists, management members, and local community members. It is get-togethers like this that bring our community closer and help unify our various programs and participants. We look forward to repeating it again.
A particularly important success this year was the graduation of our youth member, Joseph. Joseph is our first sponsored youth to complete secondary school, and we look forward to many more. The MYRC has sponsored Joseph since 2009 as he finished primary school and headed on to the next level. It is important to ensure that the MYRC's sponsored youth get a continuous, consistent education from primary school through graduation. This is the best hope for the future for our youth and the community.
After completing secondary school, the MYRC assisted Joseph in creating a resume and job application letters. Joseph was hired as an assistant teacher at a primary school he had previously attended. Though the work is tough and the hours are long, Joseph believes that the experience he is gaining will help him move forward in his career. He is already getting offers to transfer to a nearby secondary school where he is likely to earn more. Joseph and the MYRC still have hopes that he will soon attend a university, but he needs more financial support than the MYRC is currently able to offer. We hope that as he works and gains experience more opportunities will open up for him.
As schools are opening here we are faced with the difficult task of getting our most vulnerable youth sponsored in both primary and secondary school. We hope to see many youth sponsored for education just as Joseph has been. While the MYRC is currently sponsoring over 15 youth in school, there still remain many MYRC youth who we are unable to provide for, and fees continue to climb. By giving just $200 you can help to ensure that one more young person gets a complete year of schooling at the primary level.
An exciting new opportunity for the MYRC is the hoped-for creation of a district level soccer team so our youth can continue in the sport. When the MYRC began in 2009 it started with a group of Under-14s and U-12 soccer players. Today many of the players who started with us in 2009, as well as many new faces, are now too old to play in the local league, which ends at U-18. Just as we hope to offer continuous support in education, the MYRC wants to build talent in soccer by staying with youth for extended periods of time to really nurture their talent to the highest levels. By creating a district team, the MYRC would compete against teams from throughout the county, thus giving our youth exposure to higher levels of competition and opportunity. This will make them stronger and better players. As time goes on, the MYRC has dreams of reaching the nationwide league and finally the Kenyan premier league. The district league will cost the MYRC close to $2000, which is a major challenge. With your help, the youth we have been nurturing for close to five years now, will have the chance to climb to new levels of competition and eventually become professional players in their home country and abroad.
With your support, in the last five years the MYRC has grown from nothing to a multi-faceted organization helping to build a future for a diverse group of youth. Don't stop now! Help the MYRC continue to serve these young people on their journey to a better life. We wish you a happy 2014 as we look forward to the time ahead.