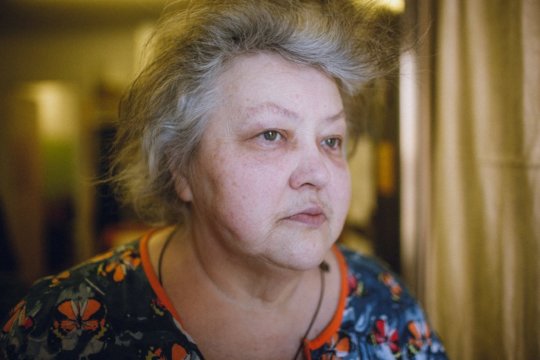 As always, we have plenty to tell you!

What should I start with?
Perhaps with the tragic story of Irina L. that so many people learnt about last month. This woman is currently living in our shelter. And all of Nochlezhka's team would like to thank her for her courage! Because courage is required to tell people you don't know about your grief. Sharing your pain is scary, especially when you've been bottling it up for years.

I am not going to retell you the whole story. But if you are ready to read a story full of tears and bitterness, below you will find a letter from Irina L. to a nonexistent Aunt Nyura. To an imaginary relative and loved one, who will accept and console. This message is one of the letters published by the Dozhd channel as part of 'Letters from Non-Strangers' project. This series consists of five letters from people who have found themselves in a difficult situation and who are currently being helped by five renowned Russian charities. Dr. Liza's Fair Aid, Advita, the Faith Foundation, Nochlezhka and the Alive Foundation.

This woman's story caused a huge response from readers. We received messages and letters with offers of help: clothes, housing and just words of support.

And last week, Irina L. celebrated her birthday. People who have lived through so much pain and grief are normally not bothered by all sorts of celebrations. But the woman wanted to make this day special for those around her, for her roommates. And we think that this is an act of a huge human heart: to make sure that those near you feel at least a tiny bit happier.

At the request of Irina L., we found a wonderful pastry chef, Julia, who made an excellent cake for the women of the Shelter! A special cake which is suitable for people with diabetes!
Here they are, the people I've been talking about: Irina L., her roommates, smiling Julia and the pretty cake!
I also want to share with you our new social advertising campaign!
I must admit, that I love both the concept designed by the Great advertising agency and the fact that the campaign was launched on the Cosmonautics Day in Russia!

With this poster, we once again wanted to tell everyone who saw it: life on the street is as unbearable as life in the open space without water or air.
And another thing is that taking into account all tremendous achievements of science and technology, it is particularly shocking to think of the conditions some people have to survive in.

Here is the poster. You can already find it in Moscow, and it will soon be posted at St. Petersburg Planetarium!
The poster says: 'How do you like this, Ilon Musk? Tens of thousands of people are living in Moscow in conditions unfit for life, without water, food or warmth… just like on Mars.'
That's about it.
Irina's letter:
Dear Aunt Nyura!
I am writing to you in the hope of a miracle, that I will no longer be alone. But time passes and I am still alone, but I don't lose hope. I want to tell you the story of my life.
I had a happy childhood. I got married early and had twins, a boy and a girl. Everything was going well, the children were growing up, I loved my husband, my parents were kind and loving, and everyone loved them. And then, all of a sudden, a tragedy happened which it was hard to get over.
When I was told that a driver on drugs run over both my children, I felt a pain which words cannot describe. As if someone had torn all of my inside out and nothing had been left.
They would always hold hands, they would run around together and they also left me together. The boy died immediately, and the girl a few days later. They were only twelve years old.
Our family was not able to live through such a sorrow. A year later my dad passed away, then my mum, then my sister. Everyone's heart gave up. This pain and grief turned everything upside down. A distance started growing between me and me husband. We got a divorce. I decided to sell my flat and buy a different one but I got deceived. I was on my own and I didn't know what to do. I felt like I was falling.
I moved to a different city to find a job. Time went by. I was renting, aware that I would never be able to buy. I've had asthma for 25 years, so I got hospitalised after a strong attack and spent months there. I couldn't get up with asthma and other health issues so I had to learn to walk and use a wheel chair. I couldn't do anything without someone's help. I am grateful to all my doctors and nurses, to everyone who helped me.
I don't know how I recovered but I think my prayers helped. I believe in God, so a priest came to me while I was in hospital and I confessed and took communion.
I can walk a bit now and I've been admitted to a shelter.
I would like to thank everyone who is helping me with all my heart. Thank you for reading this. I wish you all the best. God bless you.