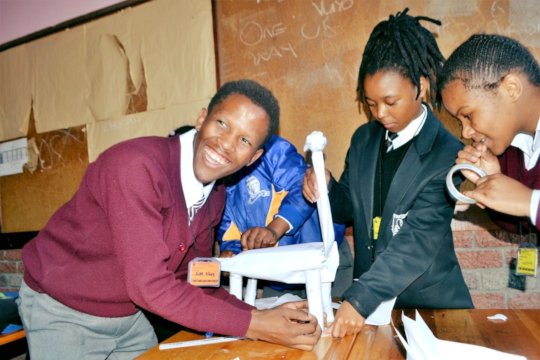 South Africa may have been in the middle of a chilly winter, but back at IkamvaYouth camp, over 1,600 high school learners were braving the cold with their minds set on securing their futures.
Every year, IkamvaYouth anticipates its annual Winter School programme, an exciting period in our events calendar. We reserve two weeks during the June - July holidays, providing academic and non-academic support to Ikamva learners. This year, Winter School kicked off on the 17th of June and all 17 branches across the country were fully armed to tackle education, youth-led style.
This year, 320 volunteers showed up nation-wide, all working hard and ultimately contributing over 300 tutoring hours across all branches. Part of the iconic two-week programme is to actively engage our learners in their studies by reflecting on some of the work they covered in their syllabus. This is done through peer learning, spearheaded by our learners as they highlight their learning gaps and we help mend a bridge of support. This pedagogical approach is held together by dedicated volunteer tutors (many of whom were previous learners, who have transformed from beneficiaries into benefactors).
In our Kwa Zulu-Natal branches, both the Umlazi and the Chesterville branch held a combined Winter School programme at the Durban University of Technology (DUT) with a total of 139 learners, each receiving an average of 18 hours of tutoring. In addition, the programme afforded our Grade 11 learners, a tour around the massive Coca-Cola Beverages South Africa (CCBSA) plant, this visit was part of their career guidance workshop which comprised of talks by the CCBSA Coastal Regional Manager, as well various CCBSA departments.
The Western Cape Programme was a resounding success, with over 850 learners attending from Grades 8, right through to Grade 11. The region achieved an aggregate of 136 hours of tutoring for the seven winter school centres, namely; ID Mkhize, Gugulethu Comprehensive Secondary School, Kuyasa, Makhaza, Atlantis, Nyanga and Masiphumelele. The Western Cape impressively tallied 25 workshops across the region to supplement our holistic approach to peer-learning.
Some of the memorable activities included:
Creative Writing workshops facilitated by our friends from Fundza Literacy Trust.
An in-house Spelling Bee competition.
The Nyanga branch visiting the Zeitz Museum of Contemporary Art at the V&A Waterfront.
and the Makhaza branch touring our national Parliament.
The productive week ended with fun and games, as well as our annual award ceremony for learners who excelled and displayed dedication in different categories.
During the hustle and bustle of Winter School, we caught up with one of our exceptional tutors in Ebony Park who is a few months away from obtaining her qualifications as a Chartered Accountant. Nondumiso had the following to say about her experience at IkamvaYouth, "I believe that education is the key that unlocks the chains of poverty, and results in economic growth and stability. It is this belief that had me join IkamvaYouth to assist students to build a strong educational foundation that will empower them in whatever route they take after matric; be it higher education, entrepreneurship or employment."
As a direct result of generous support from our donors, IkamvaYouth has been able to continue implementing an impactful Winter School programme aimed towards changing the trajectory of the lives of many young people. In addition, we would like to commend our dedicated team of excellent staff for reminding us how Winter School earned its reputation as "a time when the organisation displays unity and team spirit across the country, which is encouraging and points to resilience amidst challenges" stated Lerato, our Acting Gauteng and North-West District Manager.
We would like to thank you all for the incredible commitment and support in making our programme possible!