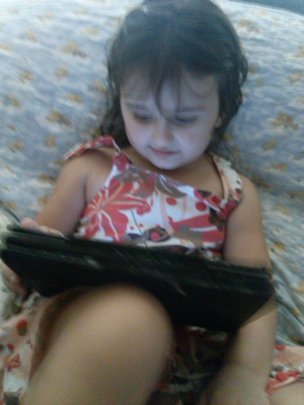 In Pensacola, more and more families are being blessed through the funds raised by Autism Pensacola through Global Giving and our iPads for Autism project that you support! This week, 4 new families received iPads to share use with children ranging in age from 2-15. These families are so excited to see their children begin to communicate and learn more easily by using the iPad you helped provide. This brings the total number of families we have touched to twenty-two!
Courtney and her little brother both have autism. Courtney's mom took our PEP class and has learned so much. She even changed her carreer to become a teacher. Courtney's mom says, 'The iPad we received has helped us more than we could have imagined. Going into public places was extermely overwhelming, but now she has something to keep her attention. Insetad of crying with anxiety, she is squealing with happiness. We are also working on the skills needed to use the iPad as a speech device. What a blessing!' Courtney is 6 and her brother is 4. Your gifts have made such a difference for this family!
Jose is 13 and being raised by his grandmother. He hates to read books, but with the iPad he can look up information on his special interest and read about something he loves! His grandmother says he is working on social skills when he shares with his family what he learns. What a difference this is making in his life!
These are just a few of the stories of how you make a difference with your donations to iPads for autism. This fall we will have two more of our classes to teach parents the most effective way to help their children and we will be able to continue offering iPads because of your support. Won't you please consider supporting us once again? Your gift makes such a difference! Thank you!!
Autism Pensacola keeps working to improve life for those with autism! And because of your generous support of Give Kids a Voice:iPads for Autism, we have now supported 18 families through the gift of an iPad! In fact, this week we have presented 4 new families with their iPads. That's 18 families who have a tool that makes a difference every day.
Remember, our families must take part in a class to learn techniques that empower them to work more effectively with their children to be eligible for our iPad grants. We also use a sliding fee scale to require parents to have buy in to the program--extending your dollars even further.
These families report many ways that the iPads are making a difference. From William who now does homework more willingly to Nick who is discovering a passion for photography, these iPads are used to improve life for these children and their families. Some use them to communicate, others to increase motivation and others to practice critical skills.
Thank you again for your support. Your gift makes a difference everyday--and will continue to do so for many more days to come!
When Sara B signed up for Autism Pensacola's Parent Empowerment Class, she was seeking answers to help her son with autism blossom and grow. Because of your generosity, Brendon has done just that shining at school, sharing his interests with friends and even better, sharing special moments with his dad as seen above. Brendon has also increased his reading skills and is excelling at school.
James was only 5 when his mom took the Parent Empowerment Class. When she received his iPad, she was so excited to be able to put into practice what she had learned. Now, 6 months later, James is learning to read! Prior to getting the iPad, he didn't know his alphabet or how to sound out words, but now, thanks to the iPad, he is learning more and more words everyday! He loves to share stories on the iPad with his mom. He still resists doing academic work on the traditional paper and pencil, but works hard on the iPad, accelerating his learning. And his behavior is improving as well, since his mom rewards his good behaviors with fun time on the iPad. As his mom says, "I am very grateful to have received this iPad. James has come so far because of it and I know we wouldn't be where we are today without it!"
Eleven year old Max was non-verbal and self-abusive when his mom took the Parent Empowerment class. Now, he is talking more and more and is beginning to read! He uses the apps on the iPad to learn to read and now has even started bringing books to his mom to read them to her-especially his beloved Toy Story! This is amazing considering she was told he would never be able to communicate at all. What a blessing! Max also loves recording things he finds interesting--perhaps this will lead to a career some day! So many changes in his life are because you gave to help him find his voice--and so much more!
As 2013 comes to a close, we wish you Happy Holidays and thank you again for your support! We have given 12 iPads to families like these and all of them have been trained on the best ways to teach their children. This maximizes the impact of your donation. I hope you have a wonderful 2014 and that we can count on your continuing support to make a difference for more of these wonderful children and their families.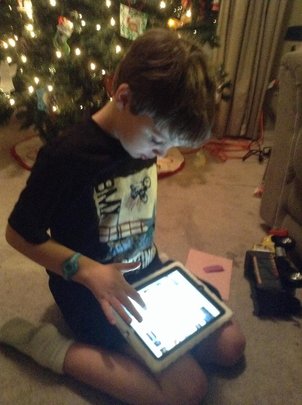 Links:
WARNING: Javascript is currently disabled or is not available in your browser. GlobalGiving makes extensive use of Javascript and will not function properly with Javascript disabled.
Please enable Javascript
and refresh this page.