Afrika Tikkun believes in creating an inclusive learning environment for all children in South Africa. As such, Afrika Tikkun has been addressing the myriad of issues that create barriers to learning for many children in the townships of South Africa. The children in these impoverished communities have high aspiration but limited access to quality education. Moreover, children with learning disabilities are further marginalized. Afrika Tikkun's dedicated team and trained teachers have made it possible for 1342 students to access quality education through our holistic development model. One of them is Bukho who has made tremendous progress since he joined us in January 2013.
Bukho was hyperactive and could not speak clearly when he joined our centre. The efforts of our staff have helped to boost his speech through various social activities. Our practitioners provided him with individual attention necessary for his progress. His parents also explained that he had difficulty in walking and had to use walking rings. The walking rings affected his brain's development, resulting in speech impediments. These impediments were addressed through a close working relationship between the parent, social workers and therapists. Bukho's speech has since improved and can now even speak his language fluently and is able to verbalise what he wants to say rather than be limited to expressing himself by actions. Bukho is in kindergarten and based on an assessment by one of our social workers, his development is progressing tremendously.
The progress of Bukho and many other children like him would not have been possible without the support of our donors. You have allowed us to provide services to children who otherwise would have been excluded from a quality learning environment. Instead of having a deficit-based approach our programs focus on the strengths of our beneficiaries which enables us to create an effective and inclusive learning environment. In addition to this, our holistic Early Childhood Development Program focuses on building competencies in numeracy, literacy, cognitive and social and emotional learning.
We hope that you would continue your support in empowering and educating the next generation of productive South African citizens. Your contributions would allow us to provide:
A safe and secure community center where quality developmental programs are delivered
Nutritional support through hot and nutritious meals served daily.
Training and mentorship for our teachers to ensure the optimum provision of educational services to the children.
Social services delivered by social workers and family support workers who ensure the psychosocial needs of our children and their families are met.
Health education and monitoring to help keep our young people healthy.
On the behalf of our 19,000+ beneficiaries, I thank you for your ongoing support and believing in our vision!
Links: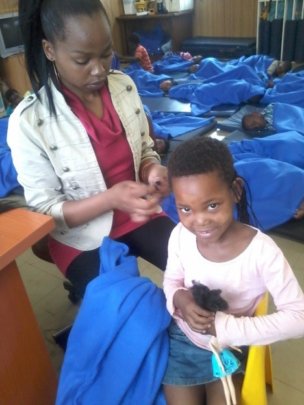 Thank you for continuing to believe in the work of Afrika Tikkun and for investing in the children of South Africa. We believe all children should have equal access to education and services that help foster their development into adulthood, allowing them to become productive citizens and break the poverty cycle. It is through your generous support that we are able to change the lives of over 1,000 children who are in disadvantaged positions. We hope you continue to partner with Afrika Tikkun to educate and empower the children of South Africa.
A Child is Saved from Homelessness: The Story of Xoliswa
Xoliswa started the Early Childhood Development (ECD) program at Afrika Tikkun in 2013. She was a shy and reserved girl, who rarely spoke and avoided interactions with her classmates. Xoliswa slowly began to open up as her teacher gave her more individual attention.
A year later her teacher noticed she was coming to school unwashed and took it upon herself to bathe Xoliswa. A volunteer later witnessed Xoliswa eating from a dustbin on her way home from school. It was in that same week that Xoliswa came to school with bruises on her face and burns on her arm. She revealed that she was getting abused by her older brother and her grandmother initially denied any knowledge of this abuse. Upon further investigation, her grandmother disclosed that Xoliswa's mother had abandoned her and her two siblings, leaving them without any food. The grandmother could not take the children in as she herself was unemployed and had no source of income.
Afrika Tikkun negotiated with her grandmother to give her monthly food parcels in order for her to take Xoliswa and her siblings in. Through our Family Support Services program, they also received donations of clothes and toiletries. Afrika Tikkun has also helped Xoliswa's grandmother by providing her with parental skills training, allowing her to pay better attention to the children and teaching her the importance of providing proper care and support.
We are proud to announce that Xoliswa graduated from her Grade R class. We receive reports that she has been performing very well at her current school. She and her siblings have also started attending the Centre's Child and Youth Development Program.
Links: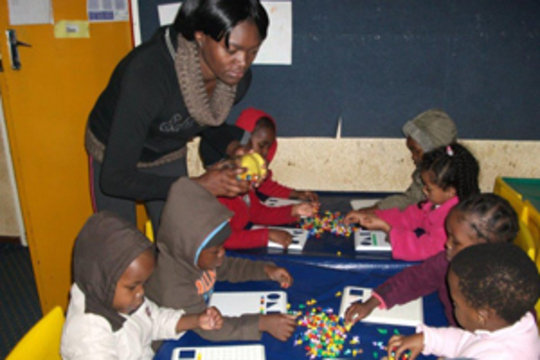 Our Early Childhood Development Program works with children aged 2 to 6 to develop in the areas of numeracy, literacy and life skills development. 1,212 children are currently enrolled in Afrika Tikkun's Early Childhood Development programs across our five community centers.
Promise's Story
Imagine being unable to fully express yourself verbally.
This has been the existence of Promise, a 5-year-old boy, who has been struggling with a speech impediment for most of his early childhood. He often found himself playing alone, withdrawing from the crowd – too afraid to engage with his classmates because he feared being mocked.
Following a referral from the Johannesburg Hospital, Promise enrolled in Afrika Tikkun's Uthando center in Braamfontein. In his first few months at our center, he continued to be prone to erratic behavior due to his inability to articulate himself with his teacher as well as classmates. However, after extensive therapy and individual attention, Promise has made tremendous progress and is able to and enjoys interacting with his classmates.
Promise's teacher attributes his success to "the individual attention he received in our Toy library – where he could develop away from the prying eyes of his classmates. We often underestimate the impact of peer opinion on young children."
WARNING: Javascript is currently disabled or is not available in your browser. GlobalGiving makes extensive use of Javascript and will not function properly with Javascript disabled.
Please enable Javascript
and refresh this page.