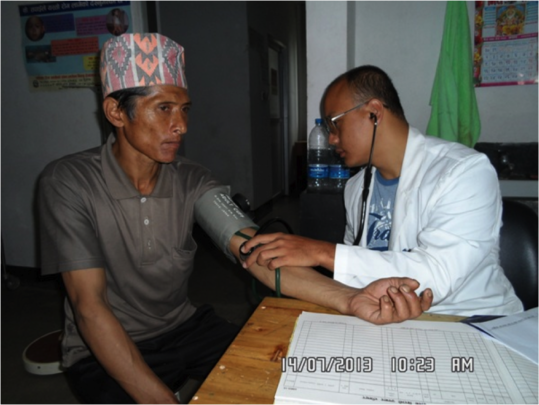 Summer 2013: Himalayan Healthcare
Himalayan Healthcare continues to provide care in rural Nepal, with special medical treks in April and November. In recent months we ran a medical clinic in the village of Sumbek in eastern Nepal, worked with our partner GlobeMed on several new projects, and continued to build efficient stoves and toilets with support from the Rotary Club. Our educational projects have continued in the villages of Lapa, Tipling and Khading. We also hosted business students from the Massachusetts Institute of Technology's Sloan Business School to investigate options to improve the sustainability of our hospital in Ilam.
Dr. Susan George, a pediatrician who has volunteered with Himalayan Healthcare since 2008, was at our hospital in Ilam from June 9th to the 18th. She is involved in a research project—"Study of the impact of neurological diseases in children and their families in Ilam district". In addition, she provided care at a medical camp in the village of Sumbek in June. 165 patients were seen at this clinic, indicating the continuing need for medical care in the region.
Himalayan Healthcare works with Globe Med on many projects. This summer, a GlobeMed team of five students on the Grass Roots On-siteWork (GROW) program are in the village of Tipling for 8 weeks. These students taught English, math and science at the Dhongden Devi school, and worked on the latrine and stove projects. They have also aided with a health survey and a malnutrition project.
HHC also partners with the Rotary Club of Kopundole in Kathmandu and receive funding through a Rotary Club in New York. From this support we have a village latrine program and have built 50 toilets since January. We have also built 100 new efficient woodstoves in homes in these villages to reduce dangerous exposure to smoke and to decrease fuel needs, preventing deforestation. A trainer trekked up to the villages from Kathmandu to train the blacksmiths in making tin boxes to place over the new woodstoves to help with radiation of heat inside the house for the cold winter months.
Looking forward, we are creating three new first aid centers in isolated villages. Over two thousand people live in isolation and have to travel long and arduous distances to access medical care. This project will provide emergency care for the Hindung ward of Sherthung village, Nebir and Khading of Lapa village and Linjo of Tipling vilalge. Himalayan Healthcare will train three individuals in these areas to deliver first aid and dispense appropriate antibiotics and other basic but critical drugs.
A midwife, Rasa Maya, trained by Himalayan Healthcare, recently opened a new clinic in the village of Khading, in Lapa, with a population of 1,000. She will run a small pharmacy and provide emergency services. (The nearest emergency care is currently over two hours away.) A team of Alaskan social workers also went to Khading to meet with the women's empowerment group and conducted workshops. The Women's Empowerment classes address the topics of domestic violence, alcohol abuse, immunization, birth spacing, hygiene, child care and nutrition.
Our educational program also continues. Five computers and a printer have been placed into the new high school that Himalayan Healthcare built in Lapa in 2012. In addition HHC has arranged for computer training for 8th, 9th and 10th graders in the school. We also helped to provide cement for the floors, glass for the windows to protect the computer equipment, furniture for the school, and have helped to raise funds for a school in the village of Khading.
Himalayan Healthcare will have its next medical trek in November 2013. Your continued support of our organization is crucial to our work and we are grateful for the donations we have received from our GlobalGiving supporters!