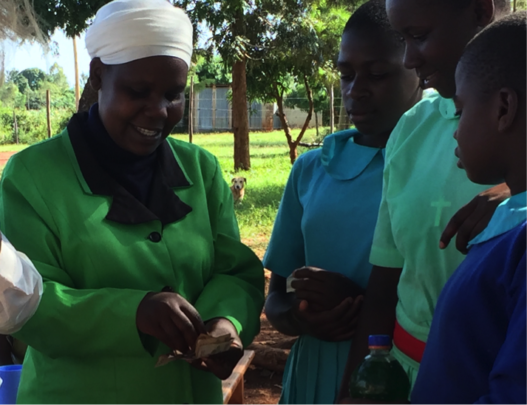 Five girls gathered in the small classroom to share the poem they had prepared through the help of their teacher, Madame Nelly…
So I like to reap a habit.
Plant a habit; reap a character.
Plant a character; reap a destiny.
My destiny.
Once they were through, we had the opportunity to meet with Madame Nelly to talk some about the poem and it's birthplace – Bar Anding'o Primary's Girl's Empowerment Team (i.e. GET UP). Nelly described how she uses the GET UP sessions to foster creativity and create a space for her girls to share their hopes, their fears, and their dreams.
GET UP has really become a place where the girls can just be free. During school time, we must focus so much on making sure the pupils pass their exams, we have little time to do much else. Therefore, the best thing I can do as a teacher and facilitator is make room for that to happen—make room for them to be free to do what they love. [Nelly]
Madame Nelly does not just use poetry with her girls; rather, she explores many different art forms in order to create a space that invites them all into full freedom and expression, no matter their passion.
We use everything – poems, songs, dances, tongue twisters, stories… people open up when they do what they love!
Such an impact should not be underestimated. Madame Judith, another facilitator for GET UP, shared with us how the program's commitment to empowerment, courage, and creative expression allowed her to learn the tragic plight of a young student in time to intervene.
[The student] continued to write compositions about a young girl who was being raped, Judith shared. It wasn't long before I realized that the girl she was describing was herself. I'm not sure it would have been something she could have said to me out-right, but the GET UP session and the activities allowed for her to share what was happening in her life. And it was through the trust that we had built in that space that I was able to follow up and intervene. [Judith; Bar Union Primary School]
Your contributions allow this important program to continue. On behalf of the Umoja girls, Madame Nelly and Judith, and the many other GET UP facilitators, we thank you for supporting the work that is shaping lives and securing futures!
Watch the girls at Bar Andingo' performing "My Destiny" HERE.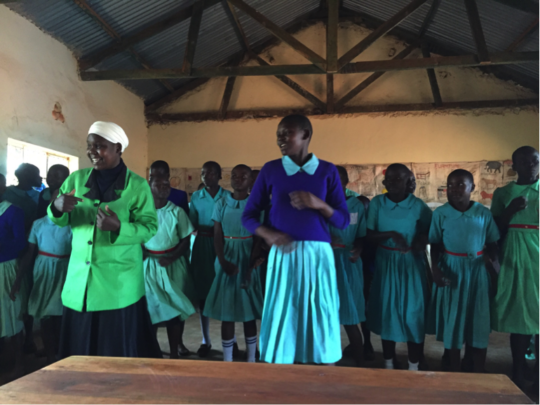 Links: