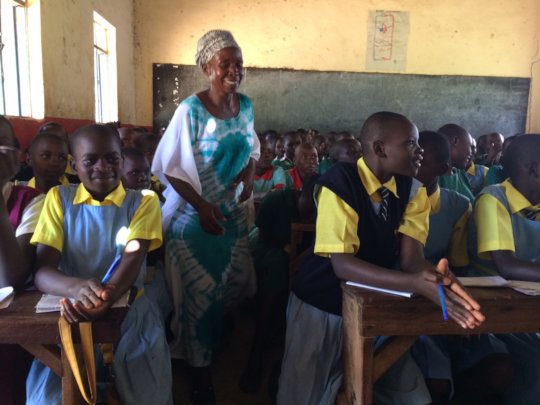 Every summer interns from Duke Divinity school visit the Umoja Project and work in the project for 6 weeks. Courtney Sanford loved the experience so much in 2017 that she came back for a second summer in 2018. During her visit she got to experience both the Get UP Jr and Sr Programs in the first week of her stay. Below is a letter telling us about that very first week:
The day after I arrived, I went to Saint George's Sianda Primary School. I was joined by a group from North United Methodist in Indianapolis. We did a home visit and met the staff of the school which is supported by Umoja Project.
Thursday we spent the day with the high school girls at their day-long retreat. It was great to see some of the project assistants that I spent so much time with last year at this event. The ladies heard from teachers, nurses, and lawyers about study habits, reproductive health, decision making, and their rights.
Friday we spent the day at Ogada Primary school. I visited a girl named Margaret who was in 7th grade. She was in position one in her class with 368 marks. The average is 250 which means she will hopefully have a good chance of being be sponsored by Umoja in high school. It is moments like these that I am proud to be working with the project.
Saturday, we attended Junior GET UP which is for the middle school girls. The room was completely full as the girls sang, learned about healthy relationships, and learned about love.
A few days ago we were walking home from school and next door neighbor's children greeted us. They disappeared and came running back with roasted maize. They probably didn't have much, but they showed us radical hospitality by sharing what they did have. The next day, they disappeared again and came running with roasted maize and a mango. I wanted to cry because the children were so generous and giving. The people of Kenya continue to teach us about love and hospitality. We are thankful to be here and thankful for your love and support.
Love,
Courtney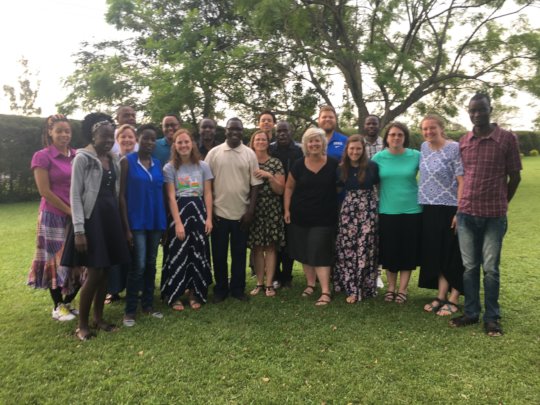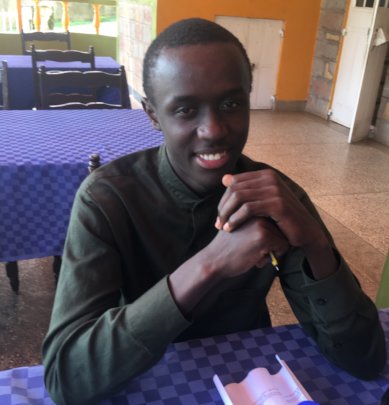 If you come to Kenya and visit the Umoja Project, you will often hear our scholars talk about the Umoja family. Umoja is my mother and my father. I have so many brothers and sisters because of the Umoja Project. The Umoja family supports these children through the challenges of living without one or both parents.
In some cases an entire family of children have benefited from our project. The older children show the younger children the way to success. They instill the importance of a strong work ethic and the value of education.
Lenox (above) is a second year student at Musindo Muliro University in Kakemega. He is studying to receive his Bachelor's Degree in Commerce. He has been an Umoja student since class 6. He graduated from Chulaimbo Secondary School in 2015. His father passed away in 2004, and he is supported only by his mother. Lenox says, "Without the Umoja Project, there would have been no money for school fees."
Lenox's younger brother Lee Enock is a form one (9th grade) student at Chulaimbo Secondary School. He is shown below taking exams in June, just before half term break. He hopes to follow in his brother's footsteps to attend university and to make a better life for his family.
Global Interfaith Partnership is working to build the number of secondary scholarships we provide to students like Lenox and Lee Enock. We plan to increase our number over the next five years so that we can send all students who do well on the KCPE exams to high school. Our Kenyan community has raised seven scholarship for 2018 and have committed to 14 in 2019. We want to match their donations in the U.S.
With your help we can meet our five-year goal of sending all our qualifying students to secondary school.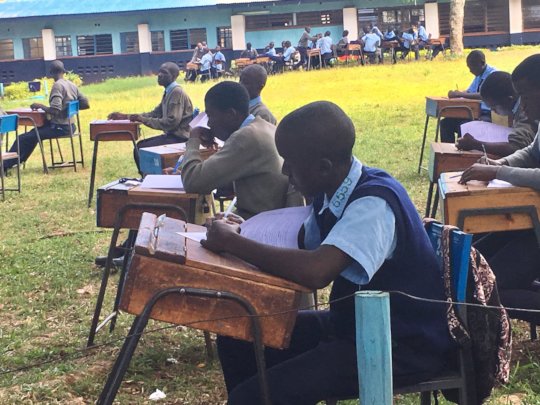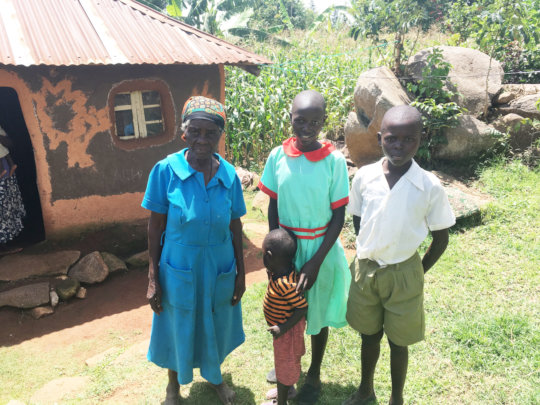 Michele and Malchizedek get a vigorous work out every day. Their route to Nametsa Primary School in Western Kenya is down a rocky mountainside.The return involves climbing large boulders on the uphill trek. It takes them over an hour each way.
The two children live with their mother and grandmother. Their family grows maize on the rocky hillside and sells it in the local roadside market. With limited resources, the family struggles to cover the expense of basic necessities.
Both students are grateful for the daily school lunch they receive from the Umoja Project. The simple maize and beans meal helps them continue to grow and provides vital nutrition. The meal allows them to focus on their studies at school. School lunch keeps our Umoja scholars in school and allows children to finish primary school instead of foraging for food.
The Umoja Project provides a network of care for orphaned children. More than 3,200 students in the Chulaimbo, Kenya area receive daily school lunch, nourishing their bodies and minds.
WARNING: Javascript is currently disabled or is not available in your browser. GlobalGiving makes extensive use of Javascript and will not function properly with Javascript disabled.
Please enable Javascript
and refresh this page.