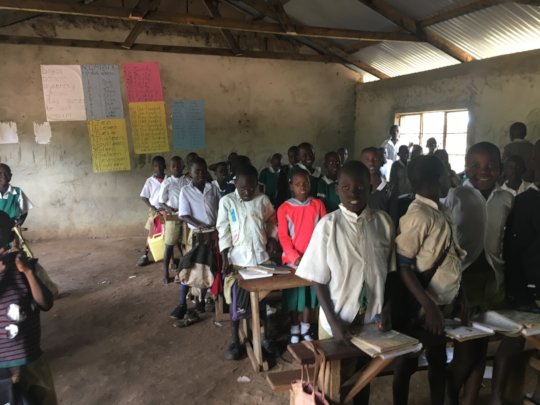 I have just returned from my first visit as Executive Director to the Global Interfaith Partnership's Umoja Project in western Kenya. The effects of the work were apparent in every child I spoke with. Every teacher and Head Teacher who has worked with the project extolled the hope it has given the orphaned and vulnerable children (OVC) in the area. Repeatedly we heard, a school lunch keeps children coming to school, improves the likelihood of finishing primary school, and improves a child's perfomance.
On March 5th we visit Lisuka Primary School, a school that is close to Lake Victoria. In this area there is a high rate of HIV/AIDS and many children drop out of school early to do casual jobs around the lake. The school has an enrollment of 410 students and 155 are Umoja Scholars. Umoja Scholarsh are supported with school lunch, home visits, solar lamps, uniforms, and blankets when needed. In 2017 there were six students who scored over 300 on their KCPE and three of those children are part of the Umoja family. Out of the top 20 children who took the exams, 12 were in the Umoja Project. The Board of Managers of the school have been so moved by the results of this project at Lisuka that they found some support from other donors to expand the school lunch program. They now feed the entire Class 8 in hopes of boasting scores for the whole school.
Schools who are supported by the Umoja Project see an increase in enrollment, and surrounding schools see a drop in enrollment as OVC children move to the project school. The government does not provide sufficient support to run most schools, so an increase in enrollment puts additional strain on these boards of management. The project has over 100 letters of request from schools to join the Umoja Project.
As you read this report, think about people you know who might be interested in our story. Share Lisuka's story with them. I met with a member of the county assembly for the district that Lisuka resides in. He presented with me a letter to the board requesting that more of the schools in his district be added to the Umoja Project. There were 18 primary schools and 8 secondary schoools. $3,875 feeds a primary school the size of Lisuka for an entire year. We would welcome the resources to expand this successful program to other schools, providing more orphaned vulnerable children with nutritious food to perform well in school.