After the holidays, we will be training teachers from 16 different elementary schools, some of them are general ed teachers, some are resource specialists who teach students with special needs…about half are private school teachers.
Most of them aren't convinced that they need training on making their classrooms safe for kids who are targeted due to sexual orientation. They think that's an issue for the high school teachers.
They are wrong.
Students who have been bullied and harassed for their perceived sexual orientation and gender expression tell us that it often begins in elementary school…long before they understand their own identity. They just know that they are different and that difference is somehow considered unacceptable.
Earlier this week, here in California, 12 year old Ronin Shimizu, committed suicide after enduring years of bullying and harassment. Friends and family describe him as a smart kid who loved art, fashion and being a cheerleader. His supportive parents moved him to three different elementary schools before deciding on home schooling.
I don't know exactly what happened at those schools, I don't know anything about how Ronin identified or whether he had friends who stood by him. I do know that the kind of harassment he endured is not just restricted to middle and high schools and that the elementary teachers are even less prepared to deal with it.
I really don't have the words to express the mix of sorrow, rage and empathy I feel when I think of Ronin and his family. I want to do more…we all need to do more. In these moments I am particularly grateful to you for making it possible for us to train more teachers. Thank you for making it far more likely that an elementary school teacher will have the observational skills, the committment and the skill to intervene in homophobic bullying.
Links:
We have finished selecting our student-actors and it is our largest class to date! We also have a waiting list. We are excited to report that we have a new teaching assistant, a member of our original cast who just graduated from college and is back in town!
We always begin the year by getting to know each other and by building safety in our own class. Before we begin training teachers, we spend time learning about stereotypes, prejudice and bullying in schools. We talk about our own experience in different schools...experiences of being bullied, harassed or excluded as well as experiences of being a bystander or of being someone who tried to help.
We explore the concept of a safe and inclusive classroom and discuss the roles teachers and students play in maintaining safety. We also work on communication skills -especailly listening skills and we teach improvisational acting tecniques and character development.
We will start training educators in October. Until then we are building the foundation for another year of working to stop homophobic bullying in schools. Thanks for sticking with us.
The end of the school year means we celebrate having trained so many teachers ; we say goodbye to our current cast and then we start auditions for the 2014/2015 cast.
This is always a bittersweet time. Eight of our cast members graduated this month and are moving off into the world of college and work. It's always hard to watch them go.
Then we held auditions and have a record number of applicants. Next, we have to make some tough decisions!
Thanks again for supporting us through another successful school year making schools safer for LGBT students. We will continue to work on casting, scripts and calendaring over the summer. We will keep you updated on our plans for the fall.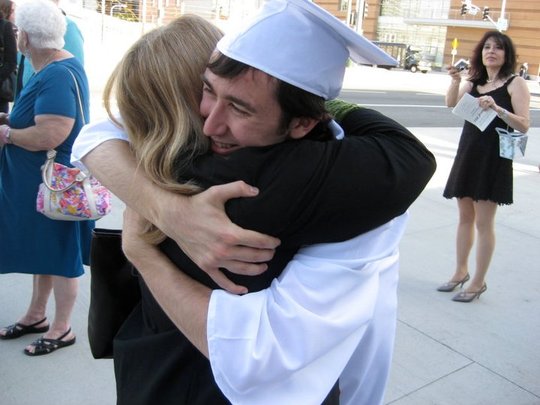 WARNING: Javascript is currently disabled or is not available in your browser. GlobalGiving makes extensive use of Javascript and will not function properly with Javascript disabled.
Please enable Javascript
and refresh this page.