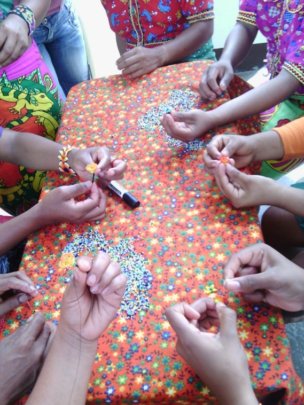 During the last days of 2015, we presented the outcomes of the project among the community.
We received different positive feedbacks of different partner organizations, for our restless work in the accompaniment of the women despite all issues that surround them such as domestic violence.
Likewise, the positive response of the women in the participation in the different activities of the project: forums, trainings and weaving gatherings, are a proof of the changes in their motor skills with more defined and detailed handicrafts. In addition, the participation and the voice in the decision-making processes within the community are also a proof of empowerment toward the political life managed mostly by men.
In their speeches, many changes can be evidenced as well:
*They recognize themselves as creative people, less shy in sharing their knowledge with other women with will to participate and listen actively.
*They see themselves as teachers, a font of knowledge in their villages, and feel valued for their skills.
*They feel got responsibility and commitment toward work with the customer orders needed to be delivered at time.
*They are aware of the importance of women´s role, to create balance in the domestic economy and in the improvement of the quality of life.
Dear donor, we want to encourage you in becoming a recurring monthly donor to ensure the continuity of this project for 2016.
Thank you so much!
See you soon!