With the ongoing pandemic and necessary precautions that are mandatory to take, personal as well as professional lives of ours have been affected. One of our core programs, the Volunteers program had also been impacted. Since the coronavirus cases started increasing from March 2020 to date, the programs to run in-person have been near to impossible. During the lockdown, the program officer was in close communication with as many volunteers as possible through various social media chatting platforms. To date, Tewa has more than 900 trained volunteers and 30% of them are still actively engaged in Tewa. Volunteers of Tewa used to participate in different local fundraising events, discussion programs focused on the volunteers, and refreshers programs. During the lockdown, Tewa came up with the idea to start weekly sessions via zoom. The weekly session is focused on all the volunteers. This session was focused solely on volunteers and was about skill sharing. Any interested volunteer with any skill, can lead the session and share about their skill with other interested volunteers. The session was conducted every Sunday via Zoom. Through this skill-sharing session, 117 volunteers have learned different skills. Like, learning how to make chayote pickle, making compost and liquid fertilizer, waste management skill, and making handbags. Also, our volunteers learned about basic skills in poem writing and making liquid hand wash. Apart from this training, Tewa also focused on the well-being of the volunteers. During ongoing pandemic and lockdown, the mental health of people has been affected due to an increase in stress and only staying indoors. So, we had also organized Psycho counseling and well-being session for our volunteers. The facilitators for all the sessions were our volunteers. These sessions had helped our volunteers interact with each other during this chaotic time, distracting themselves and giving them space to share, learn, and be carefree.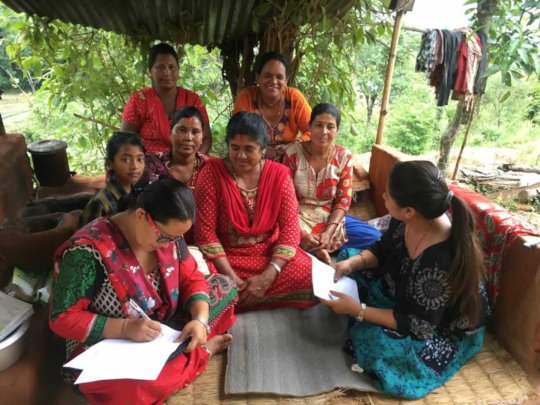 With the increase in COVID-19 positive cases, the government had initiated a lockdown in the entire country in March 2020. The phase of lockdown has been on and off since then. This has impacted the lives of people in an unpredictable way. Adapting to the new normal, Tewa has also changed its strategies from physical to virtual platforms for program continuation. The mentorship program likewise has continued its discussions virtually with the mentors and provided the tips to use virtual platforms. Tewa had also organized the bi-monthly meet-ups with the mentors where the program officer taught the mentors about the use of a zoom app. This space is also used to share skills and ideas among one another.
Our partners and we have been working in person which is why shifting it to the virtual one has been a bit of a challenge. But we are keeping up with everything and trying our best to adjust to this new normal. We frequently provide orientations to our mentors and mentees to use virtual platforms. This has its own positive aspect as well. The knowledge and skills of our mentors and mentees in using these apps have strengthened and enhanced. Also, they are starting to become familiar in technical arenas. Our mentors have come up with new ideas to give continuity to this program through a virtual medium. For our mentees, especially, this is a huge success. Living in the very remote areas and being able to learn more and expose oneself in the virtual space is an achievement for us too.
The starting months of the year 2020 proved to be a crisis not only to one country but the entire world. The horrid impact of Corona Virus spread across the world and the terror hit Nepal in March soon after it got out of control in India. The nature of the virus confused everyone and left people in Nepal including Tewa unable to continue normalcy of activities as planned within the organization.

Due to Covid-19 and official lockdown for almost 3 months starting from March 23, the day-to-day lives of the people are impacted and affected. The professional working hours and spaces are also affected. Tewa adapted to work remotely, which Tewa had never initiated before. Our programs were also adversely affected. The pandemic had equally affected our local fundraising. During the crisis and economic upheavals due to lockdown, it was difficult for us to raise funds locally and approach our donors, let be the new potential donors. Tewa has planned and strategize to change the fundraising model. The philanthropy team came up with Peer to Peer Fundraising. The concept is to approach 10 or more potential donors who will be interested in donating a small amount of donation (USD 5). We will also request them to look for other potential donors in their network who will agree to contribute to us even in a smaller portion. This concept is to create a chain of interested donors. By creating a pool of donors who will contribute a smaller amount will lead to collecting a large fund.

Along with this, we have also planned to stay in touch with our regular donors through a virtual space. As most of the organizations are organizing discussion meetings through a virtual coffee meet-up, we have decided to use the virtual space for a coffee and lunch meet-up with our donors. This would support us in approaching our donors in a more personal way as well as give a sense of priority at this critical hour. These new approaches and strategies are developed and adapted by Tewa to contribute to its fundraising event which would continue to promote local community philanthropy in the people. These strategies will have its own set of pluses and drawbacks. But with minimum donation criteria, we have the hope that we will achieve our goal.
WARNING: Javascript is currently disabled or is not available in your browser. GlobalGiving makes extensive use of Javascript and will not function properly with Javascript disabled.
Please enable Javascript
and refresh this page.