Thank you for supporting our book club and writing workshop for incarcerated youths! With your support, we mailed approximately 500 books to 200 members in federal prisons across the country. In addition to books, we also send a bimonthly newsletter, postcards and birthday cards, and one-on-one correspondence. Thank you for being an integral part of our members' journey of change.
Baltimore Author Visits the DC Jail
Author D. Watkins (The Cook Up: A Crack Rock Memoir, The Beast Side: Living and Dying While Black in America) visited our book club with young adults studying for their GEDs at the DC Jail. The Free Minds members had read The Cook Up in preparation for Watkins's visit, and came prepared with dozens of questions about the author's memoir, including questions about the writing and publishing process, as well as his remarkable life story.
The Cook Up depicts Watkins's journey from college student, to drug dealer, and back out again, in the wake of his brother's murder. Now Watkins is a professor at the University of Maryland, founder of the BMORE Writers Project, author of two books, and Editor at Large for Salon Magazine.
The Free Minds members could relate to Watkins's story, and he shared with them how reading a book he could relate to (The Coldest Winter Ever by Sister Souljah) had opened his mind to new possibilities. Watkins advised them on how to reflect on everything they read. "When I didn't read, I had a blindfold on. When I started reading, the blindfold came off."
At the end of the session, Free Minds members eagerly shared their poetry inspired by The Cook Up.
What I Saw
By Bobby
Inspired by The Cook Up by D. Watkins
I saw, I saw from behind these white walls
A child gets taken from his life as his vessel falls
Mothers cryin' over their children
It was the worst feeling they ever saw
Wondering how could God let them down
Including the law
The smile and laughter of the good times they shared
The feeling of regret at the time when they weren't there
That unbearable feeling deep down
That feeling they call fear
Not wanting to feel the pain
Of their child not being here
The Cook Up Across the Miles and in Federal Prisons
Meanwhile, Free Minds members in federal prison finished reading March: Book Three by Congressman John Lewis, and are now reading The Cook Up by D. Watkins along with their fellow Free Minds members in the DC Jail. The books are currently on their way to Free Minds members in 46 facilities in 23 states. They are prepared with discussion questions to think about while reading. Read along with them via our newsletter, the Free Minds Connect!
Connect: Inside/Out
The latest issue of the Free Minds Connect, titled "Inside/Out," explored the dichotomy of the inner self and the outer self.
As one Free Minds member, DD, wrote, "It's hard for me now to show who I am inside on the outside because I am in a place where that can be a bad thing or can be taken for a weakness to some. Sometimes the way we are perceived, help us and hurt us."
Another Free Minds member, LB, wrote, "While looking at my face you would think, "Oh, she's pretty." You would never think she would get locked up, that she knows how it feels to be hurt. Though, inside you would notice my heart is my window to my past. The pain I dealt with, the beatings I took, when I was younger. You would notice my heart has a hole in it where all the good times fall into and you notice everything is around it. Outside you would see a face that smiles, but on the inside, I'm crying. I cry for the little girl trapped inside who couldn't cry when she was younger. Inside I cry so much that no one really knows the true me. Outside I act strong and as if nothing could hurt me. I'm tired of crying on the inside! Crying on the outside, people notice not everything is peaches 'n' cream."
Free Minds Co-Founder Kelli Taylor interviewed Carlos, a Free Minds member who has successfully transitioned back to society and works to help other returning citizens navigate reentry. When asked for his advice to Free Minds members serving lengthy sentences, he said, "Write. You all know the guy who writes for the Connect named HF? Well, I don't know for sure, but I have the sense that he's been incarcerated for a while because of all of his wisdom. He doesn't even know the influence that he has had on me and my life. I remember so many times reading his words in my cell and gaining new understanding that helped me to change my life. Whether you share your writing in the Connect, or your poems at Write Nights, or even through letters to younger siblings or friends, you can change lives through writing."
We recently received a message from Free Minds member AN, who has been incarcerated for several years and is now preparing to come home. AN wrote, "Thank you guys for everything you have done for me. This has been a learning experience. If I didn't have books I don't know how my time would have gone. Since I started reading, it has opened my eyes to the full literary experience. I think you guys have truly saved some lives."
Thank you for helping us provide much-needed books and educational materials to AN and other Free Minds members!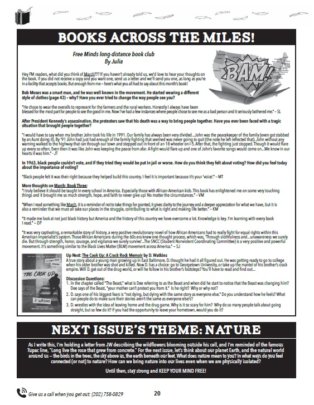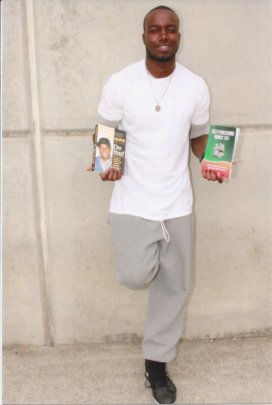 Links: