Thank you so much for supporting our project, Book Club for Youth in Federal Prison! With your support, we provided approximately 600 books to incarcerated youths. Here are some highlights from our life changing work at the DC Jail and in federal prisons across the country:
Jail Book Club Author Visits
In the past three months, we have been honored to host two amazing authors at our Book Club for teen boys at the DC Jail.
In February, the award-winning author Patricia McCormick came to visit from New York City to discuss her book Sold. It's a story of a 13-year-old girl named Lakshmi whose family is struggling in the mountains of Nepal. Her step dad arranges for a job for her in Mumbai and she soon finds out that she has been sold into prostitution. It was an eye-opening discussion for the Free Minds members who were shocked to learn what a pervasive problem prostitution is in both the United States and other parts of the world. They also learned about the oppression of women and girls around the world and the desperate choices families are sometimes forced to make to survive poverty.
This was followed by one of Free Minds all-time favorite authors Coe Booth, discussing her very popular book Bronxwood. It's the story of Tyrell, a young man who is facing all kinds of pressures as his father is just home from prison, his brother is being placed in foster care, and the drug dealers in his neighborhood are coming down hard on him to sell. Each member shared how much they could relate to Tyrell and his struggles. Seeing themselves in the characters and sharing that excitement with the author always brings the Book Club to new heights.
Books Across the Miles: Prison Book Club
Our BAM for this month is March: Book Three by Congressman John Lewis, Andrew Aydin and Nate Powell. March: Book Three is the third book in a graphic novel trilogy that depicts Congressman John Lewis's experiences as one of the "Big Six" leaders of the Civil Rights Movement. Previously, the book club members read March: Book One and March: Book Two. We returned with March: Book Three by popular demand! It made a major impact on the Free Minds readers and evoked strong emotions.
"I am so honored to receive this book called March! It was amazing to read. I LOVED IT...It was very fun and easy to read. A very cool way to share history of the American Struggle! I truly believe it should be taught in every school in America...This book has enlightened me on some very touching things and it brought me so much strength, hope, and faith to never give up! No matter the circumstances. But yeah, kids really need to read this. Shout out to Congressman. John Lewis and everyone who brought this empowering freedom here today in America with this amazing, heartfelt comic book." - Free Minds member VM
"I enjoyed the book. It was an intimate depiction of an aspect of the struggle for civil rights within this country, and it was illustrated from the perspective of someone who was involved in that particular struggle, firsthand experience! Beautiful in its truth...When I read something like March, it is a reminder not to take things for granted, it gives clarity to the journey and a deeper appreciation for what we have, but it is also a reminder that we must all take our places in the struggle, contributing to what is right and making life better. We are charged with such a task!" - Free Minds member KM
"It was a great book, but more importantly the message was received. It made me look at not just black history but America and the history of this country. We have overcome a lot, and knowledge is key. I'm learning with every book I read." - Free Minds member DP
The Free Minds Connect: Legacy
In addition to reading, our Free Minds members have been busy writing poetry and personal essays for our bimonthly newsletter, the Free Minds Connect. Recently, our members took time to explore the idea of their legacy.
Free Minds member KB wrote, "Oh how humbled and awakened I have become by the uplifting and healing legacies left behind by our historic figures who dedicated their lives trying to find solutions to problems affecting humans as a whole and the legacies of those whose mission is to help others become better."
Another Free Minds member TB reflects, "I've always been a thinker, but when I was 16 I was just constantly trying to prove myself. That means that I went with the crowd. Whatever they were doing, I was doing it too. I was trying to prove myself, and that's what got me in trouble...to be honest, I never had a concept of the future. I was busy planning my legacy. I didn't expect to survive and so I just wanted to be remembered as someone who was bad. I wanted my tough reputation to be glorified. I wanted kids in my neighborhood to be saying, 'Yeah, I knew him!' Now when I look back, I see that it was all just ignorance and stupidity."
Free Minds member MK shared this poem, What Legacy Will I Leave Behind.
When it's all said and done
What legacy will I leave behind????
The answer to that precious questions
Is held in the hands of time…
As for now in this present moment
I give the gift of my life in these lines…
I am a Muslim, I am a PO-ET, I am an artist
Painting pictures that will forever shine
Brighter than the darkness of crime
Would you believe even while confined
I find peace in having a FREE MIND…
As always, thank you for your wonderful support you offer to our members. We could not provide these services without your generosity and your belief in our cause.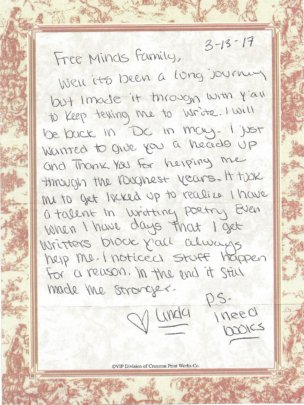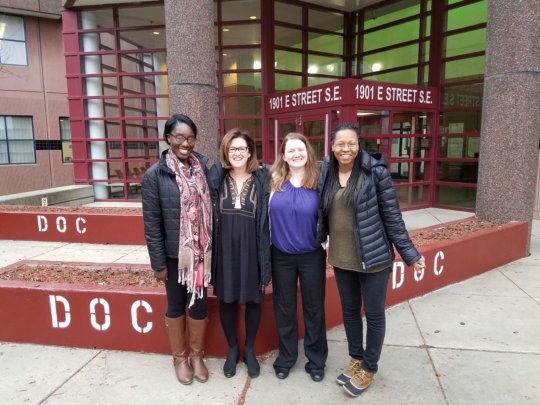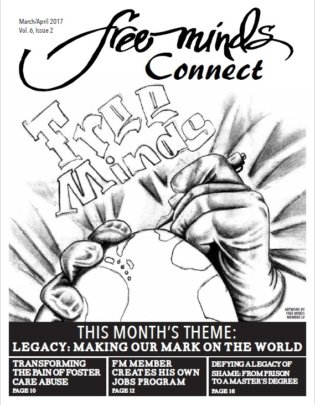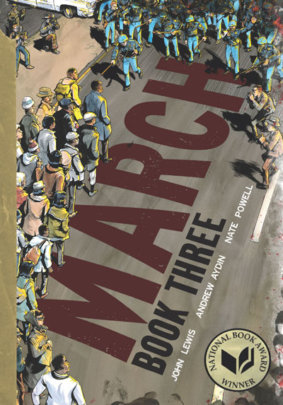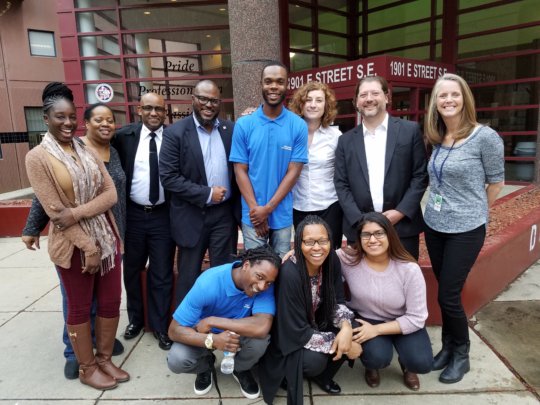 Links: