These last few months have been a true spring with growth happening all around at Free Minds! From graduation ceremonies and Write Nights to Harvard Law School and poetry panels, we are grateful for all of the opportunities you have enabled us to have share the untold stories of our members.
MAY APPRENTICESHIP GRADUATION
On Friday, June 3, friends, family, and community members gathered to celebrate nine Free Minds members graduating from our month-long Job Readiness and Personal Skill-Building Apprenticeship. From the stage, 3 senior Poet Ambassadors welcomed them to the brotherhood of Free Minds.
During the Apprenticeship, the Apprentices participated in a book club and poetry writing session, practiced budgeting and financial literacy, entrepreneurship, resume writing, job interview techniques, computer literacy, nutrition and fitness, mental wellness, and more. At the end of the month, each Apprentice left with a job placement or vocational program placement.
One Apprentice, Charles, gave the valedictorian speech at the graduation. He said, "The Apprenticeship gave me courage and made me believe in myself. Before, in prison, I didn't know where I was going or what I was going to do when I came home. I had no direction, no goals for my life. I thought I wasn't going to be anything. But I came home and joined Free Minds; they showed me that there was more to life than what I was doing before. I can better myself, and I've got goals and things that I want to accomplish."
For some of the apprentices, this was the first graduation ceremony they have ever experienced. One apprentice named Greg shared that because he dropped out of school in 8th grade, he felt like he never really accomplished anything in his life--until he graduated from the Free Minds Apprenticeship. We are grateful to stand side by side with these incredible Free Minds members, as they continue to step into their true potential as change-makers and community leaders.
MAY WRITE NIGHT
On Wednesday, May 25, dozens of community members gathered in DC's Takoma neighborhood to attend Free Minds' monthly On the Same Page: Write Night.
Free Minds Apprentices and Poet Ambassadors stepped forward and shared parts of their stories. Shadeed shared about the lack of direction he had while he was locked up, and the focus he now has to chase after his goals. David talked spoke about the depression and anxiety he felt before and during his time being locked up, and the joy he is able to experience now. One Free Minds apprentice, Delonté, took a deep breath before speaking. "In prison," he said, "I felt like I wasn't wanted and nobody cared. Free Minds taught me to open my mind and change my life."
The rest of the night, volunteers read and responded to poetry written by our incarcerated members. Ranging in age from 17 to 75, these volunteers spent time writing insightful comments and encouraging feedback on the poems. At the end of the night, the staff walked away with a huge stack of poems, each one filled with colorful comments. We are excited to send the poems back to the incarcerated authors in [x] prisons across the country.
VISIT TO HARVARD
In April, Reentry Program Manager Keela and Poet Ambassador Phil flew to Boston, Massachusetts, to meet with a class of Harvard Law students. After a brief introduction to Free Minds from Keela, Phil stood and shared his story of incarceration at the age of 16 and the transformation that followed as a result of the power of reading, writing, and mentorship in his life. Keela and Phil hosted an On the Same Page: Write Night with them. We are thankful for the opportunity to connect with the future generation of lawyers and law-makers, and for the chance to share our members' voices on such an influential campus.
WE CAN BE THE CHANGE: WRITING SOLUTIONS TO VIOLENCE
On April 27, 2016, approximately 100 people filled the Lincoln Hall at the Hill Center at the Old Naval Hospital for a very special reading and community dialogue presented by three nonprofits that have teamed up for a unique approach to violence prevention through the power of the written word. Free Minds, PEN/Faulkner Writers in Schools, and Shout Mouse Press partnered to share powerful voices and untold stories from the community. Free Minds Poet Ambassadors read poetry and spoke about their personal stories of youth incarceration and reentry. Then the audience listened to a panel discussion with a Poet Ambassador, two high school students and authors, and an English teacher from a DC Public High School, all of whom have participated in the partnership between Free Minds, PEN/Faulkner, and Shout Mouse Press.
At the end of the evening, Free Minds Poet Ambassador Carlos read the poem "Belonging to Love" by an incarcerated author. Carlos spoke about his own feelings of isolation and loneliness when he was incarcerated, the desire to belong to a supportive community, and the incredible impact of receiving feedback on his poetry from volunteers at Free Minds On the Same Page: Write Night events. Carlos said, "It sows the seeds of that connection that we so desire."
VIOLENCE PREVENTION OUTREACH
Free Minds staff and Poet Ambassadors Carlos and Greg visited Brightwood Center City Public Charter School to speak with a group of sixth, seventh, and eighth graders. After going around and sharing their names, the students listened attentively to Carlos and Greg's stories of incarceration and reentry. Carlos shared how he would read a book a day while he was in solitary confinement, and how writing poetry saved his life.
The students read their favorite poems from the Free Minds literary journal The Untold Story of the Real Me. A sixth grader read "Memory I Can't Forget" by Free Minds Member Kevin. In the poem, Kevin talks about his younger sister passing away and the pain he feels that he couldn't protect her. The young student then shared about how her little brother got hurt and she also felt guilt about it.
Some students wrote poetry and stories in response to the pieces in the literary journal. The first student to share, Jalen, wrote a personal narrative in response to Free Minds Member Jonas's poem "Dignity." In a story called "I Want to be A Dignified Black Man," Jalen shared vulnerable and personal details about his childhood and dreams for the future.
At the end of the session, the students crowded Greg and Carlos, literary journals and colored pens in hand, asking for their autographs. When asked whether the program inspired them in their writing or for the future, the Brightwood Center City PCS students had this to say:
"Yes it has [inspired me] because it makes me want to express myself more"
"This program has inspired me to write more, because even though I might not be the best writer, I want to write just to convey a message"
"It has inspired me because I can discuss about my life and what I've been through"
--

Thank you again for standing with us to bring the power of reading and writing to young men and women affected by the criminal justice system.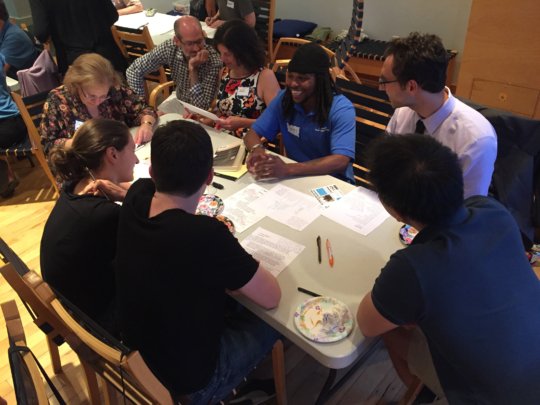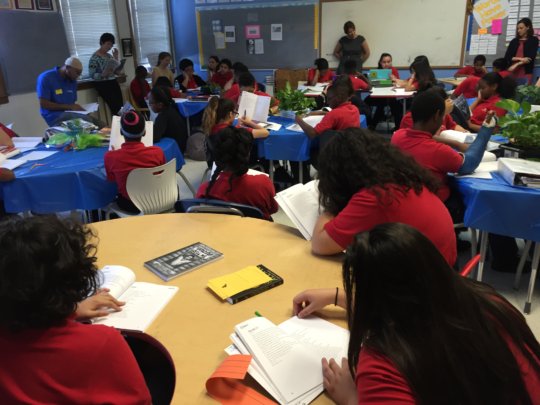 Links: