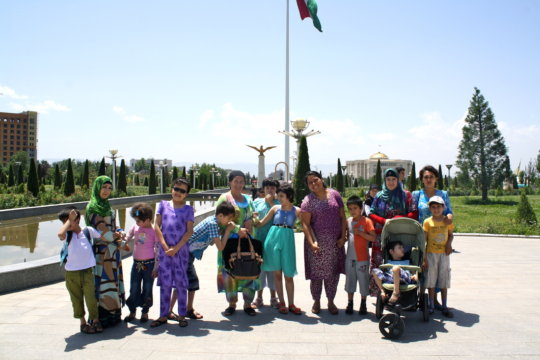 April has become globally recognized as Autism Awareness Month. For the last 6 years IRODA has made a focused effort in the month of April to increase understanding of autism amongst the general public. Prior to IRODA beginning it's work here there was very little knowledge of autism amongst the medical profession and it was difficult for people with autism and their families to find acceptance or understanding within Tajik society.
As well as undertaking public awareness campaigns IRODA has created opportunities for families and their children with autism to participate in activities together within the community. It can be difficult for families to do this on their own when they feel a lack of support or acceptance when out in public with their child. But together families and children with autism have had lots of new and positive experiences in the community.
This April a group of volunteers in Tajikistan initiated a bike ride through the city to raise awareness about autism and IRODA's work. It has been exciting to see other groups within Tajik society coming alongside IRODA to help increase understanding and work towards changing societal attitudes.
Thank you for your support of IRODA's work in Tajikistan that is promoting greater awareness of autism and creating new opportunities for children adn with families.
Along with the everyday work that IRODA does with children with autism and their families we are always looking for opportunities to train others. Over the last few years IRODA has been working towards having input into University courses. Previously doctors and teachers have graduated from University with no knowledge of autism and how it may impact on children that they see or teach.
It has been an exciting step forward for IRODA staff to recently be invited to give lectures on autism to teaching and medical students. The hope is that this information will later be incorporated into University courses and that future students will graduate with knowledge and skills to work effectively with people with autism.
As with much of IRODA's work time and resources are required for building relationships with decision makers in areas such as the University sector. We greatly appreciate your on-going support that allows the IRODA staff to invest in opportunities such as the work with the University, that we hope in time will lead to a generation of skilled, supportive and understanding professionals equipped to make a difference in the lives of people with autism in Tajikistan.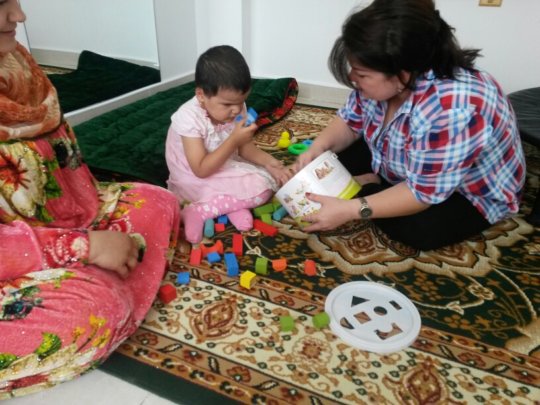 Over the last 5 years IRODA has worked hard to see children with autism identified as early as possible, and given access to learning opportunities and support appropriate for their needs. In recent times there has been an increasing number of children with autism being involved with IRODA's work from a young age. It has been pleasing to see these families getting support early on and avoiding some of the confusion and stress that a misdiagnosis or lack of services creates.
IRODA staff are continually seeking to learn how best to support children and families in the early years. Recently new approaches have been introduced in the early childhood program to incorporate staff visiting children and families at home, a stronger emphasis on workers partnering with parents to develop strategies to address the challenges they face, and a focus on opportunities for learning within the child's everyday environments.
During a recent evaluation of the program more than two thirds of the families involved indicated that the support has significantly increased their confidence for interacting and communicating with their child. A similar number of families also reported a significant decrease in their anxiety related to coping with their child's challenging behavior. The majority of families were able to identify new skills and knowledge that they have gained through their involvement in the program.
IRODA is committed to continually improving the work that it does in order to see the best possible outcomes for children and families. Thank you for you on-going support that is allowing the organization to grow and develop.
WARNING: Javascript is currently disabled or is not available in your browser. GlobalGiving makes extensive use of Javascript and will not function properly with Javascript disabled.
Please enable Javascript
and refresh this page.