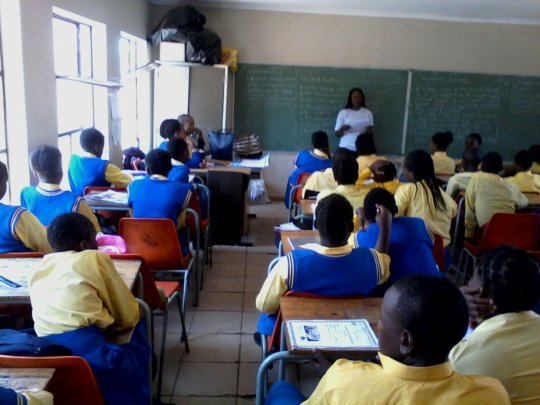 On a February morning, a class of 60 students in grade 8 piled into a small classroom at a Diepsloot high school for LvA's first workshop on Managing Sexual Violence. As the students gradually quieted down, LvA shared a fictional story about a boy named Tebogo who was sexually abused by his mother's boyfriend whom they lived with. For many in the classroom, the story of sexual abuse by someone close to them hit home.
Diepsloot is known as one of the most violent communities within South Africa, with shockingly high levels of domestic and sexual violence. Since July 2014, LvA has been working in Diepsloot to address the high prevalence of domestic and sexual violence, mostly by working with individual victims and state actors. However, in late 2015, LvA began working in local schools to respond to the huge need to empower and educate younger generations on preventing, identifying, and reporting sexual violence and abuse.
Already in the month of February, LvA has conducted workshops for over 660 students to provide a broad understanding of gender-based violence and debunk misunderstandings and myths about sex, sexuality, and what constitutes appropriate behavior. As part of the workshop, students are invited to anonymously write questions on small cards for LvA to answer. While some students had questions about harassment or why abuse happens, most questions dealt with serious situations of abuse by family members and peers and where the student could go for help. As part of the workshop series, LvA's facilitators explained to students how to handle these situations, acknowledging the often harsh realities in which they live. But most importantly, they informed students about LvA's nearby Legal Services Centre, where they could always go for help if needed.
This first series of school workshops were a powerful confirmation of the prevalence of sexual violence and abuse in Diepsloot and is just the beginning of LvA's work to engage more broadly with the community to end violence against women and children.
LvA will be conducting workshops at a primary school in Diepsloot during March and April, with three more schools scheduled for later this year. Based on lessons learned from our first series of workshops, LvA will conduct workshops with teachers, prior to engaging with students, to ensure teachers are prepared to properly respond to anticipated subsequent disclosures by students. With our workshops, we hope that sharing knowledge about sexual violence and abuse empowers students and their teachers to not only properly handle these situation, but to prevent them in the future.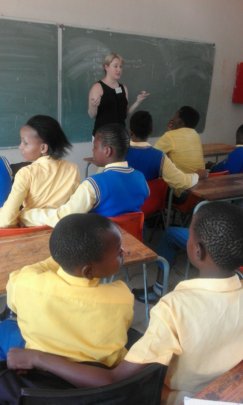 Links: