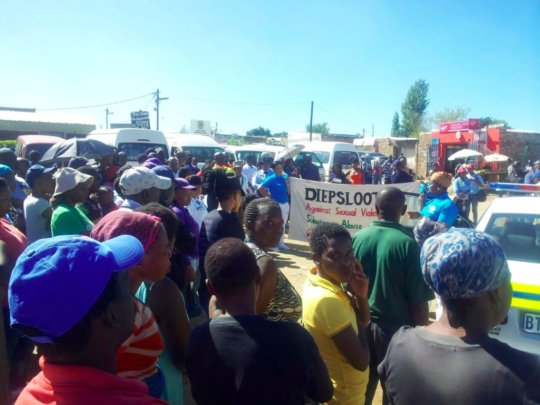 On 22 April, LvA proudly joined a diverse group of civil society and community members for a march against sexual violence and substance abuse in Diepsloot. The march was the first of its kind in the community as it joined together local NGOs, government agencies, and police officials to raise awareness about gender-based violence (GBV). In all, over 70 stakeholders and 200 community members participated in the event.
The march began in Ext. 1, one of the most informal and violent areas of Diepsloot, and culminated at a major taxi rank in Ext. 11, recently identified by the police as a "rape hotspot." Here, LvA, along with our partner organisations, SADAG and Sonke Gender Justice, and the Diepsloot SAPS Station Commander shared information about available services for GBV victims, encouraging victims to report crimes and community members to speak out against sexual violence.
Accompanied by police vehicles, LvA staff and other service providers were able to engage with community members without worrying about safety concerns. Still, despite the buffer of uniformed officers and police vehicles, marchers were still whistled at and catcalled, signifying the extreme levels of street harassment the women and girls of Diepsloot face every day.
Reflecting on her experience, LvA staff attorney, Rethabile Mosese, shared the following:
"It was heartening to march alongside other black women of this community, both young and old, lending my voice to their unrelenting strength and determination.Yet, as I climbed into my taxi at the end of the day and left the multitude of shacks haphazardly piled upon one another behind, I felt conflicted. On the one hand, I was encouraged by the SAPS commitment to fighting gender-based violence in Diepsloot and yet, wondered whether a rape survivor has 'real' access to these resources. Would a van be able to snake its way through these unmarked streets to find her? Would a van even be available to come at all? Would her neighbours come to her aid as she waits?"
These are just a few of the very real challenges victims of sexual violence face every day in Diepsloot. LvA works hard to ensure that she does not have to face these challenges alone. Won't you join us?