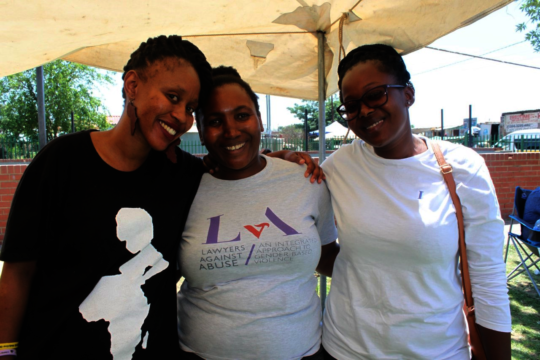 On Sunday, 15 March 2020, President Cyril Ramaphosa declared a national state of disaster due to the COVID-19 virus outbreak. As we are aware, LvA's beneficiaries are women who have been or are at risk of becoming victims of GBV. In our context, these victims are mostly black women and girls and may include women with disabilities, lesbian and bisexual women, transgender and intersex people and HIV-positive women. A large portion of our clients are also unemployed and are marginalised not only for their race and gender, but also for their socio-economic status. For people in the "high-risk" groups, those with chronic diseases, compromised immune systems, or the elderly, the COVID-19 virus will be deadly. Diepsloot is located approximately 40km from the Johannesburg city centre and financial hub, and it deeply lacks public infrastructure, including critical municipal services. Both staff members and clients make daily use of public transport. We know that the simplest way to protect ourselves and others from coronavirus is to limit contact. In order to safeguard the health of our clients, staff members and the larger Diepsloot community LvA will be closing the Diepsloot centre for the next few weeks.
For some of the women that we serve, the outside world is often safer than their own homes. At its core, abuse is about power and control. When victims/survivors are forced to stay in the home with their abusers they may are vulnerable to further abuse. LvA recognises that social distancing and isolation may lead to an increase in incidents of gender-based violence and have put in measures to ensure that staff has been provided with the resources to work remotely whilst continuing to serve our clients. We will also be working closely with the Diepsloot GBV Forum to ensure that state actors are attentive to the risks towards women and children amid this outbreak.
LvA prides itself in its reflexivity and staff will be using this time to review their program areas to improve on how our mandate is carried out. In the interim, here are a few highlights from 2019 :
Direct Legal Services:
Provided direct legal services to 253 clients including comprehensive criminal case support for 127 clients, protection order assistance for 88 clients and legal advice for 61 clients.
16 perpetrators were convicted of attempted murder, rape, statutory rape, assault and contravention of a protection order, receiving heavy sentences for their actions including three life sentences, a 15-year sentence, two 12-year sentences and two 10-year sentences.
77% of clients who completed the process received final protection orders.
Psychosocial Support:
Provided 138 clients with received psychosocial support including:
790 individual therapy sessions to 114 clients
130 sessions to 22 primary caregivers of minor clients which focused on psychoeducation, self-care and parenting skills
Group therapy to 24 clients in four groups: clients aged 12-14; clients aged 15 – 18; minors living with cognitive disabilities; and primary caregivers of minor clients
Facilitated four psychoeducational workshops for 18 caregivers of minor clients on understanding trauma and providing support for their children.
Witnessed as many clients rediscovered a sense of hope, confidence, trust, perseverance and self-esteem during their sessions.
State Actor Engagement:
Strengthened partnerships with local state actors including police, prosecutors, magistrates, healthcare officials, and social development via continuous and strategic engagement.
Created accountability in individual instances of misconduct at every level.
Built capacity through ongoing workshops - three workshops for the specialised Family Violence, Child Abuse and Sexual Offences (FCS) Unit and eight workshops for the Diepsloot Community Policing Forum (CPF) GBV Taskforce.
Continued to lead initiatives under the Diepsloot GBV Forum including advocacy around the lack of post-rape medical care, an anti-rape March to raise awareness around high levels of sexual violence and a Community Dialogue during the 16 Days of Activism.
Community Engagement:
Engaged 16,560 community members through 73 talks at two local government clinics, a monthly segment on a local community radio station, and talks at various stakeholder events.
Facilitated six workshops for community members with 20 to 67 participants per workshop.
Conducted a 12-month project in two Diepsloot primary schools to: 1) increase school capacity to more effectively prevent and respond to sexual violence; 2) increase accountability in cases of sexual violence in schools; and 3) cultivate an environment conducive to learners reporting instances of sexual violence in school or elsewhere.
Despite ongoing challenges and obstacles, we press on, inspired by the words of one of our clients who had experienced domestic violence for over 15 years before approaching LvA for assistance. When reflecting on her journey with LvA, she stated:
"Challenges are still there… But I'm strong now to face my challenges without any fear. I am bold, strong, courageous, stable and grounded. Nothing and no one will stand in my way of reaching my destiny or goal… I am a changed person."
With your support, we look forward to expanding our impact in 2020, reaching even more victims and ensuring that the justice system provides and effective and efficient response in all cases of GBV.