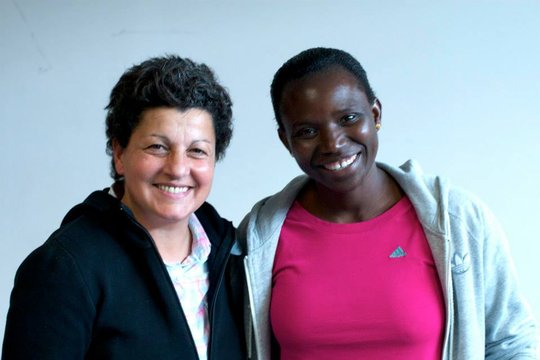 The Ladies' Turn international film tour continues! By screening our film, we are spreading the news about women's soccer in Senegal and building our community of supporters around the world.
We held a very special screening on June 3, 2014 in Evreux in Normandy, France. The event featured our President Seyni Ndir Seck and Nicole Abar, a former French women's national soccer team player. It was magic to have two pioneers of women's soccer on each of their respective continents together for the evening. Seyni retired as captain of the Senegal women's national soccer team in 2011. Nicole Abar was one of France's best players, scoring her first goal in international competition against Norway in 1982. Seyni and Helene Harder also enjoyed meeting students at Pablo Neruda Middle School in Evreux.
On July 14, 2014, our documentary was screened as part of the African Football Film Festival in Lagos. It is always great to share the film in other countries in Africa. While most eyes had been on the Nigerian men's national team in the previous month, we were glad to have our day to shine following World Cup final. We were proud to be the film respresenting the women's game at the festival.
Although we at Ladies' Turn love soccer and reveled in this last World Cup, we are aware that resources at the national soccer federation level remain dominated by men's soccer, especially the men's national team. So let's hope for national federations' growing support for Canada 2015! We can now look forward to some great play next year at the Women's World Cup. And continue to mobilize to see the day where as many people follow women's teams throughout Africa and the globe.
Once again, thanks for all of your encouragement and support! We could not do this without you!
Nio Far. We are in it together.
The Ladies' Turn Team