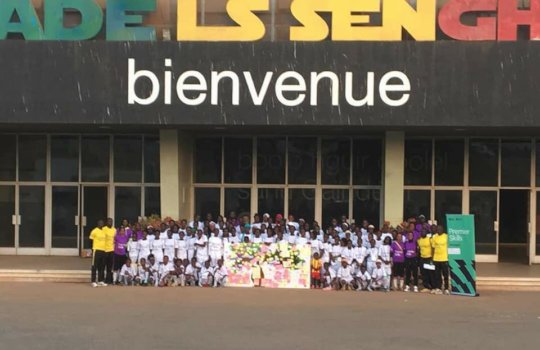 At Ladies' Turn, it's been a blast working with the Premier League and the British Council on their Premier Skills program! We celebrated the culmination of our partnership over a weekend of festivities on January 19-21, 2018.
Premier Skills is a training initiative of the Premier League and the British Council which uses football as a tool to develop a brighter future for young people around the world. It certainly was a success in Senegal! In 2017, Premier Skills certified coach educators worked with Ladies' Turn to train 36 young women as coaches and community leaders last January. Of these women, 24 went on to complete phase 2 in May where they designed and implemented their own community service projects.
"I started playing soccer a few years ago and played at the national level. I have never had any soccer training before being involved with Premier Skills through Ladies' Turn. It was important for me because I had no credentials and it was necessary to improve my skills to gain recognition and credibility. Finally I have gained the knowledge I need, and I was able to start my own women's soccer club just months after completing the first phase of the training last January." - Ouleye from Pikine, a suburb of Dakar.
For the weekend finale, 19 of the young women who completed the Premier Skills training came back to lead the activities. We also invited 100 girls on four teams to participate. Three of the teams traveled from Thies, Diourbel, and Kaffrine regions of Senegal to join the Dakar-based team at the national stadium.
For the Friday night's sleepover at the stadium dormitory, the players discussed women's leadership and watched the Ladies' Turn documentary. On Saturday morning, they took a tour of Dakar, visiting the Presidential Palace, the National Parliament, and the Statue of the African Renaissance. Many girls were seeing these sites for the first time. In the afternoon, it was soccer time! The 19 women graduates of Premier Skills led the girls in soccer drills and organized a mini tournament before the closing ceremony. On Sunday after breakfast, the teams traveled back home, hopefully with some new friendships and more soccer stories to share in their villages.
We're grateful to our partners at the Premier League and the British Council and YOU! Your donations contribute to all of our soccer and leadership activities, allow us continue our work throughout the year, and help us secure international partnerships. So thank you again for your support!
In Solidarity,
Jennifer and the Ladies' Turn Team