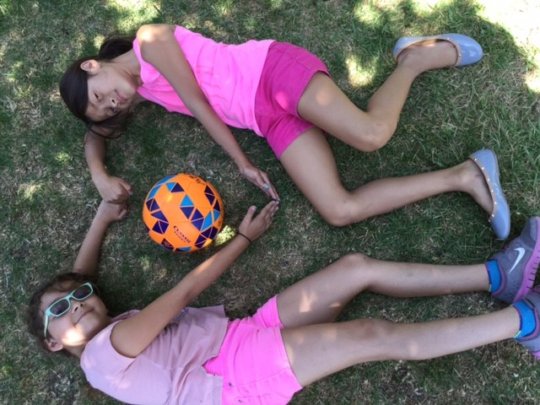 The last Quarter was, as it always is, a very lively time at 'g2W' because we transition through end-of-schoolyear right into a full-time, 6-week Summer Session. This year's, at 48 program recipient families, was our second-largest ever in 10 years. Thanks again to all of our institutional AND individual donors for helping to make broad-spectrum services for a culturally-diverse & low-income constituency possible.
So what are these services? They include:
Math Tutoring -- We retained our twice-weekly sessions with math tutor Ruth Lang throughout School Year 2015-2016. During her 4 to 6 weekly hours, Ruth helped students in grades 1 to 8 with everything from simple arithmetic to algebra, geometry, and trigonometry. She also coached our volunteer high-school and collegiate tutors, significantly increasing their effectiveness.
Literacy -- A good 50% of our tutoring effort went into enhancing the English language skills of our girls and for good reason -- better learning in all other areas! But that's not all. We've always emphasized the importance of literacy not only as a core learning prerequisite, but also for the life-enriching dimensions brought forth by written self-expression and appreciation of literature. We serve a population that grew during the Grant Period from 20% to now close to 1/3rd English Learners.
STEM Learning -- Three of our middle-school girls completed our 2.5 years' partnership with More Active Girls In Computing (MAGIC) a Silicon Valley-based youth service group which matches early-adolescent girls with IT professional women for a variety of projects ranging from hardware functions to programming. This project complemented the basic computer literacy activities that every girl in our program engages in, with the support of our staff and volunteers.
For both School Year and Summer Session participants, our on-site computer lab was available with 5 desktop workstations, wireless internet capacity, and 4 laptops. Girls quickly got acquainted with these resources, since most had some computer access and training either at school, at local public libraries, or at home (under 15% of our participating families have a computer in the home however). Girls were of course supervised as to online content, but otherwise used the computer lab for everything from math practice to digital arts. An emphasis area going forward will be computer programming-related activities for middle-school girls. Not only are the number of programming-related employment positions projected to increase over the next several years, but a shortage in qualified professionals is also forecast; disproportionately-so for women of-color.
Women's History Month in March triggered workshops in online research for the ages 9 and up girls to help them complete their biographical presentations on their chosen Great Woman of History. Our staff-person Larissa Banks led these workshops, and we found the girls to be eager scholars and researchers. Once again, we're convinced of the value of positve role-models and mentoring . . . and we'll continue to connect our girls with such 'human resources.'
Earth Day 2016 in late April provided a focal point for a month-long investigation into environmental science. Related learning included sustainable agriculture; conservation of sensitive species in the nearby East Palo Alto Baylands; hydrology and the water cycle; climate destabilization & renewable energy alternatives.
Moving from literacy to the arts, we're pleased to report that celebrated local working artist Judy Gittlesohn once again led individual and group arts activities for our girls. They looked forward to the two-hour sessions which Judy led each Wednesday during the school year and during Summer Session 2016. Judy has a real gift for nurturing arts appreciation and skills in young people, and we couldn't have been happier to have her back last spring. The contributions of GlobalGiving donors help to make Judy's and other arts programming available for our girls, and thanks to you all for that -- in our view, hands-on arts education is so valuable for optimum emotional and creative growth of youth.
During the recently-completed Summer Session 2016, our very dedicated program volunteer and engineering student Angela developed and delivered a remarkably complete series of introductory build-it-and-test-it exercises for the girls with age-appropriate versions, consisting of the following elements: 1. Potential and kinetic energy principles through the 'Marble Roller-Coaster.' 2. Buoyancy and aquatic engineering, through 'Design A Boat Challenge.' 3. Chromatography, dispersion, and color-separation through 'Chromatography Flowers.' 4. Basic chemistry through 'Volcanic Eruptions!'
Our Founder-Director Pat Foster was San Mateo County's Assembly Woman of the Year for 20216. Pat didn't rest on her laurels for long however, but got to work mobilizing staff, volunteers, and donors to help g2W meet the 2016 year's Silicon Valley Gives Matching Grant Challenge, our third consecutive. This year's challenge was $20,000, which we were able to meet by the Challenge deadline on May 4th. Including donors' generous matching contributions, that's $40,000 we didn't have before to help fund Summer Session 2016. Speaking of that, the number of applications for this coming Summer Session – our 10th consecutive -- were the most we'd ever received.
We've been getting requests from young community women in the post-secondary school 'Transition-Age Youth' range for focused programming for a few years now. Beginning in April, Marissa conferred with our former Program Director Natalie Seer and longtime multi-talented g2W ally and progressive educator Lakiba Pittman to come up with a support group-oriented program structure. After holding a focus-group series with likely program participants, we launched our first Young Women's Support Group session earlier this month. Issues include employment/discrimination; financial literacy in an era of rapidly-escalating housing prices; balancing work/life issues; health; and social justice involvement. We look forward to having more to share from this project in the near future.

We're always looking forward with and for our girls and families whom we serve. Thanks as always to all of you who help to make our work with them possible. It's the steadier support of online and individual donors which helps to stabilize an organization operationally between large project grants or contracts.
Yours In Community,
Girls To Women