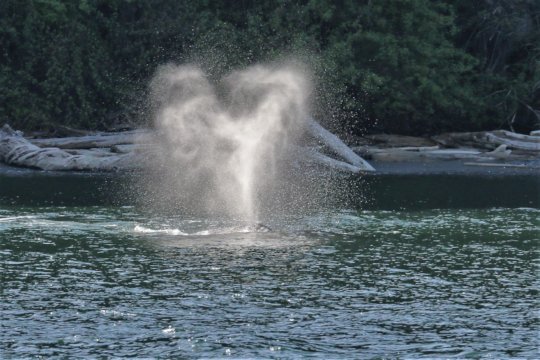 SOUTHERN RESIDENTS
While prepping this report (April 7th) we and our Whale Sighting Network volunteers are tracking members of J pod who have come in search of salmon in Saratoga Passage. It was around this time in April 2016 Js spent four of their 10-day Puget Sound stay in Saratoga Pass/Holmes Harbor feasting on what locals reported as Black mouth salmon. Hopefully they are finding enough this year to stay around at least a few days!
As has been typical, Js & L87 have been spending much of the winter in the inland waters around the San Juan Islands and BC waters, primarily further north in Georgia Strait between Nanaimo and Campbell River area. Ks and Ls spend most of their winter months off in the Pacific so we receive fewer reports on their whereabouts during this period each year. We did receive reports of members of L pod off the Washington Coast on February 13th and again off Depoe Bay, Oregon on March 19th. It is not unusual to have even fewer to no reports on K pod at this time of year.
NORTH PUGET SOUND GRAY WHALES
The return and presence of the North Puget Sound (NPS) gray whales each year piques our interest and warms our beings. On a beautiful, sunny, and very warm March 1st, one gray whale was observed for much of the day engaged in typical 'Sounder' feeding behavior in the Snohomish Delta just off Jetty Island, Everett. Two days later (March 3rd) four grays were in North Puget Sound including confirmed IDs for three whales: #'s 53, 56, & 723. A fourth gray was feeding off Jetty Island as that trio of known whales were well to the south off Possession Point. March 4th beloved gray #49 Patch was confirmed. And so they came, one by one by two by three to feast on ghost shrimp in the tidal flats primarily around Whidbey, Camano, and Hat/Gedney Islands, and along Everett and Tulalip.
March 16th brought reports to us of an unknown gray who was not one of the returning Sounders, but appeared to be traveling with them. We forwarded photos to Cascadia Research Collective (CRC) who knew this whale well and ID'd him as PCFG CRC-185, a member of the Pacific Coast Feeding Group. PCFG185 has been documented on at least 7 other days since his arrival feeding with or in close proximity to the others. Another unknown gray also found his/her way to that area and has been seen on a couple of occasions along with the known Sounders and 185.
Another exciting and welcome sight was seeing images of #22 Earhart who arrived on March 21st. She is the whale who was struck by a boat last year. By all reports she seems to be feeding normally and appears to be in well enough health. She is seen most days traveling and feeding alongside #21 who arrived on the 15th of March. 21 and 22 have a long standing relationship and history with this area, they are the first grays documented in North Puget Sound back in the early 90's by CRC.
Reports of NPS grays feeding and traveling together come in daily. Such a special time of year when we get to spend our spring days in the presence of these gentle giants. To date here are the grays who have been recorded feeding in North Puget Sound: (excludes 2 other unknowns who showed up in Edmonds in February)
- 9 Sounders: 21, 22, 44, 49, 53, 56, 383, 531, 723
- PCFG CRC-185
- Unknown
Check out wonderful videos to two sightings of these Gray whales from March 3rd and 4th in the links following this report.
DECEASED GRAY
Sadly a deceased young female gray stranded on a Whidbey Beach on April 3rd: A team led by Cascadia Research which included our Central Puget Sound Marine Mammal Stranding Network volunteers, examined this young girl on the 5th and found that she was malnourished, and "The unique markings on this whale did not match any of the more regular individuals that are typically seen in this region and cataloged by Cascadia Research and was likely one of the more than 20,000 gray whales that migrate past Washington each year in spring." - Cascadia Research
BIGG'S/TRANSIENT ORCAS
Over the past few months since our last report many families of Bigg's/Transient orcas (mammal eating type) have frequented Puget Sound Waters. Our Whale Sighting Network volunteers have been invaluable getting IDs and photo/video documentation which we continue to forward to researchers and include in our Whale Sighting Reports.
Recently a family named the T2Cs has spent many weeks around the San Juan Islands, and mid March they spent two days in and around Admiralty Inlet. On March 17th they spent many hours just outside of Admiralty Inlet with the T37As and T99s then all headed south traveling most the length of Admiralty Inlet reaching Double Bluff by nightfall. Watch this great video of these orcas, taken by Alisa Lemire Brooks. The T2Cs then showed up by themselves off Port Townsend the next day, headed to the San Juans overnight, and traveled over to BC waters across Haro Strait. Much gushing was had over this unique family who cares for and travels at the pace of T2C2, a son who has severe scoliosis.
In early March a large gathering of many matrilines powered their way swiftly through Puget Sound with purpose. Such a comanding and beatuiful presence with so many families present. Here is video of the T77A, T87, T101s, T124As, & T124Ds on March 7th in Puget Sound.
Mid to late February had a group of Bigg's, T124A2s, T124C, and T87, who stayed around for much of the week. These four days with these inland Bigg's was exhilarating and afforded much land-based viewing for so many. Hundreds of people were able to get out and enjoy the presence of these apex predators, often times during snowfall, high winds, and overall biting cold conditions which is for some a magical way to spend snowy winter days!
BOTTLENOSE DOLPHIN
Collaboration between Orca Network's Whale Sighting Network and Cascadia Research has yielded a 2nd ID on one of the bottlenose dolphins who is currently living in Puget Sound, far from her waters of more temperate climes. Photos sent to Orca Network were used along with contributions by others to confirm the identity of an individual known as Stump, a well know female from a California Coastal population. Read more about her at this link to Cascadia Research.
It would be impossible to document and keep track of all the whales and cetaceans without the help of our volunteers. Your support helps enable us to keep our Whale Sighting Network active, engaging, and current. Thank you for supporting the work we do and will continue on behalf of all the beings of the Salish Sea.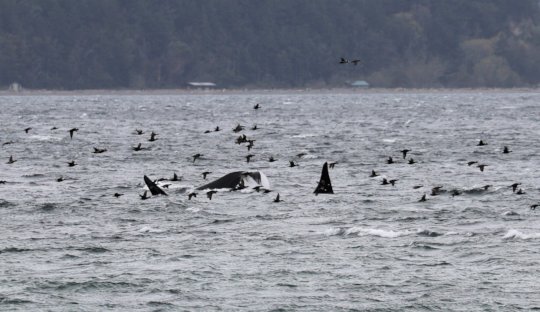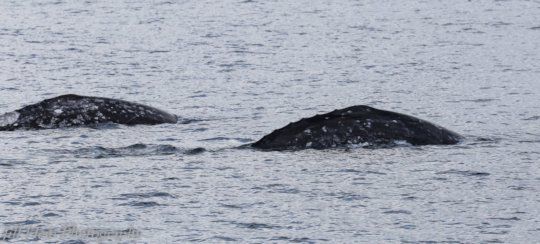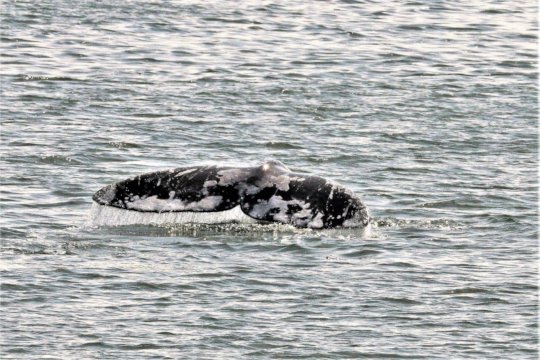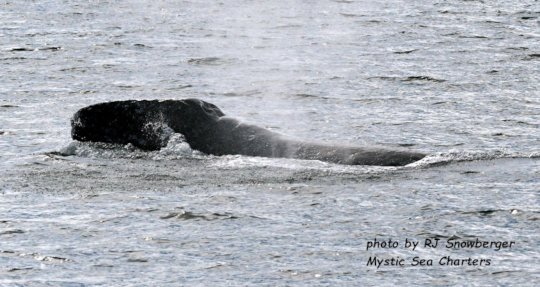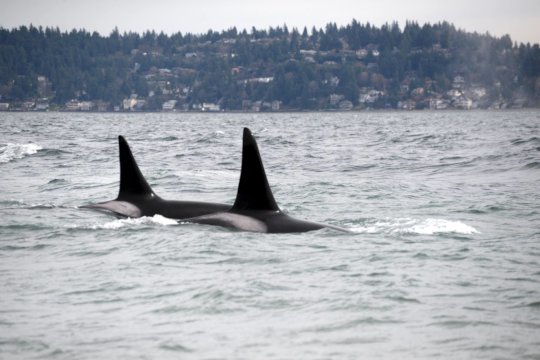 Links: