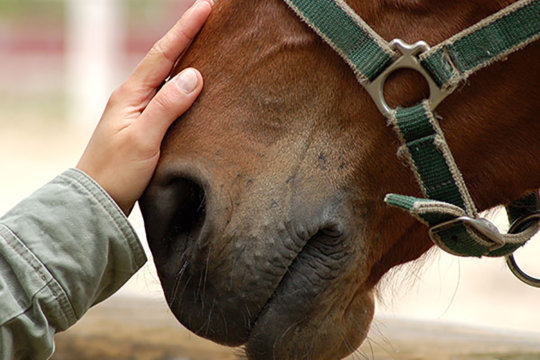 The bond with horses transcends time. We wish share the true story of a man who died at his home last month after a valiant battle with cancer. He was at the forefront of the farm-to-table movement.
Earning a reputation as the ultimate authority on meats and charcuterie, he was sought after as a celebrity guest chef for important gourmet gatherings and celebrations across the country. His passion for food and life was contagious. His raucous laughter filled the room and will stay with those who knew and loved him always.
In his later years, he returned to his childhood love of horses. From playing polo to rekindling his love affair with a four-in-hand, he made sure that horses once again became an integral part of his life.
In his last few months, his wife shared with us that his greatest delight was having his family drive a carriage with him on their farm. Although a light has dimmed for those who loved and admired his passion for life, courage and generosity of spirit, his enthusiasm has encouraged the family to continue carriaging as a part of their connection to the land and their heritage.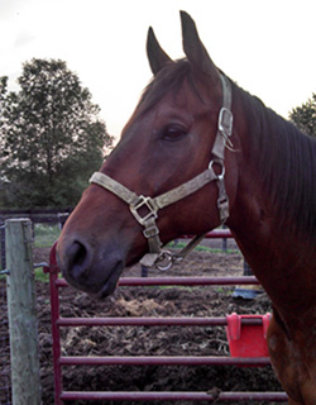 When Nyuk Nyuk Nyuk arrived at Beyond The Roses Equine Rescue (BTRE) in Emmett, MI, he was emaciated, sore and was diagnosed with severe arthritis in all of his ankles. The rescue found Nyuk, a 15-year-old ex-racehorse on Craiglist for $1 two years after his last race. Nyuk had competed in 80 races during his stakes winning career earning $813,953.
Through a partnership with Hagyard Equine Pharmacy, the EQUUS Foundation was able to provide joint supplements for Nyuk to receive some immediate comfort. BTRE is one of 135 equine charities across the United States recognized by the EQUUS Foundation as Messengers. What sets Messengers apart from other organizations is their commitment to public transparency and willingness to publish and share extensive data about their programs, horse care practices, and governance.
Messengers receive not only resources, but also financial support thanks to the donations of special individuals and organizations who recognize the magic and power of horses in our lives.
Nyuk is lucky. He will live out his life at BTRE as a sanctuary horse, but there are an estimated 200,000 unwanted horses in the United States. Unfortunately, many are slaughtered. Horses may not have nine lives like cats – but they certainly have more than one.

It costs at least $1,000 to rescue, rehabilitate, re-train and rehome one horse. Our challenge is to transition as many horses as possible to new careers especially as therapy animals. Of the 50 million people with disabilities, only 50,000 have access to equine therapy.
The EQUUS Foundation is committed to supporting equine organizations operating at the highest standards of horse care and use and to awarding funds where it is needed most. Thank you for making Nyuk smile!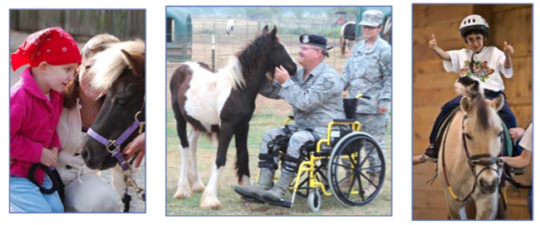 When it comes to inspiring others to live life to the fullest no matter the circumstances, not many horses come close to the abilities of a little one-eyed rescue horse named Lulu – one of the horses inducted into the Horse Stars Hall of Fame by the EQUUS Foundation in February 2016.

Found in a half-collapsed metal building by the Minnesota Hooved Animal Rescue Foundation in Zimmerman, Minnesota, she was in foal, starved, abused, and worst of all, her right eye was so severely damaged that it was split in half and had to be surgically removed.

She was considered "unadoptable" by many within the rescue, the wildest of the bunch, but miraculously, the little one-eyed wonder made the decision to trust an eleven year-old girl, Aimee Schulz, and was officially adopted by Aimee in April of 2009.

Since then, she has not missed a beat as a top competitor, competing across the nation in Miniature horse shows sweeping youth, amateur, and open classes in everything from showmanship and obstacle to jumping and earning AMHR Hall of Fame recognition.

However, Lulu's greatest impact has come with her events outside of the show ring. Lulu has become a poster child for the rescue and disabled horse with a fairytale story that everyone fell in love with - a horse and a girl with a one-in-a-million bond. She gives demonstrations, acts as a lesson horse, walks in parades, visits churches, stores, and nursing homes, helps with fundraisers, and attends horse expos.

Lulu has introduced thousands to the world of horses. Everywhere she goes, she touches lives and changes the world's view on horses and especially rescued horses - one small hoof-print at a time.

The problem: There are an estimated 200,000 Lulus in the US, and tragically many are slaughtered. Although there are thousands of equine charities that have the expertise to "rescue, rehabilitate, retrain and rehome" these amazing creatures, funding is sorely lacking.

The solution: The EQUUS Foundation provides funds to qualified equine charities whose focus is "Helping Horses Healing People". A little goes a long way!

What do you think it takes to hear a non-verbal child say her first word? How can a veteran overcome PTSD? Horses make this happen! Horses provide an extraordinary experience that no other therapy can.


Links:
WARNING: Javascript is currently disabled or is not available in your browser. GlobalGiving makes extensive use of Javascript and will not function properly with Javascript disabled.
Please enable Javascript
and refresh this page.