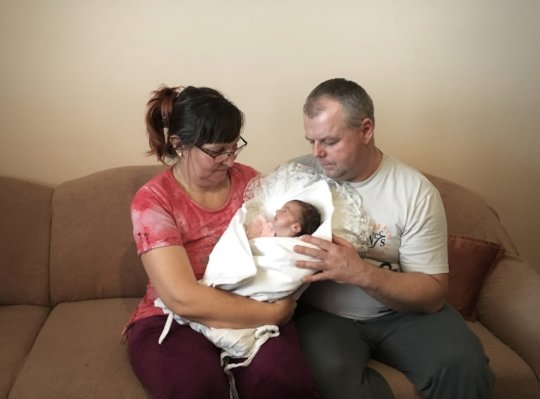 505 visits to families with incurably ill children around Slovakia
During the past year (2018) thanks to our home care palliative program 26 incurable children could safely stay with their families at home. Our home care professional team (doctors, nurses, social worker) visited them regularly in their natural family environment. More life, less pain for children and families, for us and for our donors and supporters is our vision we want to achieve. During the whole year, we visited families 505 times. We also provided 24 hrs phone medical consultation for parents during the whole year in order to improve their care and comfort at home.
We comprehensively approached the families and paid attention to every member of the household. In total, we spent 462 hours with the families at home. We offered them professional medical, nursing care, psychological support and social counselling. If needed, we facilitated communication with schools, employers and other governmental authorities.
Grieving children overcome their pain thanks to you
The Centre of Grief Therapy provides professional psychological and psychotherapeutic help for children and families who suffer the loss of a loved one (father, mother, sibling, child, etc.) We also provide social counselling. Centre offers its services to children and adolescents all around Slovakia who have lost a loved one under any circumstance, as well as to families who have lost a child. Our aim is to help bereaved children and their families to overcome feelings of isolation, pain, guilt, anxiety and other feelings which occur after the death of a loved one. We help them to cope with the loss of a loved one and rediscover colors of life. We try to create a safe space where children, adolescents and families could be free to share their feelings, memories and thoughts. In 2018 in Centre of Grief Therapy we helped 116 clients (49 children and 67 adults ) during 759 individual and family therapeutic sessions.
All services, home visits as well as all services of Centre of Grief therapy are free of charge. Professional help could be offered to incurable and bereaved children only thanks to trust and generous support of our donors.
Thank you very much for helping us! We do help together!
Words of thanks we received from a family are words they wrote also for all our donors:
"We have received more than we had hoped for. I think that in the beginning, we had no expectations. We just knew that our aim was to have Ondrejko at home. As a family, we wished to be at home, together. And it is true, that we were vulnerable. We were vulnerable and we didn't know "what", we didn't know "how" but the help came from you. And not only the physical help, that you came to our house, checked Ondrejko's chest, measured his oxygen saturation, etc. You also listened to us and I always felt a little stronger when you were leaving. You showed me how to massage him so he could breath better. We arranged with your doctors to create together some kind of a carousel for him. That was not a standard medical aid. You've provided us with above standard services. And it was always so pleasant, I always looked forward to your visit. I don't even know how to express it. It was very enjoyable. We were here with Hanka and Ondrejko and you were here for us. I always looked forward to meeting you so much!" Katarína K.