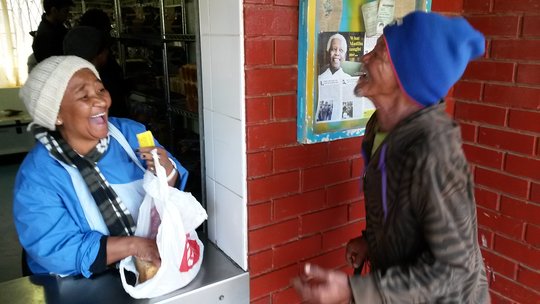 Dear friends
We are once again in awe of your constant generosity to our project, and we are also deeply grateful to those of you who donated for the first time during this quarter. Your interest in our mission and your concern for the people of this community is sincerely appreciated.
During March and April this year, we did 518 one-to-one interviews with our beneficiaries to obtain up-to-date demographic information of our beneficiaries, and to gain a snapshot of their opinions of their own health improvement, as well as of the importance to their health of the weekly food parcels in our Nutrition and Wellness Programme. This data was captured and collated with the assistance of our good friends at the College of St John's / St Ben's University who volunteered with us for four months. Connie Nelson - partner emeritus of The Public Strategies Group, USA - wrote the report. Connie has over 25 years' experience in results measurement of public purpose organizations.
I thought it would be nice to share a few excerpts from the report with you as it illustrates both the criticality of the programme, and also the impact of the food parcel on our beneficiaries' lives so you can see your contributions at work!
Excerpts fromMissionvale Care Center Beneficiaries:
Demographic Profile & Ratings of Services Provided
The overall picture of Missionvale beneficiary' perception of health progress is as follows: 26 percent report their health is improving, 42 percent report their health is maintaining, and 36 percent report their health is declining.
Other Factors Affecting Beneficiary Health – In addition to the food parcels received and support groups services received from Missionvale Care Center, the big factors they reported as affecting their health improvement (or lack thereof) included:
Unemployment, No Jobs, Financial Stress. Far and away, the most frequently mentioned factor said to be affecting their health was stress about finances. Many beneficiaries reported constant worry over no work, no income, intermittent work, stretching their money far enough, repaying loans with high interest, paying bills, paying for items their kids or grandkids need to go to school, etc.
Shelter. Several mentioned the lack of stable housing as a factor affecting their health. "I am still waiting for a house (since 2003). The smells in the air from burning by my shack are terrible. I have no privacy or safety."
Abuse, Violence. Several beneficiaries mentioned abuse from, or conflicts with, family members or neighbors – especially when drugs or alcohol were involved. Some reported violence from people to whom they or other family members owe debts. A very few mentioned feeling unsafe due to "criminals" whom they didn't know.
On the Positive Side, the factors mentioned most often were: their own positive belief and faith, access to the health clinic and community caregivers, and access to the Missionvale Care Center as a safe place to go during the day.
Beneficiaries were asked to rate the importance to their health of two of Missionvale Care Center's service offerings. The two services are:
Weekly food parcels. Missionvale Care Center offers a food parcel once a week to registered individuals. They are able to take the parcel with them and use to prepare food at home. The food parcel contains maize meal, sugar, tea, a can of fish, a can of beans, and two soap bars.
Weekly support groups. Missionvale Care Center offers support groups for persons who are HIV-positive.
The vast majority of beneficiaries rated both the food parcels and support groups as extremely important to their health.
Reasons Why. When asked for the reasons why they gave the rating they did, beneficiary comments conveyed thankfulness for having food to eat at all, the nutrition provided by the food parcel, and – as medically directed – that they had some food to eat at the same time as taking certain meds. They singled out individual food items as extra important to them: the fish and beans, the bread, the sugar. But, food wasn't the only thing mentioned. The soap was mentioned often – "to help keep clean." Last, a few people said that knowing they would get a food parcel weekly has helped prevent them from having to beg – or even steal – when they are desperate for food. In essence, the weekly food parcels act as a "stress reliever" for many beneficiaries experiencing high financial distress.
Some representative verbatim comments –
"I appreciate the food parcels. Otherwise, I would have nothing to eat."
"To have something to eat with my medicines. How should I cope otherwise?"
"Too little, but it helps a lot. It is finished in one day."
"To eat healthy. I am gaining weight, feeling stronger."
The food parcel is extremely important because when I get it, I know that day I can eat."
Your contributions are doing so much more than just providing basic nutrition. You make it possible for people to have a safe place to escape from reality, to meet a basic need that also acts as a stress reliever, and most importantly, to offer some glimmer of hope amidst incomprehensible daily struggles for survival.
And for that, we can never thank you enough.
Links: