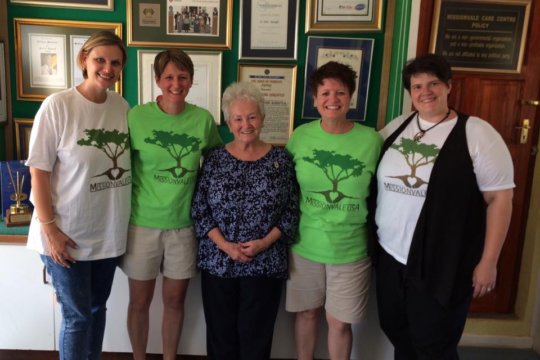 Dear friends
Two very exciting things happened the last few months!
1. A visit from GlobalGiving
There is no photograph, report or video that will ever compare to visiting the Centre and experiencing it in "real life". We are always deeply grateful for the opportunity to show people IN PERSON what a huge difference their efforts and contributions have made, and we got this chance when two wonderful representatives from GlobalGiving came to see us. This is part of the vetting process that gives YOU, our valued donors, the peace of mind that your donations are going to a legitimate cause and that we are utilizing your funds in accordance with our plea and our promise to serve the poorest of the poor through nutrition. We were very touched by the genuine interest and enthusiasm of the Global Giving team, and learned more about the fantastic matching initiatives and corporate giving that is made possible from this website. It also gave us the chance to talk about Missionvale USA - a registered 501c organisation based in the States that is also helping us to raise funds. (See the link to their website below :) Donations to Missionvale USA are tax deductible and are sent to us on a bi-annual basis. I meet with their volunteer board of trustees once every quarter via Skype and representatives from the board visit us roughly every 18 months. Their website and Facebook page is a great source of information about some of the other programmes we offer and we invite all of you to have a look! Of the funds they raise, we receive 98 % with the remaining 2 % covering small administrative costs like bank charges etc.
2. Community members giving back
The second wonderful thing that happend still gives me goosebumps! A few weeks ago, three young men from Missionvale requested a meeting with me. Their names are Fumi, Ian and Lucky. Lucky has just finished studying marketing and is currently doing his internship at a local signage company. Fumi and Ian are both in their second years of study in the marketing and graphic design fields respectively. This is how the conversation started:
"Mam, we are from Missionvale, born and bred here and we have seen the impact the Missionvale Care Centre has on this community. We have no money to give you. We have no clothes to donate. BUT, we have some skills we would like to offer you. If you have a need for marketing material, design work, or need a hand with public relations, we would love the opportunity to give back."
We had a lovely meeting and I gave them one or two things to work on and we had the follow-up meeting this week. They arrived with a proposal and some great ideas and are going to work on some further items for us, including assisting with our Youth Development Progamme we are exploring. As the meeting drew to a close, they shared some of their memories with me, growing up in Missionvale. They told me how the food kept them going, how they always felt safe and loved coming to the centre and the huge excitement and joy they felt around Christmas time as they knew there would be something special waiting for them at the Centre! Their parting words struck a deep chord in me.
"You see mam, through the Centre's activities, we have been paid long before we even started working."
We hope that this lifts your spirit as much as it did ours and that you know that it is because of your support that these successes are possible. Who knows what else will follow!
With love and gratitude from all of us in Missionvale.
Links: