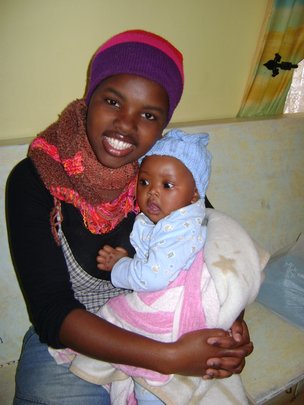 Dear all
It gives me great pleasure to report back on our project - Nutrition for 500 families in South Africa! We have only been a part of the Global Giving family since September this year and it has been a great experience!
We'd like to thank all of you for your generous contributions; because of you we were able to:
- Purchase 1384 food parcels for 346 families in need! This Nutrition is a weekly food parcel containing maize meal, tinned fish, baked beans, sugar and tea. (In this parcel we also include laundry soap and beauty soap to assist with basic hygiene needs and as a preventative measure for disease.) The parcels are distributed once a week.
- Provide nutritional support for patients on the anti-retroviral drug at Missionvale. The purpose of giving Nutrition is so that patients on the ARV treatment can take their medication effectively. Patients that are too ill to collect their food parcel from the Centre are assisted through our home based care unit whereby caregivers visit them in their homes at least once a week
The Care Centre has adopted 500 families onto this system. If one takes into consideration that each person represents at least 2 more people at home, we can safely say that indirectly this programme reaches over 1500 people.
Families adopted onto this system represent the poorest of the poor, receive no government grants or are severely ill
Impact of Nutritional Support on Beneficiaries
The best way to assess the impact of the Nutritional support on our beneficiaries is to share the stories of the people who benefit from the programme:
One such example is a young lady by the name of Thobeka. Thobeka lives with her blind mother, who now has full blown AIDS and is very ill. Thobeka has a little sister, about two years old that she took care of as her mother got weaker and weaker. Earlier this year Thobeka missed almost 6 months of school as a result of this, but was determined to go back and make a success of it. She came to the Centre seeking help, and through our Community Health Practitioners Unit, we are now able to send a caregiver to the house to assist the mom and baby, while Thobeka does her best to catch up with school. A visit to the house has shaken us all as we try to imagine Thobeka living in a tiny shack, cooking on an open fire and then studying by candlelight. Her drive to succeed, and get up and go to school every day is an inspiration. Although the mother is still extremely ill, she is doing much better now that the Caregivers bring the weekly food parcel to their home. Since she has started on the weekly food parcel programme, her health has increased significantly compared to when we found her. In addition the Care Centre provides a milk formula for Lisalihle, Thobeka's baby sister.
We thank you for having the heart and the passion to recognize and address the problems that people such as Thobeka are faced with. We are deeply grateful to all of you for making these successes possible!