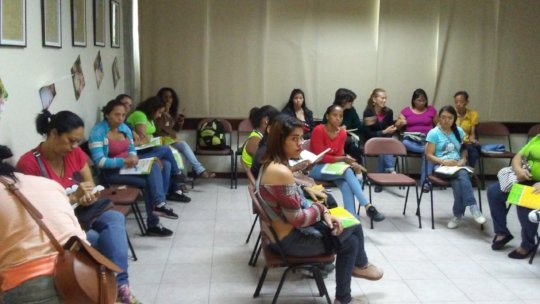 As promised in our last report, we've finally completed the search fand preparation of a new team of 26 women who have been formed with our contents and gained abilities for entrepreneurship in hard times.
Our effort began at the end of June and the learning process went through the end of July, completing all the sessions addressed to an initial group of 35 who was adjusted to the final 26 women who attended to all the classes. This program has been taught in alliance with CANIA, a center supported by one of the major food companies' group which provides feeding to low income children and their mothers for them to recover their basic nutrition conditions and health. These children and their mothers attend the center on a daily basis along various weeks. While these kids are been nurtured, their mothers receive classes and preparation not only on nutrition guidance and fundamentals, but are also formed with knowledge and abilities to apply for a decent job or initiate their self develop work initiatite which allow them to overcome the dramatic crisis the country is going through.
As per this alliance, our program "Women entrepreneur" is taught to the women once they finish their preparation for work as our means for them to initiate their own small business. Our experience with this group has been amazing reaching 26 women who have all recognized that their lives were one before and other different after receiving our program contents.They have referred how this learning experience has changed their expectations and way of thinking about job preparation and entrepreneurship.
Thanks to the tools and inspiration received all them presented their initiatives projects to the a dozen of volunteers from the Economics and Administration faculties of recognized universities, who served as facilitators to provide the knowledge along 12 weeks continuous weeks. After the program closing and results measurements, the allied organization has contacted us to continue with our alliance, while has asked for possibilities to implement other financial educaiton programs to round preparation their beneficiaries are receiving while their kids are fed.
Plans are to continue after the center operations are relaunched , approximately the end of september, with the almost $290 of the second quarter received in August.
Thanks to all our donors this program continuoues to impact more women lives, benefiting theirs and their families quality of life.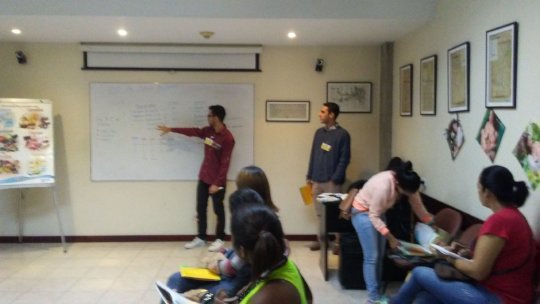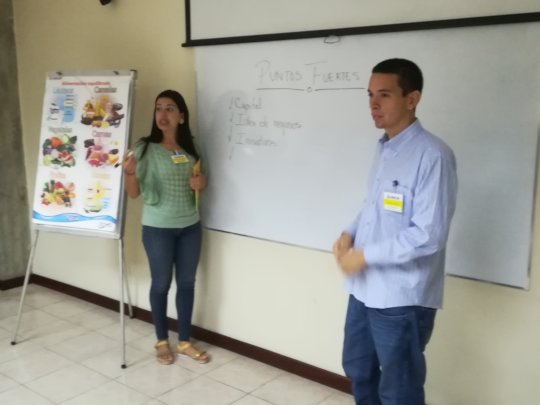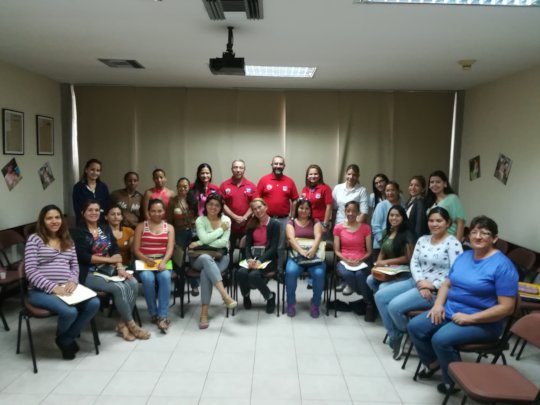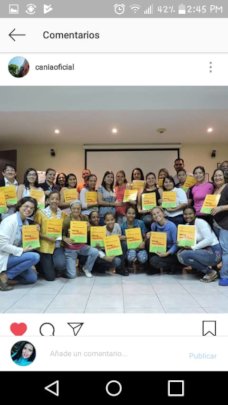 Along these last 20 years we have witnessed how our country economics has been destroyed by a consistent mismanagement of our inmense sources of wealth proceeding from both our oil industry, mineral sources and lands for agriculture. After this economic psunami we are nowadays the poorest country all over the continent, just preceeded by Haiti. Leftist political strategies are distinguished by submitting people to support the government as the unique provider, conditioning their daily resources to a vote or line of beggers.
This prolonged situation has produced a dismotivated population mostly within the youngest people who has migrated looking forward for better opportunities, unfortunately without having finished their education , while do not count on preparaation to cope with adversity, personal fortitude, abilities for life. Although our project was created and presented to strengthen our youg people with financial abilities for life, we have found along these two years that the program contents help them develop abilities to better understand how to use these financial tools to better cope with the low income they are receiving as well as innovate to reverse the hyperinflation we are facing everyday.
20 more young people have received a "Financial Education Program" with the donation we've received last January. They are now better prepared than others to cope with their low income in times of crisis.
Tough no more donations have been received this year, we are sure there still is an opportunity to help us helping youngsters to succeed, because we need them to stay here to rebuild our nation from its remainings.
Living under a destructive political leadership is an everyday challenge for all. However the resiliency gained through this process is a gain, so we expect to reverse the wave and be able to present a better pic of our country, where youngest people we are now preparing for life will surely have a leadership role.
Although we have not received funds from donors along this three month term, we still aim to achieve our goal of reaching 800 women through the project we have placed three years ago within the amazing GlobalGiving Program spectrum.
Meetings with different associations who congregate women with lower acquisition power and education are opened to provide their sites and women population served at their facililties to receive our education for development programs. We believe that an in depth understanding of the reality women in the lesser benefited economies are facing to provide for their homes daily livelihoods will convince donors of the need to provide capacity building for these ladies to being a robust provider of their homes and families, making use of their installed capacities and abilities to initiate a sustainable income for the basic needs they face nowadays.
To begin with, we already advanced on our agreements to provide a new procohort, most of whom are early pregnant adolescents who must care for their newborns. At the designed center they are receiving adequated preparation for motherhood, while we plan to provide them with the knowledge and tools necessary to convert their abilities in a productive new business. Our plan is to reach 30 women within this new cohort. To achieve this goal, we need to receive at least US$ 180 . Hopefully, we will count on new donations to complete such amount; therefore, the programmed activities.
We are sure we will count on the sensibility of our donors. 30 ladies will be prepared for work and independence, they will be wisely conducted to achieve a better quality of life. 30 homes , at least 120 people, will be indirectly benefited from this initiative.
WARNING: Javascript is currently disabled or is not available in your browser. GlobalGiving makes extensive use of Javascript and will not function properly with Javascript disabled.
Please enable Javascript
and refresh this page.