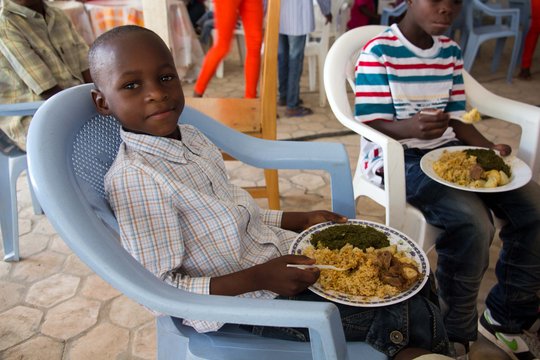 We wanted to take this time to tell you about how we've used the money from this project, to give the children we work with a safe environment, food, clothing and a great time over Christmas.
Thanks to your kind donations, we were able to give the children we work with the Christmas they deserve. They celebrated with the children from a local church, where they spent time playing games together, performing songs and dances that they had practised, shared a meal together, and then went to the beach. It was a very special day.
We were also able to give them new clothes and shoes which made them feel very smart.
This project is an ongoing fundraising project to ensure that we can provide for these children throughout the year. It is not just Christmas time that they need food and clothes. We want to be able to provide them with long-term accomoodation, allowing them to grow up in a secure and stable environment. We also need to provide them with the equipment needed for school, so they can get the education they are entitled to.
We want these children to reach their full potential, to grow up to be responsible adults, so that they can have a positive influence on the future of Burundi. Will you help us to do this? Would you consider setting up a monthly donation?
We would love it if you could share this fundraising page with your friends and family, and tell more people about what we want to do here at New Generation.
You can help change the lives of children like Jean.
Jean is five years old and was born in poor suburb in Bujumbura. He started coming to New Generation because his mother was abusing him. When he was four years old, his mother used to send him to fetch water and do many jobs that a four year old should not be responsible for. If he failed or made mistakes, his mother would beat him, even bite him.
One day, we learned that when he had gone back to his mother's house, she had stabbed him in the head with a knife. He came to New Generation and was taken to hospital where he was able to recover.
One day, when he was out on the streets, Jean saw his mother again. He ran over the road so she wouldn't see him, but whilst running away, he was hit by an army truck. Miraculously, Dieudonné Nahimana (CEO) was driving behind the truck, so he picked Jean up and took him to the hospital.
Today, Jean is a living testimony. He has been healed physically and is doing much better emotionally. He lives at the New Generation centre and attends the local primary school with his best friend Kevin who is also supported by New Generation.
Thank you again for your support. Don't forget, if you'd like to find out more about New Generation, you can sign up for our newsletter here.
Links: