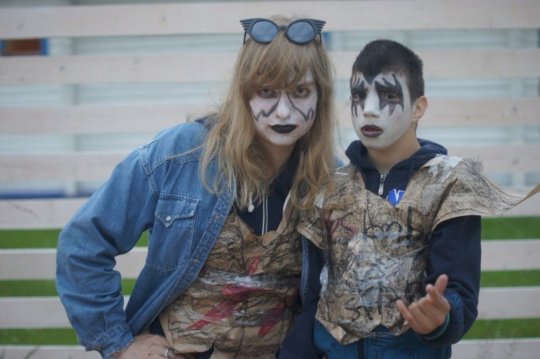 Shag Navstrechu would like to take a minute and thank everybody who supported our work and our fosterlings! Thanks to you guys, our kids had a really great and memorable summer!
Your support and trust helped us to compensate the food and fare expenses of our volunteer – Christina Petrova. Christina is a volunteer with a big heart and very soon, she ends her volunteer's year. She became a teacher, a friend and an older sister for boys of her group. She was there for them when they needed – in a summer camp, in hospitals, in orphanage. She also visited the grown-ups who moved to the orphanages for adults.
Here's what Christina Petrova, writes in her report:
"Once I stayed with Dima in a hospital. We faced different kind of attitude: from mocks and open insults to tolerant and friendly approach. It was hard to see how painful injections for Dima were. However, we were brave. In a moment like this we see, how strong our kids are, even if they are alone. Despite all the bad, they keep smiling, keep loving this world even when everything is so bad".
Christina is the amazing volunteer – she sees in her fosterlings what everyone else do not – the potential. Her belief helps them to achieve significant results:
"Dima became very self-sufficient. He can turn the light on, can use a bathroom, can wash. When we were in a summer camp, we made our beds, giggling. We learned to make different faces and poses. For example, once we dressed as members of KISS – and we were rock stars!
Dima became very open and sweet – every time he sees me, he starts smiling and hug me. This year made us real friends".
Thanks to Christina children became more open. They trust her. In her turn, she never let them down. Because this is the important thing – only in a kind and safe atmosphere children can develop. That is what happened with Igor K.
«Igor is 11. He can't hear. Almost all day long, he sits in a group in a same pose, on a same carpet, in a same place. He doesn't play or fool around, barely smiles. In August, we took Igor to the summer camp and finally I heard him laugh. I saw how he played in a hostel, how he watched cartoons and run all over the place. These kinds of moments are big".
A right to feel, to make a choice, to have a personal space, a right for the happiness – essential rights of a man, which often are taken away from our children. But only when surrounded by love and support a child can change, develop and show his identity. That is the one and only thing why the volunteers' project was created.
Thank you for helping us to make it possible for the children with disabilities.