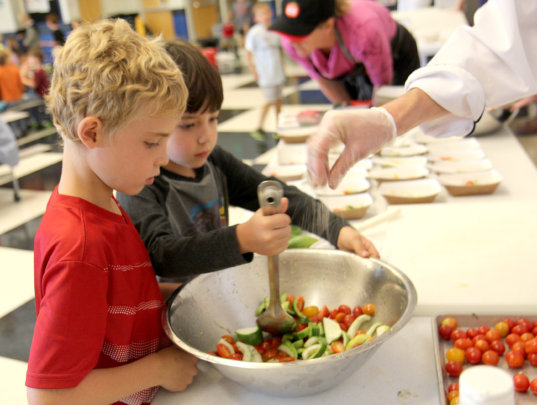 Thank you for supporting the Lunch Box Expansion Project!

We're proud to report that The Lunch Box is helping hundreds of school districts across the country serve healthy, scratch-cooked meals to students. Since the launch of the updated and expanded Lunch Box in September, 2014, over 3,600 people have become registered users. Of those, 1,840 are school food professionals or school staff, representing over 1,100 school districts in 49 states!

They are using the free Lunch Box tools and resources to make changes to their school nutrition programs. We have over 200 healthy, scalable, UDSA-compliant school food recipes available for download, along with dozens of financial, management, procurement and marketing tools. Users have downloaded Lunch Box resources over 16,800 times!
In addition to these free tools, The Lunch Box posts up-to-date information about school food granting programs that provide the technical assistance and equipment schools need to improve their meal programs. Currently accepting applications is one program called Project Produce, which is designed to engage kids of all ages with eating and learning about fruits and veggies, so that foods like broccoli, beets, or black beans end up in their bellies, not the trash. The grant provides $2,500 for schools to purchase fruits and veggies that will be used as part of a school-wide nutrition education activity. These activities allow kids to try new things, which helps them expand their palates and develop healthy eating habits that will stick with them through childhood and beyond.
Not only does The Lunch Box provide information on the grant, it also has comprehensive how-to guides for many nutrition education activities. Whether it's a simple Tasting, or a more creative idea like a Rainbow Day, a Chef Demo, or even a Junior Chef Competition, The Lunch Box has all the information and tools you need to plan a successful event.

We want every school food professional in the country to know about the free resources available to them. You can help us by sharing information about Project Produce with your school district's director of nutrition services and encouraging them to apply today. School food is hard work, and we're here to help anyone who is committed to healthy meals for all students!

You can stay up to date on all of the Chef Ann Foundation's programs and projects by signing up for our newsletters.

Yours in the school food fight,

Emily
Links: