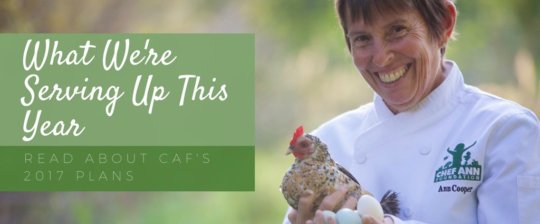 While 2017 has brought this country many changes, at the Chef Ann Foundation (CAF) we have been doing the same old thing—helping schools serve up healthier food.
2016 was an incredible year that enabled our programs to reach over 400,000 kids nationwide! That pushes our total reach to 8000+ schools and 2.7 million kids!
However, there are still so many schools eager for our support, our waitlists are growing, and with school food reform continuing to take hold, we're ready to push forward in 2017 with new and existing programs to reach even more children.
Here are just a few of the things our team is really excited about:
261,484 Kids!
That is our reach goal for 2017!
Salad, Salad, and More Salad
If you have followed CAF for any amount of time, you know that one of the best ways to get more fresh fruit and vegetables into schools is to incorporate a salad bar.
Based on the research conducted in 2014, 78% of schools that have implemented salad bars reported an increase in the purchase of fruits and veggies.
To date, through our Let's Move! the partnership we have helped over 4,800 schools get salad bars, serving over 2.4 million kids, and in 2017, we're projecting another 350 schools will receive salad bars, reaching another 175,000 kids.
Get Ready for Professor Cooper
Thanks to the Colorado Health Foundation, we will be launching our new School Food Institute this year. We will be providing innovative online learning classes for school nutrition professionals that allow them to meet their continuing education credits.
These courses will explore the fundamentals of school food operations through a cook-from-scratch lens. Altogether, we will be rolling out eight courses taught by Chef Ann Cooper, the first will launch in the fall of 2017.
We don't want to leave the lay people out! Get ready for School Food 101 which is geared toward undergraduate students who are interested in how school food fits into the larger food systems framework.
The Food Lab at Stony Brook University in South Hampton, New York is partnering with us to roll out a 15-week, online course that will cover childhood wellness in the US, school food operations, and how school food plays a part in the larger picture of sustainable food systems.
For those of you who have wanted to learn from Ann, now is your chance!
Scratch-Cooking Get's Seven More Districts on Course
In partnership with the Life Time Foundation and Whole Kids Foundation, we launched School Food Support Initiative in 2015. This program provides districts individual support to help them move to a cook-from-scratch operation through on-site assessments, strategic planning, technical assistance, and funding to schools.
We were excited to see Pew's study that came out in Dec, 2016 which found that "Directors whose programs prepared more foods from scratch and increased the use of salad bars were more likely to report that student participation rose" We will be working closely with the seven districts that were accepted into the 2017 cohort over the next two years to provide comprehensive support and help them move the needle. Stay tuned!
The 2017 Districts are:
Brewster Central Schools District (Brewster, NY)
Fridley Public Schools (Fridley, MN)
Norwood City School District (Norwood, OH)
Ocean View School District (Oxnard, CA)
Oxford School District (Oxford, MS)
Staunton City Schools (Staunton, VA)
Tempe Elementary School District (Tempe, AZ)
Don't Blink or You'll Miss All of the New Things on the Lunch Box!
The Lunch Box (TLB) will be a busy destination this year for school food service operators. We will be adding 60 new, farm-to-school and plant-forward recipes, including contributions from celebrity chefs, Ris Lacoste and Daniel Asher. We'll also publish 50 new blog posts covering key topics like "The Keys to Commodity Planning" and "Infrastructure Needed for Scratch-Cooking in Schools."
In our continuing webinar series, experts will be joining us to cover school food trucks, farm-to-school recipes and menu cycles, and human resources in school food services departments, along with a variety of other topics.
Our new Project Produce best practices database is now live and it is a great tool for schools that want to implement fruit and veggie trial and education programs in their lunchrooms. Like South Hamiliton's Community School District in Jewell, IA and their "Try Day Friday" program.
Plants on the Menu!
CAF has partnered with Whole Kids Foundation to help schools and districts that want to extend their plant-forward menu offerings.
CAF's Plant Forward Menu program will help schools gradually decrease the dominance of animal-based protein that we see on school food menus around the country.
The benefits of plant-based eating has been well-documented over the last few years. Some studies even report that it takes nearly 100 times more water to produce one pound of animal protein vs. one pound of plant-based protein.
Even if a school can only reduce their reliance on animal protein by 5-10%, it makes a large impact. By the end of 2017, our program will have taken shape with recipes, menus, and information for schools and communities that address the impact of increased pant-forward eating.
Got Foodie Friends Up for a Challenge?
If you have not attended a Real School Food Challenge yet, you're missing out!
We pull groups of home chefs or professional chefs together to stretch their culinary talents and compete to create the tastiest and healthiest, USDA-compliant school food recipe. All for only $1.25 a meal (the approximate amount that schools have to cover their food costs).
This year, we have some amazing events scheduled with chefs in California and New Orleans. Stay in touch on social media to hear about Real School Food Challenge events across the country and if you're interested in hosting one in your area, visit this page to learn more and then reach out to Danielle Staunton at danielle@chefannfoundation.org to get started.
And those are just the highlights. The CAF team's passion and dedication to school food reform is unsurpassed. So, while 2017 progresses and feels like we might not know what's around the corner all the time, know that the CAF team will stay laser-focused on ensuring all kids have access to fresh, healthy food every day at school.
To stay up-to-date with everything that we're doing this year, sign up for our newsletter!