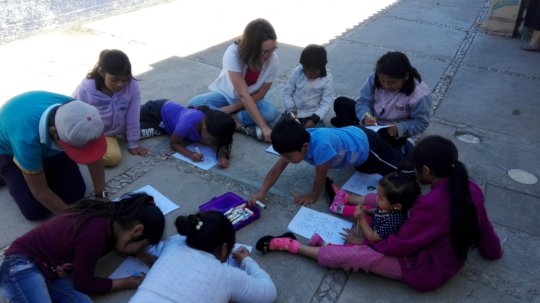 Our current educational project in the markets of San Cristóbal is called "Telling Our Stories". The project works to educate girl and boy laborers to talk, reflect, and recognize their individual and collective identities so that they can develop a critical view of their reality and history. These identities are focused on their being girls or boys, indigenous, and workers.
We believe that by understanding their identities, the girls and boys will come to better understand their realities and will have the skills to reflect and understand why certain things happened in their lives. This is a central process that helps to reclaim identities and create ownership.
The following is a story written by Rocio about his family as part of the "Telling Our Stories" project. Rocio participates in the educational activities with Melel Xojobal in the markets in San Cristóbal. This project encourages reading and writing for children laborers between the ages of 6 and 13.
A family lived in a community, a place where there are trees, animals and beans, corn, vegetables, potatoes, tomatoes, onion and chayote. The family grew many things, like beans, and made tortillas. They went to the mountains to cut firewood, started fires, cooked food, slept and then woke up early. The came to San Cristóbal to bring seeds and to grow them.
They wore the nahua* that they made from sheep wool in many different colors. At night, it was hot and there were many animals, like chickens, ducks, dogs, and rabbits. The lekil kuxlejal (good life) in that place was very nice because there were a lot of people.
Occasionally, they got mad because they had to fight for land, just to go for a walk or to grow things.
But one day there wasn't any water in the land and there wasn't electricity. They came to San Cristóbal because of that. They brought their things from their community like seeds, trees, clothes, and animals like chickens, ducks, and dogs.
So, they went to live in San Cristóbal but first they sold their land in the community and bought new land here in San Cristóbal. They bought groceries and a small shop and started to sell things.
The people in the city treated us badly because they said things like "Don't buy land here!"
The city people bothered us because they wanted to buy land in the community and because we planted trees and seeds in a small piece of land.
Finally, we were going to school. We didn't eat any vegetables or beans, only chicken.
*Nahua: traditional women's skirt made from sheep's wool
This is Rocio's story. By writing and illustrating the history of his family, he recognizes his identity and the identity of his family and begins to understand who he is in a whole new light.
The pictures below were drawn by Rocio to accompany the history of his family.