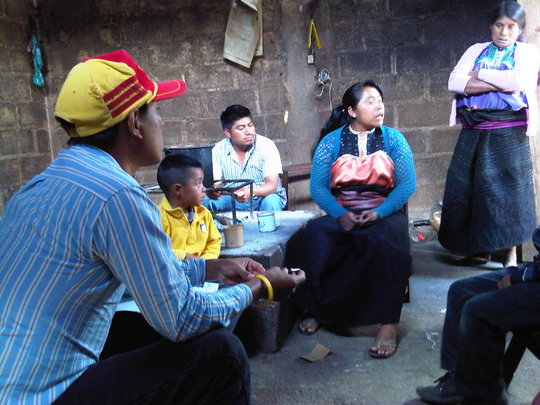 Se ha elaborado este informe en inglés ya que es la lengua de la mayoría de los donantes de Global Giving. Sin embargo, si quiere recibir este informe en español, por favor envíe un correo a melel@prodigy.net.mx
This first update aims to give you an idea of the project activities, and how your donations will help us continue to run these throughout the next 12 months.
In the last three months we worked with 23 families, explaining the procedures to enroll their children in school. A first step is to help them to obtain birth certificates, which are essential for enrollment but difficult to obtain for Mayan families whose first language is not Spanish, and who are often wary of, or unsure how to deal with officials. We also helped 15 children apply for scholarships which will cover the cost of books, uniforms and other charges.
A central focus of our work is not just getting working children into education, but providing them with the support that encourages them to learn and to stay in school. This is all important: indigenous children typically attend school for even less than the 6.2 years which is the average for Chiapas. Each week we run nine "learning circles": two hour sessions which take place in the public squares and markets where many children work. 145 children attended in the last three months. These sessions focus on helping children to enjoy reading and writing, as well as to discuss issues that affect their lives and education (in this term for example: different forms of violence in school, what their rights are and what they can do about it).
The comment of an 11 year old girl who has been attending the learning circles: "I learned how to write a story, how not just to keep quiet, how to make a hat, how to get on with other boys and girls, to write and to imagine, and to learn about places in other countries".
We continue to work in a difficult environment. In the last three weeks the municipal government has used the pretext of a land dispute on the edges of the city to expel street vendors from the city centre, many of whom are children. Melel Xojobal is against children working in unregulated and unprotected conditions, or when it prejudices their education. The reality though is that many families rely on their children's earnings to pay for school costs and to buy food. Without this income, many children will simply have less to eat, and it will be even harder to get them into school or for them to learn properly if they do go. We are working with other organizations in the city to protest and to reverse the decision.