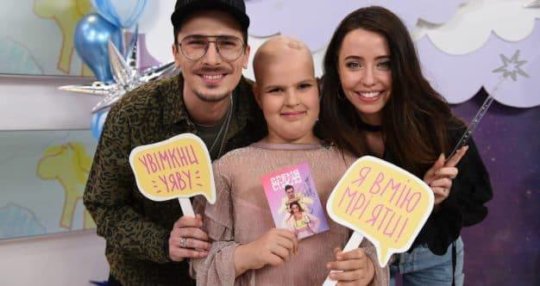 Dear Dacha supporters,
thank you for your donations that make it possible to open the doors of our house for kids with cancer and their family members!
One of these kids is Dasha. She suffered from headaches, nausea and hand tremor but still after all possible diagnoses the correct one was unexpectedly terrible: brain tumor. The girl went for treatment from Mariupol to Kyiv. Then she didn't know anything about surgeries or radiation therapy and her worst fear was losing her braids. Before her first chemo, the girl's mom even allowed to paint her hair raspberry pink as it was the hottest new trend. She was happy so much! Just like all the women in the world when they like their reflection in the mirror in a new dress. However, Dasha's happiness was short-lived as her hair had to be cut off. The girl could not hold back the tears when she spoke about her beautiful hair.
And now the complicated treatment with chemotherapy, radiotherapy, a lot of medical tests and other procedures is behind. Once I met her in the stairs at the Dacha and she told me enthusiastically: "I have no more metastases! I had an MRI scan." It means that soon she will be able to go home and her hair will grow again.
We always try to do our best, so that the girls were not ashamed of changes in their appearance. Our psychologists work with this issue too. However, Dasha got a confidence boost thanks to one meeting. It was Dasha's impossible dream that came true. The girl is a fan of the Ukrainian pop duo Vremya i Steklo. Listening to their songs helped her in the most difficult moments of treatment.
And then she was invited to participate in a TV show with her favorite musicians! It was a total surprise for her and she even asked to pinch her to confirm that it was real. Her mom was crying behind the scenes like all of us who watched Dasha on TV… And you know what? Dasha was charming: without a headscarf, in a gorgeous dress, with shining eyes and a smile, she was absolutely convinced that she was beautiful and that the world was good and loved her.
At the Dacha, we create an atmosphere of comfort and love. We do our best to ensure that during a difficult period of their life the families are surrounded by warmth and care and that they can be happy and have their dreams come true in spite of all the hardships.
At the moment, we are renting the house that in 2018 hosted 70 children with cancer. However, much more families whose children receive treatment at the National Cancer Institute in Kyiv need accommodation. To host them all, we are building a new big Dacha. You can see a picture from the construction site below.
Thank you for your contributions! They help create a place where children feel better than in the hospital.