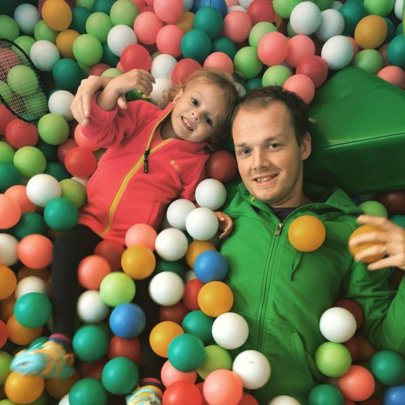 Dear friends,
first of all, we fulfill our promise and share Zaporuka Foundation annual report with you. Please, see the attachment to find out what we did together in 2016 to help seriously ill kids.
With your support our Dacha's doors are open in 2017 too. From January to March 54 families got free accommodation at the Center.
Families who stay at the Dacha become really close. They do household chores and have meals together sitting at a big dining table. They worry about each other and take care of each other. When some family's child is in an operating room, all people at the Dacha keep their fingers crossed.
At the Dacha, we always have a certain family that unites all the other families like glue. Now this role is played by little Alisa's dad Andriy. He is a nice man who always has something to do. He takes care not only of his daughter but of all the Dacha people. In the morning he prepares delicious healthy breakfast for Alisa, then makes a fresh lunch for her and… bakes a sweet cake for all Dacha kids and parents! And Dacha moms write all his recipes in their cooking notebooks. In the evening, when the house is already asleep, Andriy goes to clean a common bathroom because he wants it to be safe and comfortable for everyone. And that's not all! Behind the house there is a small piece of land where usually just the grass grew. Thanks to Andriy useful herbs for cooking are growing there now. Besides, we have a playground with a sandpit in the yard. After winter it was dirty and with peeled off paint, so it was not good for kids to play there. Again Andriy took the lead and with others parents of the Dacha cleaned the yard and painted the playground equipment. Now kids can play safely outdoors.
Every day when we come to the Dacha we see that the house for these families is not just a place where they can spend the night for free but a true home. They do repairs here and try to improve something not only for themselves but also for the families who will come after them. And they are really grateful for everybody whose contributions make their Dacha possible. Thank you!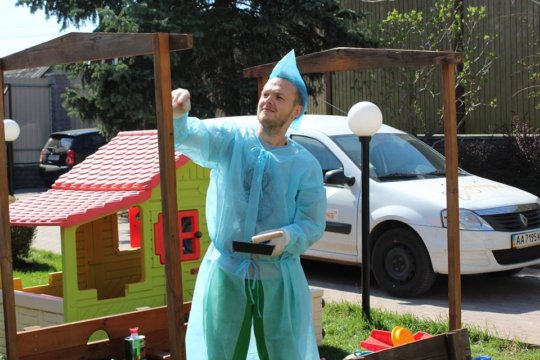 Attachments: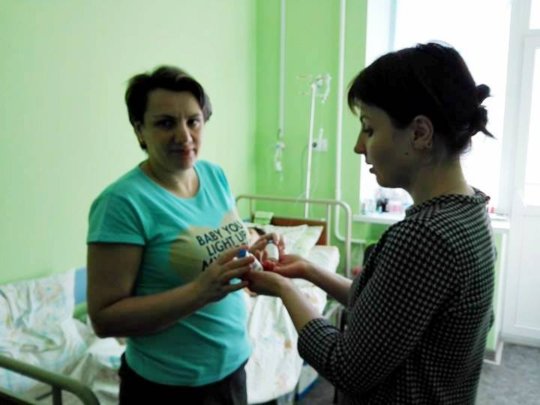 Dear friends,
we fulfill our promise and share Zaporuka Foundation infographic annual report with you. Please, see the attachment to find out what we did together in 2016 to help seriously ill kids.
In the first quarter of 2017, from January till March, we provided 28 children from low-income with individual assistance. We purchased medicines, medical materials and enteral feeding for them.
No family is ready for their child being seriously ill. However, in Ukraine it is especially hard because often the hospitals don't have essential things. And an average monthly salary here is about 250 dollars, so the family just cannot afford to buy everything that is required, especially when it is urgent.
Little Emilia's story is an example. Everything happened very quickly. Her parents noticed that something was wrong, that there was a swelling in her belly that was constantly growing. After the consultations in the local hospital, the girl was sent to the Cancer Institute in Kyiv. Her condition was grave, that's why the doctors scheduled a surgery immediately. And Emilia's parents received a long list of required materials for that surgery. When the parents saw that list and the prices, they were shocked. They didn't have time to earn the necessary amount of money because the surgery was urgent and the girl's chance for life depended on it. The family was shocked and desperate.
Thanks to people's donations we have emergency funds that we can use immediately and provide low-income families with what they need. So, we bought medicines and medical materials for Emilia. The operation was very complicated and lasted 6 hours. Now Emilia feels better. She has received biopsy results and is preparing for further treatment. Fortunately, most chemotherapy drugs are available in the hospitals and parents have to buy only additional drugs like antifungal ones and consumables like syringes or plasters…
Thank you for helping us to help Ukrainian families in difficult life situations! Your contributions give their kids chance for life.
Attachments: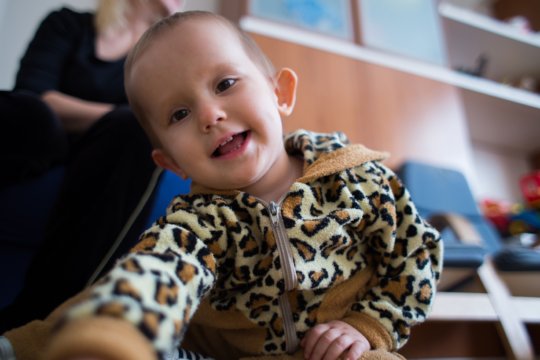 Dear friends,
thank you for supporting our Center for Children Affected by Cancer Dacha in 2016! We hope that you will be with our kids in 2017 too.
Center Dacha is one of the first places where families go after hearing terrible words from the doctors: "Your child may have cancer". Here they can get free accommodation before they will be hospitalized at the Cancer Institute for treatment if their case is grave or will go for treatment to a local hospital after receiving a precise diagnosis and a treatment protocol. It's hard for us to understand what these families feel but here at the Center Dacha they meet people who are in the same situation. While children play together in the playroom full of toys and games, their parents speak over a cup of tea sharing their stories and experience. It's so great when newcomers get support from other families who know "something" about treatment.
For almost a year little Masha's family had such a role at the Dacha. The girl was ill with teratoblastoma, a malignant tumor of the small pelvis. Masha's mom Nadia always knew how to listen to the others and if asked to give advice. She knew how to encourage, how to think positive even in a difficult situation. On weekends together with her husband Oleksandr she organized picnics for all Dacha families. They did it for families to distract from their anxieties, to help them understand that their lives go on and their children still need positive emotions.
Masha's family is an example that one can do everything to save a child. When they went abroad for an examination that couldn't be performed in Ukraine the doctors recommended them to stay at their hospital for high-quality treatment and they found a way to do it. Now Masha feels good, she goes to follow up visits regularly and she is under a supervision of high level professionals. Now Masha's family is happy but they still don't forget about others who need help. This Christmas they sent a big parcel with food, sweets and toys for all families who had to celebrate winter holidays at the Center Dacha. It's not only support for them but also hope that eventually everything will be all right. And we are always happy when people who received help start helping others themselves.
In 2016 the Center Dacha provided 199 families with free accommodation, 55 of them were newcomers who had just started treatment. Thank you for your contributions, you make it possible!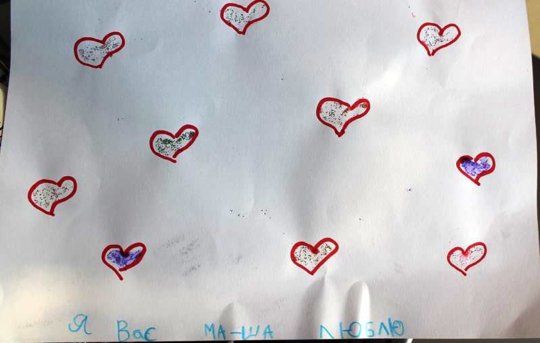 WARNING: Javascript is currently disabled or is not available in your browser. GlobalGiving makes extensive use of Javascript and will not function properly with Javascript disabled.
Please enable Javascript
and refresh this page.