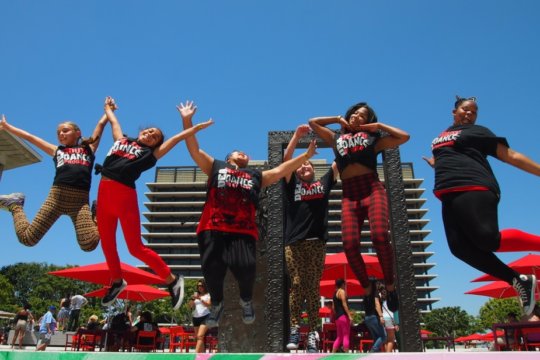 The DEA Youth Dance Program had a fun and productive summer building new programs and strengthening current ones. We are thrilled to be launching programs in 35 cities this year, reaching thousands of students nationwide. This fall, students will be treated to a performance by local, professional dance companies, inspiring these students as they begin their own dance journey through The DEA Youth Dance Program. We can't wait to see how these children thrive and grow with the opportunity of a positive after-school alternative to drugs and violence.
Once again, the Dizzy Feet Foundation invited The DEA YDP to participate in their incredible homage to dance on National Dance Day on Saturday July 24, 2015! Students from Tyler Elementary, under the helm of our DEA YDP partners ClancyWorks and Culture Shock D.C., did an incredible performance at the Kennedy Center. Across the country at Grand Park in Los Angeles, DEA YDP instructor Stephanie Reed led students from Emerson Elementary in an equally phenomenal performance. The DEA Youth Dance Program is very proud of all our dancers for sharing their talents. Thank you to the Dizzy Feet Foundation for featuring our program, and for all their work bringing attention to dance as an expressive, positive way to stay healthy!
On October 8th, 2015, The DEA Youth Dance Program will be participating in The DEA Experience, led by The DEA Educational Foundation and the DEA LA Field Office. This fun community event at the Jonathan Beach Club in Santa Monica will feature many aspects of The DEA Educational Foundation's important work, including The DEA Youth Dance Program. Dancers from a local school, Culture Shock Los Angeles, and Fancy Feet Dance Studio will perform at this event to show how our program is one key in the prevention of drug-use and violence.
As always, we are so thankful to you, our donors, for helping us bring our message and the power of dance to students across the country. With your support, we will continue to meet the growing waitlist of over 100 locations eager to expose their impressionable youth to the art of dance!
Links:
The DEA Youth Dance Program has just finished another successful school year ending in 35 cities nationwide with thousands of children culminating their programs with schoolwide and community assemblies. Scholarships at local dance studios were awarded to students who exemplified dedication, teamwork and improvement.
A young student, Shaun, of Auburn, Washington is a stunning example of how the DEA Youth Dance Program can inspire change through its programs. Shaun was once an introverted kid who shied away from most social interactions, until that is, he found the DEA Youth Dance Program. As a 5th grader, Shaun decided to sign up for the free after school dance classes and after finishing the program he received a generous scholarship from DEA YDP and the local dance company, Auburn Dance Academy. Shaun continued with his classes, taking a class once a week at the studio. In time, with his newly found confidence, he auditioned for the company's youth performance team, and he made it! Shaun, now 13 and in 7th grade has performed for thousands of people, including hundreds of potential DEA YDP students in Washington state and at Nationals in Las Vegas. Shaun's mom shared, "He has found a passion that I have never seen in him before, this will change his life forever. He wouldn't have done any of this without the program."
In other exciting news, The DEA Educational Foundation and DEA Youth Dance Program was highlighted in front of 100 countries early in June at the 32nd International Drug Enforcement Conference, hosted by DEA and the Columbian National Police in Columbia, South America. The program was shown as a positive and healthy alternative to drug use and key prevention program for youth and within schools. Since the conference, several countries have shown interest in implementing the DEA YDP program abroad.
The DEA Youth Dance Program also looks forward to participating in National Dance Day on July 25th with Dizzy Feet Foundation who started National Dance Day as a campaign to encourage Americans to embrace dance as a fun and positive way to maintain good health and fight obesity. Dizzy Feet (A non-profit established by creators and judges of So You Think You Can Dance) has invited DEA YDP to perform at the Music Center in Los Angeles and the Kennedy Center in Washington, D.C. National Dance Day was established to bring communities together by allowing audiences to see, learn and participate in choreography and movement and to bring public awareness of the importance of dance to the United States and beyond.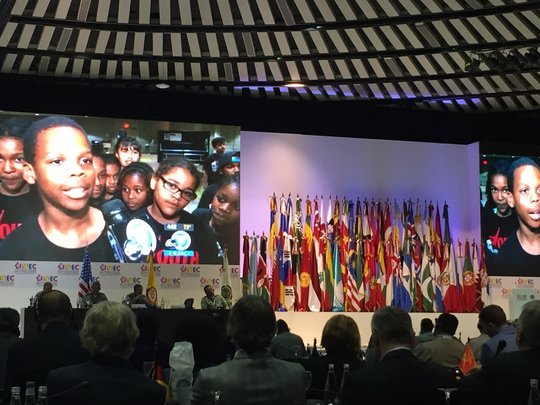 Links: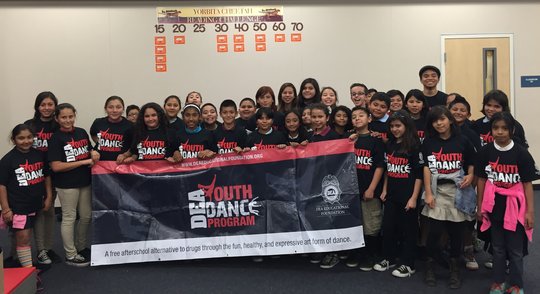 As we leap into spring, thousands of students in 33 cities around the United States prepare for DEA Youth Dance Program performances at their schools. This is an exciting time for the children as they have worked hard for 20 weeks with their fellow DEA YDP students to learn choreography, technique and performance skills. In addition, students are now applying for scholarship through the DEA Educational Foundation to continue studying dance long-term at a local studio.
Also this spring, the DEA Youth Dance Program is thrilled to announce a recent event in Los Angeles hosted by Fancy Feet Dance Studio. Each year, Fancy Feet chooses one non-profit organization to be the sole recipient of proceeds from their "Our Gift Of Light" charity performance to help people in need in their community. Students, parents and community members gathered for an afternoon of music and dance as talented young artists performed to raise support and awareness for drug resistance, artistic expression, and to support the important mission of the DEA Youth Dance Program. Two performances were held with performers ranging from 4-18 years old sharing talents in dance, song, music and theatre! Both performances were hosted by Jay McGuiness, lead singer from the popular group, "The Wanted". A standing ovation for Fancy Feet Studio, donating 100% of proceeds (over $10,000) to help bring dance to at-risk children! This contribution will allow the DEA Youth Dance Program to expand to a new Los Angeles school and will allow for internship opportunies for Fancy Feet teens interested in being role models for younger DEA Youth Dance Program students in the community.
The DEA Youth Dance Program has a significant waitlist of over 100 locations. We are very thankful to our donors, such as you, for helping us to bring dance to more communities in need.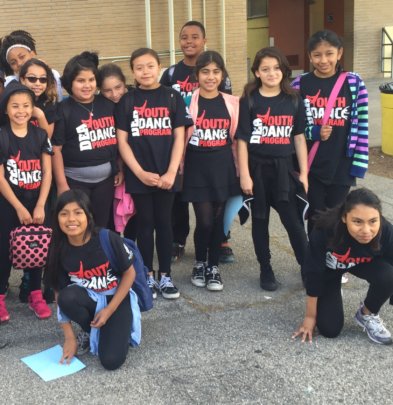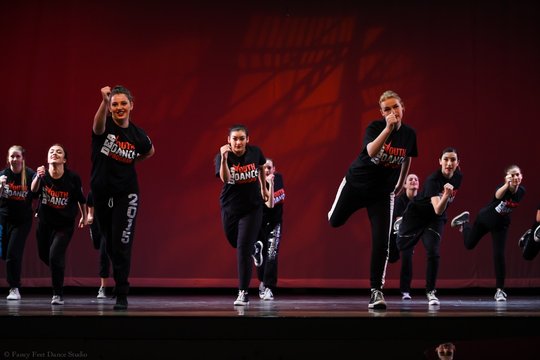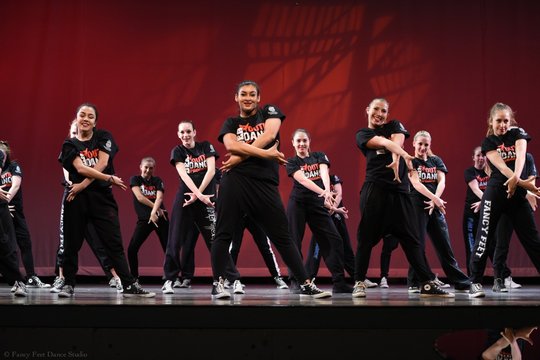 Links:
WARNING: Javascript is currently disabled or is not available in your browser. GlobalGiving makes extensive use of Javascript and will not function properly with Javascript disabled.
Please enable Javascript
and refresh this page.