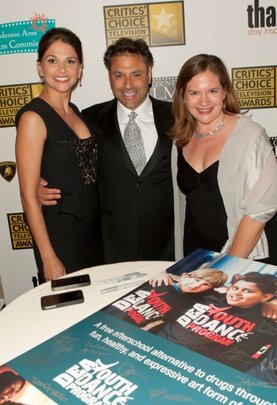 The DEA Youth Dance Program has participated in several exciting events over the past two months! In May, the DEA Youth Dance Program was thrilled to bring 30 children from Carthay Elementary school in Los Angeles to perform at the DEA Educational Foundation benefit dinner honoring philanthropist Walter Wang. This event brought three wonderful news clips to ABC7 in Los Angeles, bringing a great deal of recognition to the program.
In June, the DEA Youth Dance Program was honored at the TV Critic's Choice Awards in Beverly Hills, CA. The DEA Youth Dance Program received a donation from thalo, in association with the "Inspiration Award" that was given to the acclaimed ABC Family television show "Bunheads" and presented to the star of the show, Sutton Foster. Over fifty television stars learned about the DEA Youth Dance Program at the event and signed posters for the DEA Educational Foundation.
And, on July 27th, The DEA Youth Dance Program was invited by the Dizzy Feet Foundation to participate in National Dance Day at Kennedy Center in Washington, D.C. and at Grand Park in Los Angeles. We are thrilled to be a part of the National Dance Day celebrations showcasing the importance of dance and how it can be such a postiive influence on the lives of so many people.
The program continues to grow! Several of our first year students have begun to take long-term dance through scholarship at local studios and we are preparing to launch programs in 21 cities for the 2013-14 school year in September and October. Thousands of children are turning to the positive outlet of dance instead of drugs and negative behaviors due the DEA Youth Dance Program. Thank you for your support!
The DEA Youth Dance Programs in Los Angeles gathered on April 13th to showcase their work at Peary Middle School in Gardena, CA. Four Los Angeles schools performed eagerly for parents, family members, school administration and other DEA Youth Dancers. DEA Youth Dance Program local dance company partner, Culture Shock Los Angeles hosted the lively event and impressed the audience with performances by their youth and adult troupe. A Los Angeles DEA agent spoke passionately to the audience and educated attendees about the dangers of drugs and how the DEA helps to provide safety through their national and international efforts. The kids were enthralled and their questions for the agent were endless! It was a moving event and a day filled with dedication, talent, emotion and gratitude.
Nationally the DEA Youth Dance Program continues to grow and has now reached 20 cities nationwide. The program goal is to reach 30 cities by 2014 so that hundreds more students will turn to the healthy outlet of dance instead of drugs and negative behaviors.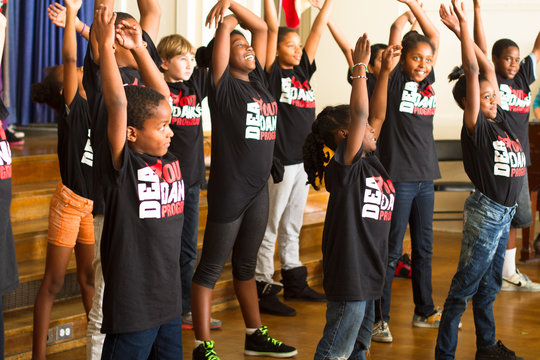 In December, DEA Youth Dance Program students were proud to put on a special event for Carthay Elementary after-care children, parents, grandparents, DEA Educational Foundation Board Members, DEA field office representatives and special guests from the Dizzy Feet Foundation and community. Over 30 children showcased their weekly classes, choreography and testimonials about the program. The audience was truly moved watching how dance has changed the lives of these children and how the children danced with pure joy, excitment and energy. Audience members were also entertained by program partner, Culture Shock Los Angeles and were touched when hearing personal stories about the children from the DEA Youth Dance Program instructor at Carthay. Each week, the DEA Youth Dance Program inspires children all over the United States.
The 2012 year ended with a strong committment from the DEA Educational Foundation to continue and expand the DEA Youth Dance Program in 2013. Because of the generous contributions of individuals on Global Giving, corporate sponsors and foundations, the program is expanding and will reach thousands of students in 20 cities this year. The DEA Educational Foundation is thrilled that children in so many of our communities will be turning to the healthy activity of dance instead of drugs and negative behaviors.
Thank you for all you have done to make this important program possible!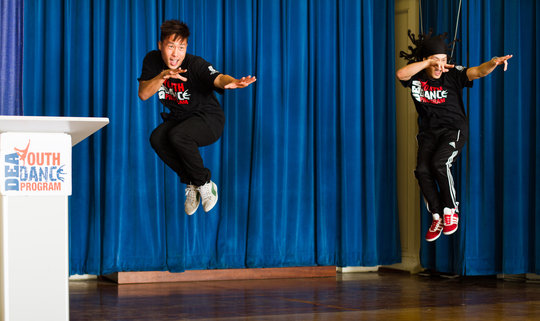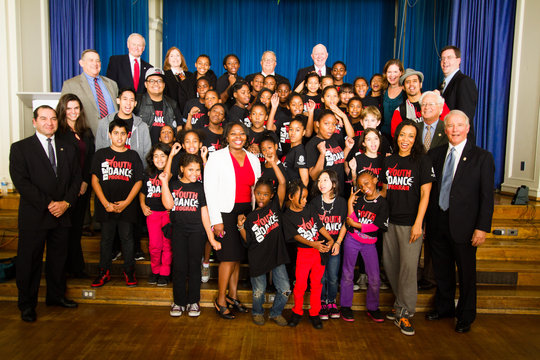 WARNING: Javascript is currently disabled or is not available in your browser. GlobalGiving makes extensive use of Javascript and will not function properly with Javascript disabled.
Please enable Javascript
and refresh this page.