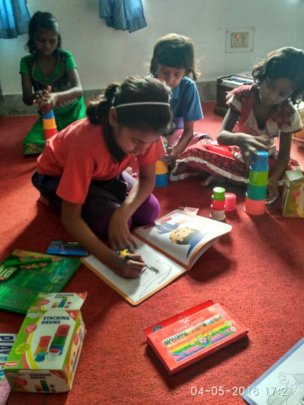 A better future with hope
Dear Supporters and Well Wishers

Heartiest Greetings from Lord Buddha Home for Children!!
Children of LBHC are doing well with your support. Our orphan children are the very heart of our mission. They are all cared as members of our large family and treated as the beautiful individuals that they are. Orphans often need basic survival provisions, medication, food, clothing; blankets housing and protection from dangers and abuse. and to fulfil these needs we have received the generous support from all of you. It honestly means the world to us and the world to the people we serve. The activities recorded in this quarter are as follows.
Holi Celebration: This quarter started with Holi "The festival of colours". Children like and enjoy this festival very much. One day before the Holi the colours were distributed among the children and from the early morning children of LBHC started to play with colours till 1 P.M. After then special lunch was offered to them.
Annual Examinations: In the month of March almost all the children were busy in the study due to exams and they appeared in exams to go to the next classes. With the help of LBHC counsellor, children were doing the hard study to qualify the exams.
Management of LBHC also organised the medical fitness activity to check the weight and another measurement of the children's health. Children who were below the proper weight as per their age have been told to pay special attention to health.
Enjoying the movies: After the examination, for entertaining the children, two movies have been shown on different dates. On 22/04/2018 they saw Padmavat and on 01/05/2018 they saw M.C. Marry Com movie. Children liked the movies. After the end of the movie, moral of the movie had been discussed among the children and took feedback from them. Gudiya, a girl of LBHC said: "I learnt from Marry movie that today girls and boys are equal in every aspect."
Happy with Amazon Gifts: Like every month children again received beautiful gifts from the Amazon. They always wait for the Amazon gift. After receiving the gifts like drawing books, colours, Horlicks, games etc they became very happy.
By helping, you not only give prosperity but also joy and hope. Your help is a priceless contribution to charity and an undoubtedly appreciable support to the disadvantaged and needy. Thank you for your care, compassion, mercy, and for the contribution that you have made for our children. Thank you for maintaining a stable and reliable partnership with us.